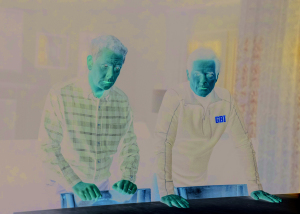 Ben Mendelsohn and Yul Vazquez in "The Outsider"
A horror whodunit: How can an accused killer be in two places at the exact same time? Normally, you'd say that was impossible (and the case would probably be dismissed), but not if the story was written by Stephen King.
HBO's original series "The Outsider" is the latest King adaptation to hit screens big and/or small. It kicks off its 10-episode run with two back-to-back installments this Sunday, Jan. 12. And given its author and source material, the 2018 bestselling novel, this is one crime story that's full of King-esque twists and turns.
The gritty murder mystery stars perennial film villain Ben Mendelsohn -- he was Talos in 2019's "Captain Marvel" and Krennic in 2018's "Rogue One: A Star Wars Story" -- as Ralph Anderson, a no-nonsense police detective and a still-grieving father.
Ralph is called in to investigate the brutal murder of a young boy found in the Georgia woods. The case appears to be pretty straightforward: all evidence points to Terry Maitland, played by Emmy winner Jason Bateman ("Ozark"). But as the town turns on the once-beloved, now-reviled murder suspect, something doesn't add up.
Witnesses claim to have seen Maitland commit the heinous act. Witnesses (and cameras) can also confirm his whereabouts at the time of the murder, and he doesn't appear to have been anywhere near the scene of the crime.
Ralph calls in private investigator Holly Gibney, played by Tony Award winner Cynthia Erivo ("Harriet," 2019), who believes a mysterious, insidious force may be involved. Gibney is a recurring character in King's stories -- she was played by Justine Lupe in the 2017 series "Mr. Mercedes" -- and will be back in King's next collection of novellas, "If It Bleeds," which should hit bookshelves this May.
Bateman, who won his Emmy last year for Outstanding Directing for a Drama Series ("Ozark," which still doesn't have a premiere date for Season 3), directed the first two episodes and also serves as executive producer.
As for the rest of the cast, expect some strong performances from the likes of Bill Camp ("The Night Of"), Yul Vazquez ("I Am the Night") and Mare Winningham ("The Affair").
A new MASH?: Imagine Entertainment co-founders Ron Howard and Brian Grazer are the big names behind films such as "The Da Vinci Code" (2006) and "Solo: A Star Wars Story" (2018), and TV series such as "Arrested Development," "Empire" and "The Conners." The list just keeps growing, and another production is ready to hit the airwaves this week.
Premiering Wednesday, Jan. 15, "68 Whiskey" is the newest addition to Paramount Network's lineup. The comedy-drama (or a military dramedy) is based on the popular Israeli series "Charlie Golf One." It's being billed as an honest, and at times humorous, look at combat medics in action.
Each episode revolves around a group of army medics who are deployed to a base (dubbed the "Orphanage") in Afghanistan. It's a "dangerous (and sometimes absurd) world," per the show's website, but these men and women can count on friendships and a shared sense of purpose as they encounter situations that are often made worse by unexpected behaviors and more than a few self-destructive tendencies.
The regular cast includes Derek Theler ("American Gods") as Sasquatch, a member of a privately contracted security force; Beth Riesgraf ("Leverage") as Maj. Sonia Holloway, the highest-ranking doctor on the base, and Lamont Thompson ("NCIS: Los Angeles") as Col. Harlan Austin, a stern war hero who is both feared and admired by those under his command.
Usman Ally ("Veep") also has a recurring role as Capt. Hazara, a Pakistani doctor serving in the British armed forces, while Aaron Glenane ("Picnic at Hanging Rock") is Chef Colin Gale, a member of the Australian Army and an unofficial boxing official.
The series, which was written by Roberto Benabib ("The Brink"), will have an initial run of 10 episodes.
Costner coming to ABC: Speaking of Paramount Network, Kevin Costner ("Hatfields & McCoys") will return as rancher John Dutton in the upcoming third season of "Yellowstone."
And while the series is a bona fide hit for the ViacomCBS-owned cable network, that hasn't stopped Costner from lining up another TV gig -- this time, with ABC.
The Oscar- and Emmy-winning actor is attached to a new procedural titled "ISB," an acronym that stands for Investigative Services Branch. The potential series will follow elite special agents who are tasked with solving serious crimes committed within the National Park System, and specifically within the Pacific West region.
Costner will produce the one-hour series (no word yet on any acting duties) alongside former "The Flash" showrunner, Aaron Helbing, and it's the first time Costner will get a writing credit.
"ISB" is still in development, so don't expect to see it anytime soon. The put pilot commitment from The Alphabet Network usually guarantees the project will air as either a series or a special, and there's a sizable financial penalty if it doesn't.
So it seems Costner may be busy working behind the scenes for a while. If you're hoping to catch a glimpse of him on screen, Season 3 of "Yellowstone" wrapped in the fall, so that series appears to be on course for another summer run (it was the highest-rated cable show last summer). Otherwise, his next big project appears to be the movie thriller "Let Him Go," due out in theaters on Aug. 21.