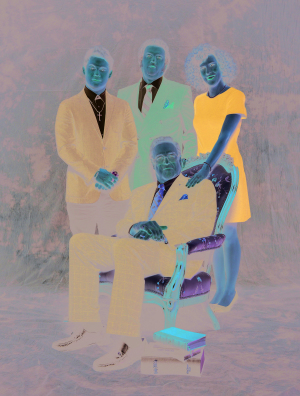 Adam Devine, Danny McBride, Edi Patterson and John Goodman star in "The Righteous Gemstones"
Televangelism allows millions of Christians to celebrate their faith through the magic of television. For many, it's a saving grace. However, a new comedy takes a look at what happens when a morally corrupt family dupes good and honest people into parting with their hard-earned money, all in the name of the Lord Jesus Christ.
John Goodman ("The Conners") stars as Eli Gemstone, the patriarch of a family of televangelists prone to deviance and greed, in the new comedy "The Righteous Gemstones," premiering Sunday, Aug. 18, on HBO. The series follows the world-famous family as they pursue wealth under the guise of serving Jesus.
The series was created by Danny McBride ("Vice Principals), who also co-stars, writes and directs some of the episodes. While it may seem as if the new comedy is poised to make fun of Christianity, McBride has insisted that "The Righteous Gemstones" is in no way meant to ridicule religion. Instead, it's a satirical look at a family that doesn't practice what they preach.
"I would not pass judgment on other people," McBride explained at this summer's Television Critics Association press tour as quoted in a July article on ew.com. "For us, it's about lampooning a hypocrite, lampooning somebody who presents themselves one way and is not that way."
An unscrupulous, unyielding church leader known the world over for his aggressive salvation techniques and popular TV program, Eli definitely fits the bill of "hypocrite". The merciless patriarch doesn't take any guff from anyone, especially his grown children. His light may be starting to fade, but the other Gemstones are ready to take up the charge. Eli's eldest son, Jesse (McBride), is the heir apparent to his father's televangelist empire. He hopes to modernize their ministry for today's audience as he tries to blaze his own path. Eli's other son, Kelvin (Adam Devine, "Workaholics"), represents the new generation of devotees with his hip hairstyle and edgy fashion. Meanwhile, Eli's daughter, Judy (Edi Patterson, "Partners"), stands in the shadows of her brothers and father as they take the lead in the chauvinistic church.
The new comedy features a roster of supporting players who help bring the story to life. Jesse's wife, Amber (Cassidy Freeman, "Smallville"), gave up a career in journalism to focus on her family and the church. Judy's fiancé, BJ (Tim Baltz, "Shrink"), struggles to find his place among the eccentric Gemstone family. Ex-Satanist Keefe Chambers (Tony Cavalero, "School of Rock") has been dedicated to serving the Lord and the Gemstones since Kelvin saved him from evil. Meanwhile, Eli relies on the sage counsel of conservative friend Martin Imari (Greg Alan Williams, "Remember the Titans," 2000).
Cassidy Freeman in a scene from "The Righteous Gemstones"
"The Righteous Gemstones" is undoubtedly one of the most highly anticipated summer series, in no small part thanks to Goodman's casting. One of the rare talents equally praised for his dramatic work and his comedic appearances, Goodman is practically prime-time gold. He rose to fame as Dan Conner in the original run of the ABC sitcom "Roseanne," which aired from 1988 to 1997, and later reprised his role in the 2018 revival of the series. The show has since been retooled without Barr as "The Conners," which is set to return for a second season this fall. His other television work includes memorable roles in "The West Wing" and HBO's "Treme." On the big screen, he's known for his frequent collaborations with Joel and Ethan Coen, having appeared in their films "Raising Arizona" (1987), "Barton Fink" (1991), "The Big Lebowski" (1998) and "O Brother, Where Art Thou" (2000), among others. Goodman is also famous for his work in such popular mainstream movies as "The Flintstones" (1994) and "Monsters, Inc." (2001).
Just as the return to HBO is a homecoming of sorts for Goodman, "The Righteous Gemstones" marks a milestone for McBride. He and longtime collaborator Jody Hill ("Observe and Report," 2009) have worked on two other successful comedies for the cable giant: the sports comedy "Eastbound & Down" and the high school spoof "Vice Principals." They're both executive producers for "The Righteous Gemstones," alongside David Gordon Green ("Halloween," 2018), who directs a few episodes of the new HBO series as well. McBride directed the show's pilot, which was ordered in June 2018. By October, it was clear that HBO had faith in the series when it was announced the cable channel had given the show a series order.
Goodman and McBride's castmates in "The Righteous Gemstones" are all gems in their own right. Devine is well known to the Comedy Central set as one of the stars and co-creators of "Workaholics" and his namesake television series "Adam Devine's House Party." Texas native Patterson should be familiar to "Vice Principals" fans as Ms. Abbott, while Freeman is best known for her role as Tess Mercer in the superhero drama "Smallville." Cavalero had big comedy shoes to fill when he played Dewey Finn in Nickelodeon's television version of "School of Rock," a role portrayed by Jack Black in the original 2003 film. Baltz has been a regular in Comedy Central's "Drunk History" and "The Opposition With Jordan Klepper."
Watch as Goodman, McBride and the rest of the cast breathe life into the shady televangelist Gemstones in the debut of "The Righteous Gemstones," airing Sunday, Aug. 18, on HBO. The first season of HBO's newest comedy features just nine episodes, including the hour-long season premiere, which will be followed by half-hour editions subsequent Sundays.