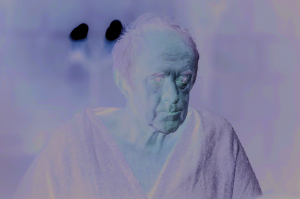 "Game of Thrones" star Jonathan Pryce is set to star in "The Crown"
From 'Holiness' to 'Highness': After earning his first Oscar nomination for his turn as Pope Frances in "The Two Popes" (2019), actor Jonathan Pryce is moving on from the Vatican … and moving into Buckingham Palace.
Pryce, who also starred in "Game of Thrones," is set to portray an older Prince Philip, Queen Elizabeth II's "liege man of life and limb," in Seasons 5 and 6 of the Netflix series, "The Crown." He'll be taking over the role from his predecessors: Tobias Menzies ("Outlander"), who plays the Duke of Edinburgh in Seasons 3 and 4, and Matt Smith ("Doctor Who"), who starred in the first two seasons opposite Claire Foy ("The Girl in the Spider's Web," 2018).
The Welsh stage actor isn't the only new principal cast for Seasons 5 and 6. Imelda Staunton ("Downton Abbey," 2019) has already been announced as the successor to Olivia Colman's ("Fleabag") Queen Elizabeth II. Lesley Manville ("Another Year," 2010) will be taking over the role of Princess Margaret from Helena Bonham Carter ("The King's Speech," 2010). And Australian actor Elizabeth Debicki ("Widows" 2018) will portray Princess Diana, who will be played by Emma Corrin ("Pennyworth") when Season 4 debuts later this year.
Recasting these royal roles was always part of the plan, according to creator Peter Morgan, because it reflects the characters' advancing ages in real life. In an interview with the New York Times, Morgan explained, "I think that the longest you can believe an actor in an aging part is about 20 years. Right from the start, we decided that if it all worked and kept going, we would recast every two seasons."
Morgan had planned to end "The Crown" after its fifth season, but a sixth (and final) season was added in July. Those hoping for dramatic re-enactments of more recent events may be sorely disappointed. "To be clear, Season 6 will not bring us any closer to present day," Morgan explained in the official statement. "It will simply enable us to cover the same period in greater detail."
Seth gets serious: Seth MacFarlane is best known as the mastermind behind the Fox animated series "Family Guy" and "American Dad" and movies such as "Ted" (2012). But after signing a nine-figure overall deal with NBCUniversal Content Studios earlier this year, MacFarlane appears to be focusing on projects with a more serious tone.
It was recently revealed that MacFarlane's first new project with NBCUniversal will be the tentatively titled limited series "Winds of War." It's based on the Pulitzer Prize-winning novels "The Winds of War" and "War and Remembrance" by author Herman Wouk. MacFarlane will serve as both co-executive producer and co-writer of "Winds of War," and Seth Fisher of "The Alienist" will also help pen the TV adaptation.
"The Winds of War" is an epic that spans several years and continents. It's the personal story of a family's struggle for survival during World War II, from events preceding Germany's invasion of Poland in 1939 to the attack on Pearl Harbor in 1941.
'Tiny Chef's' big deal: If you're on Instagram or if you follow actress Kristen Bell ("The Good Place") on social media, you might have seen a mention or two of "The Tiny Chef Show."
The family-friendly, stop-motion animated shorts have been described as "the world's tiniest cooking show" and has an all-ages kind of charm. It is centered on Tiny Chef, a 5-inch-tall character voiced by Matt Hutchinson, who enjoys cooking, singing and spending time in his tiny tree-stump house and kitchen.
"The Tiny Chef Show" got a big boost when Bell partnered with creators Rachel Larsen, Adam Reid and Ozlem Akturk to promote the show. It got an even bigger boost when Imagine Entertainment's (Brian Grazer and Ron Howard's production company) Kids Family division took an equity stake in 2019 with a vision to expand the property.
Right now, "The Tiny Chef Show" is an online-only series with a cult following, but that's all about to change because the fuzzy little green chef is heading to Nickelodeon. As reported by Deadline, Nickelodeon handed "The Tiny Chef Show" a series order, with Bell staying on as one of the executive producers, though the mention of "(working title)" in the article raises the possibility of a future title change.
No word yet on any premiere date, but it looks like the new series will make its U.S. debut on Nick's preschool platforms, while its international debut will be on Nickelodeon and Nick Jr. It also marks the second collaboration between Nickelodeon and Imagine Kids Family, which is behind the upcoming live-action adventure series "The Astronauts."