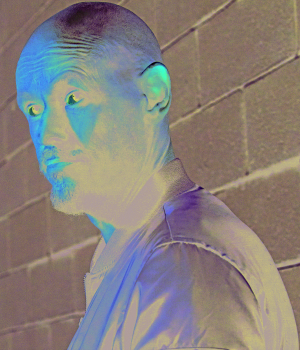 Scott Ryan stars in "Mr. Inbetween"
North Americans don't consume a lot of Australian media. I would blame this fact on Australia being half a world away and full of wacky island folk, but the U.K. is an island as well (though admittedly a little more austere), and we've experienced many "invasions" of British music, film and television since the transmission was scientifically possible.
We may not get a lot of Australian TV over here, but we do watch a lot of Aussie actors on our big and small screens. Hugh Jackman ("Logan," 2017), Chris Hemsworth ("Avengers: Endgame," 2019), Heath Ledger ("The Dark Knight," 2008) and Eric Bana ("The Forgiven" 2017) -- Australia has been a prime source of leading Hollywood men for decades. While Scott Ryan may not fall into the Hemsworth heartthrob category, FX is hoping North American audiences will fall in love with him, too. Season 2 of his series "Mr. Inbetween" premieres Thursday, Sept. 12, on the cable channel.
Ryan stars as Ray Shoesmith, a perfectly average man at first glance: he has an ex-wife, a daughter who is growing up too fast for his liking, and a couple of idiot friends. Ray is also a hitman, however, which can make his average-man life a lot more complicated. Ryan is relatively new to acting. His portrayal of Ray is amazing, but his contribution to this series goes much deeper than that -- he created the show, is the head writer, and also wrote and created the short film that started it all: "The Magician" (2005).
After it screened at the St. Kilda Film Festival in Port Phillip, Australia, stuntman-turned-director Nash Edgerton took an interest in Ryan's 30-minute short film and decided to turn it into a feature. The original cost a total of $3,000 to make and was shot over just 10 days. Three years later, FX Australia snapped up the rights and commissioned its first original drama series, keeping Ryan as the star and Edgerton as writer and director. If Edgerton's name sounds familiar to you, you may be more familiar with his famous brother, Joel, who has starred in the hit films "Warrior" (2011), "Black Mass" (2015) and "Loving" (2016).
In the end, "Mr. Inbetween" premiered in the U.S. before it did Down Under, thanks to FX Australia's dissolution. (The network's series were transferred to Fox Showcase Australia, which is where the show airs now.)
Although the true star of the show is undeniably Ryan, there wouldn't be much to the deadpan hatchet man's life without the people in it. Nicholas Cassim ("Home and Away") plays Bruce, Ray's increasingly ill older brother who, despite being part of the criminal underworld himself, never really had a knack for it the way his younger brother does.
Moments shared between the two are some of the best in the series: funny and heartwarming all at the same time. Cassim spoke to Fox Showcase about Bruce and Ray's relationship, saying, "I think they're very close in that Australian male way of not being overly demonstrative emotionally. They're extremely loyal to each other."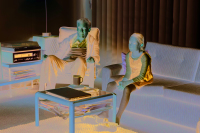 Nicholas Cassim and Chika Yasumura in a scene from 'Mr. Inbetween
Ray's best friend, Gary (Justin Rosniak, "Squinters"), and his forever-crumbling relationship with paramedic Ally (Brooke Satchwell, "Wonderland"), who is way out of his league, is always fun to watch. And just try not to fall in love with Ray's much-too-observant daughter, Brittany, played by 10-year-old Chika Yasumura in her very first role.
The people over at FX seem to love a good black comedy, and "Mr. Inbetween" fits in well on the network. I'm a big fan of the show's rather unique episode titles -- "Captain Obvious," "Unicorns Know Everybody's Name" and "Your Mum's Got a Strongbox" are some good examples -- which somehow, despite their ridiculousness, always define the content of the episodes quite well.
Not many showrunners are brave enough to center their premiere episode on a man's urolagnia. (Not familiar? The episode's title, "The Pee Pee Guy," should tell you everything you need to know.) Yet, while taking a ride on this absurd and initially off-putting plot vehicle, you end up learning everything you need to know about the relationship between two of the show's main characters.
As of press time, "Mr. Inbetween" has a 100% audience score on Rotten Tomatoes, along with an 88% score from the always-harsh TV critics. Fans are calling it "the best show no one knows about," and hopefully this second season of the black comedy will pull in even more viewers.
The show is definitely worth your time, especially if you enjoy the dark, dry kind of humor that has characterized Australian TV and cinema in recent years. I'm marking this one down as yet another win for FX, and the fact that I managed to make it through this whole thing without mentioning a comparison to "Breaking Bad" is a win for me (but seriously, if you like "Breaking Bad," watch this show). Season 2 premieres Thursday, Sept. 12, on FX.