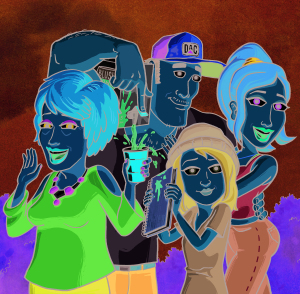 A scene from "Bless the Harts"
'Harts' in right place: This Sunday, Fox invites you to meet the Harts. They're a Southern family struggling to make ends meet. But what they lack in money, they make up in love and laughs -- so says the network and the series creator, Emily Spivey, who also wrote for "The Last Man on Earth" and "Saturday Night Live."
"Bless the Harts" is the new kid on Fox's Sunday night block and it premieres Sunday, Sept. 29, right after "The Simpsons'" 31st season opener.
Fox's first female-created animated series features the vocal and writing talents of several "Saturday Night Live" alumnae, notably Kristen Wiig ("Bridesmaids," 2011) and Maya Rudolph ("Grown Ups," 2010). Despite their one-year age difference in real life, the two actresses voice a mother-daughter duo: Wiig is Jenny, a single mother and waitress who is struggling to get by in Greenpoint, North Carolina, while Rudolph is Betty, Jenny's lottery-obsessed mother.
A former "SNL" staff writer, Jillian Bell ("22 Jump Street," 2014) lends her voice to the role of Jenny's daughter, Violet. Ike Barinholtz ("The Mindy Project") is Violet's boyfriend and honorary Hart family member, Wayne Edwards. And a few more big names will have recurring guest roles, including Holly Hunter ("Here and Now") and Mary Steenburgen ("The Last Man on Earth").
If the animation style reminds you of "King of the Hill," it's intentional. "Bless the Harts" even borrowed the Mega Lo Mart box store concept from the older Fox series, which suggests the two might be set in the same universe.
And like "King of the Hill" in its later years, "Bless the Harts" is part of Fox's "Animation Domination" programming block, which returns after a five-year hiatus. Two other animated stalwarts, "Bob's Burgers" (now entering its 10th season) and "Family Guy" (in its 17th season), are also premiering new seasons this week and will round out the all-animated Sunday lineup.
Papal Law: Anticipation is building for HBO's upcoming limited series "The New Pope," especially after its out-of-competition screening at the Venice Film Festival last month.
The nine-part event is director Paolo Sorrentino's followup to 2016's "The Young Pope," a visually stunning tale of a fictional modern papacy shaped by closed-door machinations and political intrigue.
Jude Law ("Sherlock Holmes," 2009) is back as the unconventional Pope Pius XIII. But not everything is as it seems.
In "The New Pope," the action picks up eight months after that climactic heart attack. The American pontiff is still in a coma, although Law appears in spirit form or in dream-like sequences -- hence Law's Speedo-clad, beach-strolling appearance in the HBO teaser.
Meanwhile, a divided Vatican is reeling from the murder of successor Francis II, but must move quickly to find a replacement. Enter John Malkovich ("Being John Malkovich," 1999) as the charismatic and all-knowing Sir John Brannox, who appears to favor a more moderate approach.
Festival-goers in Venice only saw episodes 2 and 7 and a short montage. But early reviews are already heaping praise on the sequel, especially the addition of Malkovich as the titular character.
Returning cast members include Silvio Orlando ("Il papà di Giovanna," 2008), Javier Cámara ("Narcos"), Cécile de France ("Hereafter," 2010), Ludivine Sagnier ("Lola et ses frères," 2018) and Maurizio Lombardi ("All the Money in the World," 2017). You'll likely recognize two additional names: shock-rocker Marilyn Manson and actress Sharon Stone ("Basic Instinct," 1992), who are both cast in still-undisclosed roles.
Expect "The New Pope" to air later this year on HBO.
Remember 9/11: ABC is moving ahead with its planned adaption of Mitchell Zuckoff's bestselling book, "Fall and Rise: The Story of 9/11."
The limited series is slated for 2021 to commemorate the 20th anniversary of the tragic events of September 11. And while the project is currently still in development, the network has already tapped Oscar-winning producer and screenwriter Mark Boal ("Zero Dark Thirty," 2012) to adapt the book for TV.
Like the book, the TV adaptation will be a non-fictional, character-driven narrative that "chronicles the stories of those who were lost, saved and forever altered" by the events. ABC's news release added that it "will attempt to be a portrait of American resilience in the face of tragedy and an accounting of 9/11's aftermath decades later."
Lionsgate Television Group and 3 Arts Entertainment will produce the adaptation, which appears to be in good hands. Boal won Academy Awards for Best Original Screenplay and Best Picture with "The Hurt Locker" (2009). He teamed up with director Kathryn Bigelow once more for "Zero Dark Thirty" (2012), which earned him several nominations as writer and producer.
As for Zuckoff, the bestselling author and former Boston Globe reporter will serve as executive producer.
In an interview with ABC7 at the time of the book's launch, Zuckoff explained the importance of remembering the human stories of 9/11: "We have an entire generation with no memories [of 9/11], and we have people in our generation whose memories are fading. We have to capture these stories, we have to tell these stories and make sure these stories are preserved or else it's a numbers game -- it becomes nine and 11 and four planes."
Also serving as executive producers are Erwin Stoff and Richard Abate of 3 Arts. Stoff produced "13 Hours: The Secret Soldiers of Benghazi" (2016), which was based on another New York Times bestseller written by Zuckoff.