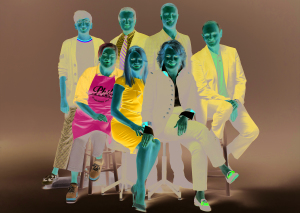 Nik Dodani, Tyne Daly, Grant Shaud, Faith Ford, Jake McDorman, Candice Bergen and Joe Regalbuto star in "Murphy Brown"
As more and more classic series are revived, it seems to be the era of the TV reboot. However, while most updates feature shiny new casts and revamped storylines, a couple of classics have returned more or less intact, and that's a good thing, especially for fans of a certain outspoken newswoman.
Candice Bergen ("Boston Legal") has reprised her role as a sardonic broadcast news journalist in the new "Murphy Brown," airing Thursday, Oct. 18, on CBS. The actress had previously played the titular character during the show's original run from 1988 to 1998, when it aired on the eye network.
For 10 years, the show followed a hard-nosed Murphy and her colleagues at the fictional news magazine "FYI." Thirty years later, the cast has returned to TV in a very different political climate to prove that honest reporting is as important as ever. In an official trailer for the new series, Bergen (as Murphy) explained why she was returning to the airwaves.
"So we had to do something -- get the old gang together," she said, "take on this crazy new world of alternative facts and fake news. It's our civic duty ... and besides, you missed us."
Given the buzz generated by the show's return, it looks as if she's right. In September, the L.A. Times claimed "Murphy Brown" was the most highly anticipated show of the fall season, a politically charged comedy with grit and heart and a legacy to boot. News broke of the show's impending return last January, when CBS revealed it had given the series a 13-episode series production commitment.
The show was created by screenwriter, director and producer Diane English ("The Women," 2008), who's back to work on the new version. Just as in the old "Murphy," she isn't afraid to tackle hot button issues, from the attacks on the press to politics and even the #MeToo movement. The latter came as a surprise to many TV pundits, considering the fact that former CBS executive Leslie Moonves stepped down in the wake of sexual harassment claims.
However, Murphy Brown isn't known for pulling punches, and she's determined to make her mark as the host of the cable morning show, "Murphy in the Morning," which also features her former "FYI" colleagues. Corky Sherwood (Faith Ford, "Hope and Faith") returns to work with Murphy as the show's lifestyle reporter, while investigative journalist Frank (Joe Regalbuto, "Knots Landing") has also found a new home on the morning show. Former wunderkind news producer Miles Silverberg (Grant Shaud, "Batman: The Animated Series") is back in the fold as well. As for Murphy's "FYI" co-anchor Jim Doyle (Charles Kimbrough, "The Hunchback of Notre Dame," 1996), he'll pop in from time to time.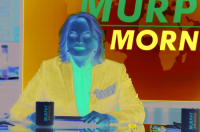 Candice Bergen as seen in "Murphy Brown"
There are a few new additions to the classic cast. Fans of the original series may remember that Murphy became a mother in season 4. Her son Avery's birth sparked real-life political controversy in 1992 when then-Vice-President Dan Quayle criticized her decision to be a single mother. In the revival, Jake McDorman ("Limitless") plays a grown-up Avery, who's following in his famous mother's footsteps as the host of a rival program.
Other new cast members include Nik Dodani ("Atypical") as social media director Pat Patel, who struggles to drag Murphy into the 21st century. TV legend Tyne Daly ("Cagney & Lacey") also has a series regular role as Phyllis, who's taken over Phil's Bar, the team's local watering hole. Pat Corley ("Hill Street Blues"), who played Phyllis's brother, Phil, in the original series, died in 2006.
Those looking for other new faces may want to keep their eyes peeled. During the show's first run, Murphy had a rotating roster of temps for secretaries, and she's hinted that the gag may continue in the show's new season. The previous incarnation featured appearances by celebs such as Bette Midler, John F. Kennedy Jr. and Rosie O'Donnell, so keep an eye out for cameos and up-and-comers, since news of potential guest stars has been kept under wraps.
Details about what's coming up in season 11 may be few and far between, but there's no arguing with "Murphy Brown's" legacy. During its original run, the critically acclaimed comedy earned an astounding 62 Emmy nominations, including 18 wins. English won three times: twice for Outstanding Comedy and once for Outstanding Writing. For her part, Bergen won five Emmys for her role, so it's a good thing she's back. It's unlikely fans of the show would accept anyone but Bergen as their beloved Murphy.
Beloved as she was, the show wasn't always the highest-ranking comedy of the season. It peaked at No. 4 for its fifth season in 1992-1993, and fell to 69th place in season 10 according to Neilsen ratings. Yet, the show was almost universally critically acclaimed. With a renewed interest in politics and the news, the comedy has the potential to rise to the top of prime time once again.
Don't miss a new episode of "Murphy Brown," airing Thursday, Oct. 18, on CBS.