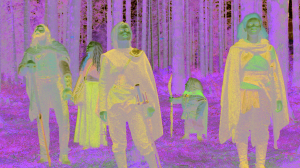 Tony Revolori, Amar Chadha-Patel, Ellie Bamber, Ruby Cruz, Warwick Davis and Erin Kellyman in "Willow"
The time has come to return to the world of the Nelwyn for another epic adventure. "Willow," the long-awaited sequel series to the 1988 film of the same name, drops its first episode Wednesday, Nov. 30, on Disney . The dark fantasy series follows the titular Willow, portrayed once more by Harry Potter film franchise series star Warwick Davis, as he is called upon yet again to fight mysterious forces of evil.
Also returning to her role from the film is Joanne Whalley ("Daredevil") as Sorsha. Once the daughter of an evil queen, Sorsha defected her mother's rule in order to become a force for good. While Val Kilmer was not able to join the "Willow" revival as he was recovering from cancer during production, the spirit of his character, Madmartigan, lives on in more ways than one.
At a Star Wars Celebration panel in May 2022, "Willow" executive producer and writer Jonathan Kasdan ("Solo: A Star Wars Story," 2018) shared that Kilmer is "in the show in a big way" and that his "spirit is very much with the series." How, exactly, Madmartigan's spirit is part of the series has yet to be revealed, but there does appear to be one new character who mirrors his journey.
In the original film, aspiring sorcerer Willow and a crew of other Nelwyn set off on a voyage to find a Daikini, or tall person, to care for a baby that landed on their shores and brought trouble with it. The Nelwyn encounter Madmartigan trapped in a cage and agree to free him if only he will care for the baby.
Not unlike the film upon which it is based, "Willow" introduces a prisoner who is promised freedom for his help in a battle against evil. This time it is Boorman, portrayed by "The Wheel of Time" actor Amar Chadha-Patel, a thief who reluctantly joins the effort to find an abducted prince.
The rest of the cast members who make up the magical journey's crew are Tony Revolori ("The Grand Budapest Hotel," 2014) as scholar Graydon; 2019 "Les Misérables" miniseries star Ellie Bamber as kitchen maid Dove; Erin Kellyman ("The Green Knight," 2021) as knight-in-training Jade; Graham Hughes ("Your Highness," 2018) as Serius; and Ruby Cruz ("Mare of Easttown") as Sorsha's daughter, Kit.
Princess Kit launches the quest when she sets out to save her twin brother, and from the looks of the official trailer released by Lucasfilm in September, it appears the adventure in the "Willow" series goes well beyond the worlds explored in the original film. The trailer features a scene with the group on horseback, approaching a towering, magical gate while Willow warns the quest members that for this journey, they "must go beyond the edge of our world, into the unknown."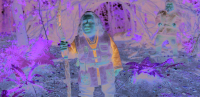 Warwick Davis in "Willow"
Now an accomplished sorcerer, Willow leads the troupe through various dangers that expose them to everything from forest-dwelling violent clans and seafaring threats to something a bit more lighthearted: brownies. The tiny tricksters both helped and hindered Willow on his journey in the original film, and in the trailer for the new series, they truly just seem happy to see their old friend this time around.
The original film was a hit when it was released, topping the box office on its opening weekend and racking up two Academy Award nominations, one for Sound Effects Editing and the other for Visual Effects. "Willow" became a family film classic in the years that followed, creating a huge fan base and near-cult following.
The fan expectations for the series were not lost on leading man Davis, who told Entertainment Weekly in August that "making the series really put the pressure on because you've got a huge responsibility to make it the very best it can be for all those people who have supported it and are passionate about it."
Some of that pressure may have been alleviated for Davis, however, due to the very special nature of two co-stars in this particular project.
Davis' own daughter, Annabelle Davis ("The Dumping Ground"), stars as Willow's daughter, Mims, while his son, Harrison Davis, serves as his stunt double. In his EW interview about the family affair, Davis joked, "Obviously, being Cast Member No. 1, they didn't want to damage me," so when production asked him who he'd want as his double, Davis said, "my 18-year-old son is exactly the same height as I am ... so, he's the perfect double. He took all my knocks for me."
While there was family on the set of "Willow," there was also a bit of an original-film family reunion behind the scenes as well. Ron Howard ("Thirteen Lives," 2022), who directed the original film, jumped on board as executive producer of the series, joining production efforts with Lucasfilm under his production company, Imagine Television Studios.
Pack your bags and get ready to be transported to a magical, mystical realm when the first of "Willow's" eight episodes premieres Wednesday, Nov. 30, on Disney .