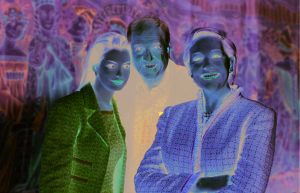 Anne Hathaway, Garry Marshall and Julie Andrews while filming "The Princess Diaries 2: Royal Engagement"
One of the great writers and directors of our time is honored on Tuesday, May 12, with the two-hour special "The Happy Days of Garry Marshall," airing on ABC. While the world is flooded with troubling news, this upbeat, heartwarming retrospective is sure to bring light and laughter into your home.
Marshall, who died in 2016, was the driving force behind so many of Hollywood's most enjoyable classics, from shows such as "Happy Days" and "Laverne & Shirley" to beloved films such as "Overboard" (1987) and "Pretty Woman" (1990) -- he's even credited with writing the music video for Weezer's now-classic hit "Buddy Holly." The special reviews the many projects that made Marshall a household name and explores how Marshall got his start in Hollywood. Written and directed by John Scheinfeld, the special also features personal stories about Marshall's life, including interviews with his wife, children and many famous friends.
A dazzling array of stars gathered to film this retrospective -- the filming, of course, was done before the COVID-19 pandemic shut down most of the world. Ron Howard and Henry Winkler, the now-iconic stars of "Happy Days," provide insight into some of the writer-director-producer's earliest work, and they're a great example of the wonderful things that blossomed from Marshall's efforts. Howard is a two-time Oscar-winning director and Winkler is a Golden Globe winning actor, but, more importantly, the pair formed a bond that has endured throughout the decades. The friends have chosen to work together many times since "Happy Days," and watching them recount their experiences working together on Marshall's set in the 1970s is a real joy.
The chimp from "Me and the Chimp" may not have been available for comment, but the rest of the stars that ABC has lined up have some glowing things to say about Marshall, whether they worked with him as a writer, director or producer. Anne Hathaway and Julie Andrews, for example, turn up to discuss their experiences working on "The Princess Diaries" (2001) and "The Princess Diaries 2: Royal Engagement" (2004). Some of the other familiar faces in the special include Jennifer Garner ("13 Going on 30," 2004), Rob Lowe ("Parks and Recreation"), John Stamos ("Full House"), Jimmy Kimmel ("Jimmy Kimmel Live!") and many more. They all share experiences and, together, paint a picture of a man who brought romance and laughter into the lives of many.
Though Marshall is best remembered by the general public for his work in television and film, he was also a husband and father. He was married for 53 years to Barbara Marshall, and the couple had three children together: Kathleen, Lori and Scott. When Marshall died on July 19, 2016, at the age of 81, he left behind a multi-faceted legacy, one of love and laughter, hard work and determination, creativity and beauty. A very well attended memorial was held on his birthday a few months later, and the strength of his influence on Hollywood remains powerful today.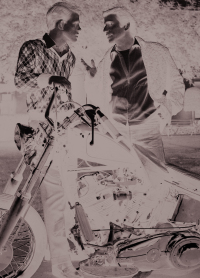 Ron Howard and Henry Winkler in "Happy Days"
While Marshall's big-screen contributions include many of the most beloved romantic comedies of all time, he received very few critical awards for his efforts, and though he was nominated for five Emmys (for "Mork & Mindy" and "The Odd Couple"), he never took one home. It's an important lesson for those in the business today -- it's not all about the awards. You can have a long, successful career without worrying about the trophies, and, more importantly, you can touch people's lives and spread happiness with your work.
And Marshall's films were about so much more than just cracking jokes. They were about connection and real-life relationships, which are messy more often than not. This is evident in his timeless film "Beaches" (1988), a personal favorite, and one that is practically impossible to watch without an entire box of tissues.
His legacy also includes, at least tangentially, the work of his two sisters: Ronny and Penny. Ronny became a prolific television producer, and you may have heard of some of the titles she worked on -- "Family Matters," "Perfect Strangers" and "Step by Step," to name a few. Penny started out as an actor but really made her mark by directing classics such as "Big" (1988), "Awakenings" (1990), "A League of Their Own" (1992) and more. The three siblings worked together on the TV series "Laverne & Shirley," and the rest is history.
If you're a TV buff or film fanatic, this is bound to be a show you'll never forget. Along with recognizing Marshall's contributions, you will enjoy a walk down memory lane with classics that have spanned decades. Tune in on Tuesday, May 12, for ABC's special "The Happy Days of Garry Marshall."