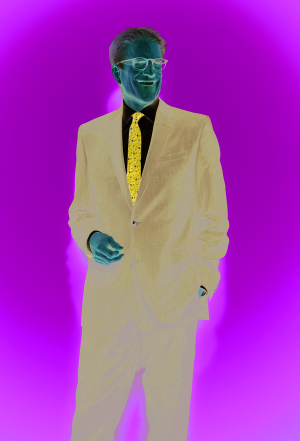 Ted Danson stars in "The Good Place"
'Good' comedy: One of the most sinfully hilarious sitcoms on television isn't about a team of detectives, a group of nerds or a multigenerational extended family. Those all have a home on the dial, but the comedy in "The Good Place" has a unique edge: it's literally out of this world.
The third season of the critically acclaimed comedy premieres Thursday, Sept. 27, on NBC. As a sitcom, the laughs come first, but both seasons have also featured jaw-dropping twists that practically demand that its audience rewatch the entire series to put things into perspective. There won't be any major spoilers here, but fair warning: "The Good Place" really is a mind-bending sitcom that makes its viewers think.
Kristen Bell ("Veronica Mars") is back as Eleanor Shellstrop, a deceased woman who's sent to The Good Place after she dies in a tragic accident. The first season deals with her struggles to fit in once she deduces that there's been a mistake -- she was a pretty horrible person in life and should have been sent to The Bad Place, but one bureaucratic mix-up later has her living the good (after)life, while trying to evade the insightful questioning of Michael (Ted Danson, "Cheers"), The Good Place's architect and benevolent overseer.
William Jackson Harper ("The Breaks"), Jameela Jamil ("Animals") and Manny Jacinto ("The Romeo Section') star as three other recently deceased people who join Eleanor in puzzling out the secrets of The Good Place, while D'Arcy Carden ("Broad City") rounds out the main cast as Janet, an artificial intelligence that provides information and assistance to The Good Place's residents.
After the wild ride and shocking finale of the first season, it speaks to the strength of the show's writing that its second one was just as twisty and entertaining. With Eleanor, Michael and the rest of the afterlifers in an entirely unexpected new situation, the third season promises to keep surprising viewers. The new season premieres Thursday, Sept. 27, on NBC.
Game show double-down: Fox is all in when it comes to the game show biz. The network recently ordered two exciting new shows that are unlike anything else currently on television, with plans for both to premiere later this TV season.
Of course, these days new game shows demand a celebrity host, and Fox's new duo doesn't disappoint on that front. Actor and comedian Dax Shepard ("CHIPS," 2017) will host "Spin the Wheel," while Rob Lowe ("Code Black") will head up "Mental Samurai."
"Spin the Wheel" is a pop culture trivia game with higher stakes than have ever been seen before in the genre. With every correct answer, the contestants add extreme amounts of cash to a colossal 40-foot wheel, while getting an answer wrong adds dangerous wedges that reset their winnings back to zero. With the chance to win up to a whopping $20 million with a spin of the wheel, the stakes really can't get any higher, making the decision to either give it a spin and risk losing it all or walk away with the money accumulated so far an incredibly difficult one.
The other new game show in the works, "Mental Samurai," is described by Fox as an obstacle course for the mind. Every episode will feature people from all walks of life testing their minds' boundaries as they race to answer questions with both speed and precision. This isn't just a mind game, though -- it's an obstacle course, and the contestants also have to deal with being transported at high speeds in a rotating capsule.
Game shows are hot right now, and Dax Shepard and Rob Lowe bring their own new series to Fox later this TV season.
Reality reunion: A beloved reality TV favorite is staging a comeback. "The Hills" ran on MTV for six seasons, from 2006 to 2010, chronicling the lives of a group of young women trying to make it in Los Angeles. Now, eight years later, many of the original cast are returning for another go at it.
"The Hills: New Beginnings" was announced at August's MTV Video Music Awards, and while no premiere date has been given yet, most of the original cast was present at the ceremony to hype up the announcement.
That said, not everyone will be returning. Original series star Lauren Conrad, who first rose to fame in the reality TV series "Laguna Beach: The Real Orange County," won't be part of the reunion, and neither will fellow "Laguna Beach" stars Kristin Cavallari, Whitney Port or Lo Bosworth.
Just like its parent, "The Hills: New Beginnings" will follow the lives of a group of women living in Los Angeles. Of course, time has passed and many of them are now married and have children, so the focus of the new spinoff may skew a little more mature.