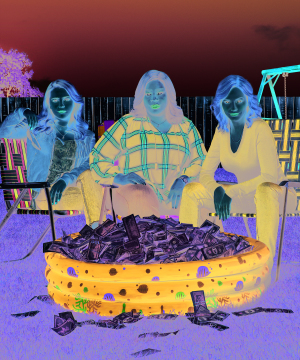 Mae Whitman, Retta and Christina Hendricks star in "Good Girls"
They say good things come in threes, and that's certainly true in one of prime time's most intriguing comedy-infused dramas. Rife with moral conundrums and criminal characters, the series has earned critical praise and has become a must-watch on Netflix.
Tired of struggling to make lemonade every time life handed them lemons, three women take matters into their own hands in the third season of "Good Girls," airing Sunday, March 22, on NBC. In the beginning of the series, suburban moms Beth (Christina Hendricks, "Mad Men"), Ruby (Retta, "Parks and Recreation") and Annie (Mae Whitman, "Parenthood") turned to crime to make ends meet when they robbed a grocery store. However, they had no idea that the grocery store in question had ties to organized crime and a dangerous thug named Rio (Manny Montana, "Graceland"). Thus began an unfortunate series of events that led them farther down a dark path.
"Good Girls" is a bit of a departure from the tamer fare that is usually seen on broadcast television. This kind of grit is more often at home on cable channels such as HBO, AMC or FX, not one of the big four networks. That's one of the reasons Hendricks wasn't so sure about the show when she first read the script. A May article on theatlantic.com indicated that Hendricks explained why during a press tour panel.
"My big fear was that it was on network television," she said. "I was terrified that they were just not going to allow the real rawness of it."
Fortunately for fans, NBC has allowed the series to flourish, with plenty of action to go around. During the show's inaugural season, some critics compared the series to a gentler or feminist version of AMC's hit "Breaking Bad." The comparison made sense given that the women were doing the wrong things for the right reasons. They were trying to improve their lives and the lives of their loved ones with a so-called "victimless" crime by robbing a fully insured grocery store. They merely wanted to use the money from the robbery to fix some finicky financial situations. Beth discovered that her family was on the verge of losing their home, thanks to her husband Dean's (Matthew Lillard, "Scooby Doo," 2002) poor financial decisions. Ruby's daughter is ill and needs expensive medical treatment. Meanwhile, Annie, who's also Beth's sister, needs money to hire a lawyer because her ex, Gregg (Zach Gilford, "Friday Night Lights"), is taking her to court for custody of their child.
The first two seasons had some thrilling moments as the women tangled with both criminal underworld figures and law enforcement, but the heart of the series is rooted in their relationships with each other and their family lives, which is perhaps what makes "Good Girls" so relatable to viewers. Beth and Dean's marriage has its ups and downs as she becomes the de facto leader of the group. Ruby has had some pretty close brushes with the law, considering that her husband, Stan (Reno Wilson, "Mike & Molly"), was a cop. When he found out about her illegal wheelings and dealings, he risked his career by covering for her. In Season 2, Annie and Gregg's son, Ben (Isaiah Stannard), previously known as Sadie, came out as a transgender boy in a forward-thinking storyline for network television.
Manny Montana from "Good Girls"
While the show's criminal storyline is unquestionably intriguing, these family struggles are just as fascinating for viewers. Ratings for "Good Girls" have dipped over the course of the first two seasons, but the program does very well on Netflix, which may have helped it earn a Season 3 renewal from NBC.
"We're so excited to continue following the friendship and adventures of these three incredible women while also exploring relatable issues in both funny and surprising ways," NBC executives Lisa Katz and Tracey Pakosta said when "Good Girls" was renewed for Season 3 in April.
The new season picked up shortly after the events of Season 2 when it debuted in February. Beth had recently shot Rio and left him for dead. With him presumably out of the picture, she was keen to take control of the game. The women kicked off Season 3 by getting normal jobs as they plot to expand their enterprise. Beth works in a stationery store, Ruby takes a job in a nail salon and Annie becomes a valet. It wasn't long before they became mixed up in a counterfeit scheme.
It's a whole new world for the women at the top of the crime ladder in the third season. Hendricks talked about the new season of "Good Girls" in an interview with "Today" in February.
"They're trying to sort of start their own empire this time," the actor said. "They're trying to take over the crime world themselves."
Also in Season 3, Stan tries to provide for his family by taking a job as a security guard at a strip club. Dean encounters harassment when he takes a sales position at a spa company. Reeling with guilt over Rio, Beth befriends his ex, Rhea (Jackie Cruz, "Orange Is the New Black"), but Rhea has no idea why Beth is being so nice to her. In a shocking twist early in the season, it's revealed that Rio is, in fact, still alive.
Who knows what the friends are in for next. Whatever it is, they are sure to have each other's backs. Beth, Ruby and Annie band together yet again in a new episode of "Good Girls," airing Sunday, March 22, on NBC.