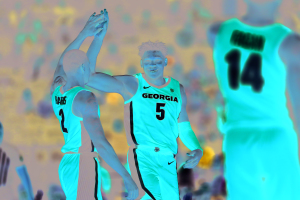 Anthony Edwards (5) of the University of Georgia Bulldogs won top pick at last year's NBA Draft
For thousands of basketball players, playing in the NBA is a dream come true. But only 60 players will get the chance to join a team in this year's NBA Draft, broadcasting Thursday, July 29, on ABC and ESPN. As we await June's recruitment results at one of the most anticipated sporting events of the year (at the time of writing), we can only speculate who the first-round draft picks will be.
Based on a series of mock drafts, however, basketball fans have a pretty good idea which players these teams are hoping to land on July 29 at Brooklyn's Barclays Center. For the NBA's 2021 mock draft, Cade Cunningham, who currently plays for Oklahoma State, is locked in as the No. 1 pick. After only one season playing NCAA ball, Cunningham's performance and physical traits have him on every recruiter's radar.
The 19-year-old guard clocks in at six-foot-eight and 220 pounds with an impressive seven-foot wingspan for defense. Cunningham's fluidity and control make him a pick-and-roll master, a skill for which Lakers legend LeBron James is also known. Cunningham also takes confident three-point shots and is a pro at setting up his teammates for successful plays.
While Cunningham is neither the most agile player nor the fastest, he can quickly read the floor and respond. He's a bulldozer, pushing his way through the defense instead of outrunning them.
Mock drafts play an important role in informing the decisions of NBA teams. Essentially practice drafts, sports officials use mock drafts to help make predictions about game outcomes and the financial gains of trade scenarios. These mock drafts aren't perfectly accurate, but they come close.
Last year's mock draft predicted LaMelo Ball (now of the Charlotte Hornets) as the top pick. While it ended up being Minnesota Timberwolves' Anthony Edwards, Ball wasn't far behind, coming in at No. 3 overall.
In the No. 1 first-round slot this year is the Detroit Pistons. General manager Troy Weaver admitted that Cunningham is at the top of the team's draft picks, but there are other players the team is considering, too: Evan Mobley, a towering and energetic player from the University of Southern California, and NBA G League Ignite's Jalen Green are both contenders.
Both Mobley and Green show just as much promise as Cunningham, but those "favoritism" predictions between them aren't as clear. Should Detroit pick Cunningham, Mobley could be the Houston Rockets' draft choice. If this is the case, Green will likely take the third slot as the Cleveland Cavaliers' next player. But the reality is that either one could end up with the Rockets — it's just a matter of whom the managers like best when the time comes.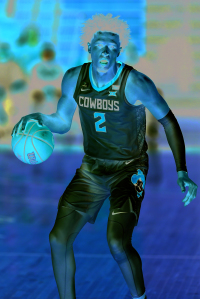 Cade Cunningham (2) of the Oklahoma State University (OSU) Cowboys expected to place high during the 2021 NBA Draft
Mobley was the no-brainer No. 2 pick for quite a while this season, but Green has been standing out among fans more recently as the new addition to the Rockets, given his potential for a stellar backcourt fit with the Rockets' Kevin Porter Jr. (Porter was the 30th pick in 2019 from USC).
Not only would the pairing outfit the Rockets with tremendous defensive power, but with Green's scoring improvement, it would give the team more scoring potential as well. Still, Mobley's seven-foot stature and reputation as an effective rim protector keep him locked in as the popular No. 2 choice.
Regardless of who goes where, the incoming NBA class is one of the strongest generations the NBA has seen in a while. Coming in fourth and fifth place in mock drafts, Gonzaga's Jalen Suggs and Ignite's Jonathan Kuminga are also powerful players.
Toronto, No. 4 in the first round, paired with Suggs, could gain a replacement for Kyle Lowry should he leave, while Kuminga demonstrates legitimate talent and versatility as a player — something that could make Orlando (No. 5 in first round) very happy.
The next five in the first round — Oklahoma City, Golden State (Minnesota), Orlando (Chicago), Sacramento and New Orleans — have their pick of other top contenders: Florida State's Scottie Barnes, James Bouknight of Connecticut, Moses Moody of Arkansas, Tennessee's Keon Johnson and Michigan's Franz Wagner.
We'll see plenty of international picks this season, too. Australia's Josh Giddy may not have the same shooting prowess as other players on the draft list, but he does have powerful passing chops and dependable technical skills. Alperen Sengün of Turkey, meanwhile, is a far cry from Cunningham, but still a top choice, mainly for his offensive power.
Fans will also see Roko Prkacin of Croatia, a solid center and forward with advanced handling and passing skill, as well as Usman Garuba of Madrid, Spain, who is one of the more promising international choices (on par with Mobley as a defender and rim protector). If he improves his offensive game, Garuba could certainly be a decent investment.
As the NBA bounces back from 2020's global uncertainty, it will be a particularly interesting draft. Several of these selection combos could set up the coming basketball season for a spectacular and newsworthy year.
Don't miss your shot to catch the first-round picks, airing live from the Barclays Center on Thursday, July 29, on ABC and ESPN. Second-round picks will air only on ESPN.