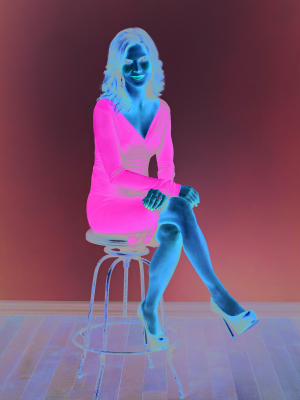 NBC correspondent Natalie Morales joins the team announcing the 2020 Summer Olympic Games
Thousands of athletes put their dreams and lifetimes of training on hold last year when organizers made the difficult decision to postpone the 2020 Olympics due to the COVID-19 pandemic. But take heart, sports fans, this summer — a year later than originally planned — those very same athletes are gathering in Tokyo, Japan to celebrate the return of the prestigious quadrennial event.
The official Tokyo 2020 Summer Olympics opening ceremony kicks off the action on Friday, July 23, on NBC. Despite the fact that the pandemic is still an issue in many areas, athletes from more than 200 countries are expected to compete in hundreds of popular sports from swimming to gymnastics to track and field while adhering to strict COVID-19 protocols.
Calling the event the Tokyo 2020 Olympics may be confusing since the Games are technically happening in 2021, but the International Olympic Committee and the Tokyo organizers decided to retain the branding when they were forced to postpone. That means all souvenirs, signage and even the medals themselves will still say "Tokyo 2020."
The choice to retain branding may be unprecedented, but the postponement is, itself, truly unique. Although the Games have been cancelled before during wartimes in 1916, 1940 and 1944, this marks the first time the Games have ever been rescheduled outside of their "every-four-years" cycle.
Along with the official Tokyo 2020 Summer Games branding, fans can expect to see plenty of the event's official mascot, Miraitowa, a blue-and-white cartoon character created by Japanese artist Ryo Taniguchi.
The mascot's name is derived from the Japanese words "mirai," meaning "future," and "towa," meaning "eternity." According to Olympics.com, the name represents the wish that Tokyo's Games will lead to a future of everlasting hope for people worldwide.
Hope seems an appropriate theme as the world comes together during the opening ceremony for the parade of nations and the lighting of the Olympic cauldron. NBC Olympics' prime-time host, Mike Tirico, teams up with Savannah Guthrie to bring TV viewers coverage of the event.
Tirico acknowledged the significance of the global community finally coming together, stating in an official NBC news release that, "The opening ceremony is a memorable part of any Olympic Games, but perhaps it has never carried more meaning given the circumstances the world has been facing."
North Americans will want to get up bright and early to watch coverage of the opening ceremony, which is slated to begin at 6:55 a.m. ET. For the not-so-early birds, however, NBC is also airing a prime-time broadcast with additional athlete interviews and special coverage.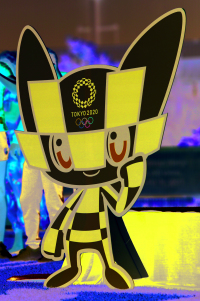 Tokyo 2020 Olympics mascot Miraitowa at an event in Izvorani, Romania
For those who can't wait until Friday morning to get the Olympic party started, NBC even has a pre-Olympic prime-time special planned.
Sibling rivalry rises to epic proportions as famous brothers Joe, Kevin and Nick Jonas go head to head in "Olympic Dreams Featuring Jonas Brothers," on Wednesday, July 21. In the one-hour program, some of Team USA's best athletes train the brothers as they set out to prove they have what it takes to compete at an Olympic level.
After training the pop stars, Team USA turns its attention once again to Tokyo as fans cheer them on from home. For the most part, internet and television services are the only ways for international spectators to catch the Tokyo 2020 Summer Olympics, as in June it was confirmed that only those living in Japan would be allowed to attend the events, with audiences capped at 10,000 or 50% of a venue's capacity, whichever is higher.
As of July 12, however, Japan headed into a state of emergency, meaning all previously planned attendance will no longer be allowed to proceed.
Luckily, there is no shortage of TV coverage planned. NBC Universal has more than 7,000 hours of programming planned, including 17 consecutive nights of prime-time coverage on the main broadcast network. NBC Sports Digital, meanwhile, will stream more than 5,000 hours, including all sports and all medal events.
Led by Tirico, NBC's Olympic broadcast team includes a record 178 commentators, correspondents and reporters, some of whom were once Olympians themselves.
Olympic medalists Apolo Ohno, Gus Kenworthy, Jessica Mendoza and Tanith White report from Tokyo, while audiences can also expect to see NBC News' Natalie Morales, Sam Brock, Anne Thompson and Dr. John Torres, who all recently joined the Tokyo reporter roster. Other familiar faces include skateboarding legend Tony Hawk, former tennis player Mary Carillo and figure skaters Tara Lipinski and Johnny Weir.
Bringing audiences coverage of fan-favorite sports such as swimming, gymnastics, track and field, beach volleyball and so much more, there are 339 events spanning 33 different sports, including some new events. The Tokyo 2020 Summer Olympics is also introducing new events in existing sports, such as 3-on-3 basketball, freestyle BMX and madison cycling. Karate, sport climbing, surfing and skateboarding also make their debuts, while baseball and softball return to the Games for the first time since 2008.
It isn't all good news, however. As recently as June, polls indicated that the majority of the Japanese public would prefer the Games not occur as scheduled due to public health concerns. Organizers have decided to proceed under strict COVID-19 biosecurity guidelines, including recommended vaccination, social distancing, mask use, on-site testing and more.
Controversies aside, the Games forge ahead this summer and athletes are finally getting their chance to compete.
Cheer them on as the Tokyo 2020 Summer Olympics kicks off Friday, July 23, on NBC.