Lady Gaga and Tony Bennett in "One Last Time: An Evening With Tony Bennett and Lady Gaga"
When a musical talent like Tony Bennett hits his milestone 95th birthday, it's cause for celebration. To mark the occasion, Bennett teamed up with frequent collaborator Lady Gaga ("A Star Is Born" 2018) for two sold-out live concerts in Manhattan's Radio City Music Hall this past August. Touted as the legendary jazz singer's final public performances, those two concerts have now been cut into a glitzy special.
"One Last Time: An Evening With Tony Bennett and Lady Gaga," airs Sunday, Nov. 28, on CBS.
"One Last Time" features the pair performing jazz standards that have been a part of Bennett's repertoire for decades. In a news release, CBS announced the set list of the special, noting that Gaga and Bennett will each perform four solo songs, including a Gaga rendition of "Luck Be a Lady" and Bennett singing the Bart Howard jazz staple "Fly Me to the Moon."
In a preview of "One Last Time" released by CBS this month, the pair sing the first of the three duets featured in the special, "The Lady Is a Tramp." They also team up for "Love for Sale" and "Anything Goes."
Bennett first began his collaborations with Gaga in 2011 when they sang "The Lady Is a Tramp" for his album "Duets II," a follow-up album released after the success of the double-platinum 2006 record "Duets: An American Classic."
"Duets II" went on to win two Grammys, including one for Best Pop Duo or Group Performance for "Body and Soul," featuring Amy Winehouse — the soul singer's final recording before her death in July 2011. Since that win, Bennett and Gaga have recorded two full albums: the jazz standard collection "Cheek to Cheek," released in 2014, and a second album, "Love for Sale," featuring pieces from the Cole Porter Songbook, released in September 2021.
With a lifetime of collaborations under his belt, Bennett's decade-long musical relationship with Gaga is very special. Not only do their voices perfectly complement each other, the two artists clearly have a lot of fun performing together.
The "Bad Romance" singer told Parade magazine in 2014, ahead of the release of "Cheek to Cheek," that "working with Tony has reaffirmed everything I knew but that you start to forget when your life changes and it gets really noisy." Gaga concluded, "For ­Tony, it's all about great music."
Sadly, Bennett's family announced in February via AARP The Magazine that the singer has been battling Alzheimer's disease since 2016. Bennett's wife, Susan, told the magazine, "there's a lot about him that I miss, because he's not the old Tony anymore … but when he sings, he's the old Tony."
"One Last Time" is like a gift for his fans; to see him perform again at 95 with his diagnosis is both inspirational and heartwarming.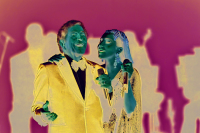 Tony Bennett and Lady Gaga, seen here performing "Cheek to Cheek," star in "One Last Time"
In an emotional moment of the special, as previewed in an episode of "60 Minutes," Bennett introduces Gaga before she takes a few spins on stage in a metallic gold dress. Gaga told reporter Anderson Cooper that Bennett hadn't said her name for weeks, but in that touching moment, "I had to keep it together because we had a sold-out show and I had a job to do. But I'll tell you," the singer continued, "when I walked out on that stage and he said, 'it's Lady Gaga,' my friend saw me, and it was very special."
Gaga went on to tell Cooper that "what's been beautiful about this and what's been challenging is to see how it [Alzheimer's] affects him in some ways but to see how it doesn't affect his talent. I think he really pushed through something to give the world the gift of knowing that things can change and you can still be magnificent."
Bennett's repertoire has remained pretty faithful to the pop and jazz singles upon which he built his career in the 1950s, including many songs in the canon of the Great American Songbook from Porter, Richard Rogers, George Gershwin and Duke Ellington, among others. With a musical career spanning seven decades, a revival is inevitable, and for Bennett, that revival was expertly orchestrated by his son, Danny, beginning in the late 1980s.
Danny got his father back in front of new audiences with appearances on late-night talk shows and in an unforgettable showcase on "MTV: Unplugged," a recording that garnered him an Album of the Year Grammy in 1995.
Proud to have gained a new audience by remaining true to himself and performing the now lesser-known classics, Bennett told AARP The Magazine in 1993: "I realized that young people had never heard those songs. Cole Porter, Gershwin — they were like, 'Who wrote that?' … To them, it was different."
He then added, "If you're different, you stand out."
"One Last Time" is directed by Emmy-nominated live event director and producer Alex Colletti, who has been involved in spectacle events ranging from the iconic 1999 "MTV Video Music Awards" to the Super Bowl XXXV Halftime Show headlined by superstar acts Aerosmith and NSYNC and featuring Mary J. Blige, Britney Spears and rapper Nelly, among others.
Don't miss what is sure to be an unforgettable performance when a living legend and his protégé sing "one last time."
"One Last Time: An Evening With Tony Bennett and Lady Gaga" airs, Sunday, Nov. 28, on CBS.