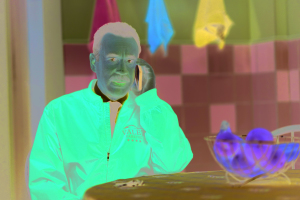 Fred Armisen in "Los Espookys"
Leaves are turning, the air is nippy and shadows are getting longer. 'Tis the season for silly scares, and a much-anticipated dark sitcom is back with its second season to deliver them. Season 2 of "Los Espookys" premieres Friday, Sept. 16, on HBO and HBO Max.
The four friends behind the practical-effects, horror-themed event group Los Espookys — Renaldo (Bernardo Velasco, "Museo," 2018), Úrsula (Cassandra Ciangherotti, "This Is Not a Comedy," 2021), Tati (Ana Fabrega, "At Home With Amy Sedaris") and Andrés (Julio Torres, "The Great North") — are back with six new episodes of hired hijinks.
If you missed out on Season 1 of the mainly Spanish-language "Los Espookys," Renaldo was inspired to level up his charmingly creepy hobby into a business after his Uncle Tico (Fred Armisen, "Portlandia") is delighted by Renaldo's ability to pull off a stomach-churning cake and spooky atmosphere for a high-concept quinceañera.
Renaldo hits the ground running, first recruiting his lifelong best friend, Andrés, heir to a chocolate empire, followed by their mutual friend, Úrsula, a sharp and resourceful dental hygienist, and her sister, the perpetually oddly employed and naïve Tati.
As they take on their first project — the exorcism of a levitating and convulsing Tati aimed at taking a new priest down a peg — they begin building a client base through word of mouth of their elaborate horror stunts.
The friends' clever optical illusions meet genuine occult manifestations, however, when Andrés offloads a cursed mirror during the staged kidnapping of their unidentified Latin American country's American ambassador (all an elaborate ploy so she can finally enjoy a vacation to herself).
Impressively, their connections even lead them to an (unfortunately ill-fated) opportunity to work with their favorite horror film director, Bianca Nova (Carol Kane, "Unbreakable Kimmy Schmidt"). But it's not all grey skies for the Los Espookys crew, and their romantic and professional lives complicate things for them and their budding business.
One such example is Andrés, who, despite having little interest in romance, is pressured by his parents to marry the incredibly dull Juan Carlos (José Pablo Minor, "La Mujer del Diablo"), heir to the Juan Carlos Cookie company, or risk losing access to his family fortune. Renaldo's mother is also constantly trying to set him up with neighborhood girls.
While Úrsula has more luck than Renaldo pursuing the women his mother wants him to date, her work life is what makes things difficult for her. Her dentist boss is mean and demanding and, to make matters worse, she's the one on the hook when Tati gets herself into an MLM scheme.
Tati, unfazed by her employment status (and most other things), is thrown for a loop when the man she's fallen for online isn't the animated prince from his avatar. Instead, he's (just) a wealthy Spanish Duke.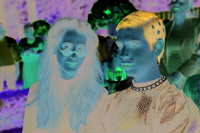 Cassandra Ciangherotti and Julio Torres in "Los Espookys"
The new season of "Los Espookys" sees Tati with interests beyond her hasty marriage from the Season 1 finale. When asked about a recently released Season 2 still, showing her character in an old-fashioned bonnet, co-creator Fabrega told Entertainment Weekly that Tati has taken up a new career.
"Tati experiences ... the highs and lows of love and decides, 'I'm going to take control of my destiny, I'm going to pursue writing,'" Fabrega shared. "She becomes a successful author, surprisingly enough. So that photo is of Tati at a conference for women in literature."
Fabrega's fellow co-creators, Armisen and Torres, joined her in revealing some of what Season 2 has in store for their characters.
A parking prodigy, Season 1 sees Tico living his dream as a Los Angeles valet until a technological advancement has him join his nephew's business.
"More and more people have self-parking cars, so it renders his occupation obsolete," Armisen noted in the interview. "So, he and his daughter, Sonia [River L. Ramirez, "Birdgirl"], take a drive down to ... wherever this fictional place may be and he starts to try to fit his life into Los Espookys' life."
Torres, on the other hand, kept his character's new path more secretive, telling EW that Andrés "is haunted by some kind of presence and he feels compelled to help this mysterious stranger throughout the season [to] uncover some kind of a mystery."
The three co-creators are natural comedians, so the laughs appear to come easily in "Los Espookys," but as Fabrega told Vanity Fair in 2019, she and Torres were inspired by Velasco and Ciangherotti, who are more experienced in dramatic acting, when writing the first season.
"Once we saw how they interpreted these characters ... it helped us write the rest of the series," Fabrega said.
See how the characters (and actors) have driven the horror comedy plot into a second season when "Los Espookys" picks back up with ghostly spirit Friday, Sept. 16, on HBO and HBO Max.