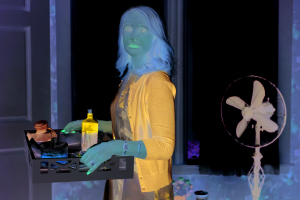 Patricia Clarkson stars in "Sharp Objects"
In recent years, we've seen a real renaissance of the television miniseries. These limited series dominated the '70s and '80s, with such heavy hitters as "Rich Man, Poor Man," "Roots," "Shogun" and "North and South" winning numerous awards and drawing viewers by the millions.
The format fell out of favor in the '90s, however. It was nearly revived in the new millennium with "Band of Brothers," "Angels in America" and others, but its real comeback arguably wasn't until 2012, with History's mega hit "Hatfields & McCoys" ruling the airwaves. Since then, we've seen many quality limited series, and on Sunday, July 8, HBO's "Sharp Objects" looks to join this prestigious group.
Since breaking onto the scene with her debut novel "Sharp Objects" in 2006, bestselling author Gillian Flynn has been a force to be reckoned with. Her sophomore novel, "Gone Girl," was adapted for the big screen in 2014 by Academy Award-nominated director David Fincher to great acclaim from critics and audiences alike. The adaptation was a smash success and turned Flynn into a household name.
The following year, her third and most recent novel, "Dark Places," was successfully adapted into a feature film starring Academy Award winner Charlize Theron ("Atomic Blonde," 2017). It was just a matter of time before Flynn's only unadapted novel was given the big screen -- or in this case, small screen -- treatment.
The eight-episode series follows St. Louis-based journalist Camille Preaker (Amy Adams, "Arrival," 2016), who returns to her hometown of Wind Gap, Mo., to investigate the grisly murder of two young girls. This is her first assignment after a stint in a psychiatric hospital as a result of years of self-harming, and the homecoming isn't all roses. Although some elements of this story sound a tad familiar, like all of Flynn's works there's much more to it.
While authorities are still trying to solve the heinous crime, a new body is discovered, and Preaker finds herself identifying with the victims a bit too closely. Her return home has forced her to confront some personal demons under the watchful and critical eye of her mother, Adora, expertly portrayed by Patricia Clarkson ("House of Cards").
Three preteen victims and a potential serial killer on the loose is a salacious story that should be easy to write, right? Not in Wind Gap. Even with her insights into the town and her understanding of the local culture, Preaker finds it hard to get any information from anyone. Her family name is supposed to open doors, but at every turn she finds herself getting stonewalled by the natives -- the worst offender being her mother (who's hosting her in her lavish mansion) standing in the way of the truth.
Preaker's nights alternate between (unsuccessfully) investigating leads and drinking away her troubles with the lead investigator, Det. Richard Willis (Chris Messina, "The Mindy Project"), but more often than not, alone. The boozy nights help with her ever-growing sense of paranoia but trigger painful recollections of her sister Marian's (Lulu Wilson, "Annabelle: Creation," 2017) mysterious death.
Amy Adams as seen in "Sharp Objects"
Through a series of flashbacks, we grow to understand why Preaker is the way she is, and why she still holds such hostile feelings for her hometown, her socialite mother and her half-sister, Amma (Eliza Scanlen, "Home and Away"). Wind Gap is extremely tight-lipped for a reason, and throughout the series, viewers are pulled further into the small-town secrets, mysteries and anguish.
Last year, HBO struck gold with its wildly popular adaptation of "Big Little Lies." The series garnered rave reviews and tons of buzz. This summer, the network will try to replicate its success by following the same formula: a trendy, well-known novel, big name talent and a celebrated auteur/director in Jean-Marc Vallée ("Dallas Buyers Club," 2013). After his excellent work on "Lies," it's easy to see why he was once again tasked with bringing a heavy and dark novel to the small screen.
We are living in a glorious era of small-screen book adaptations. In the past, Hollywood bigwigs believed that the go-to medium was the big screen, yet the tide has turned in recent years; some stories are just better suited for television (last year's "The Dark Tower" didn't get the memo). Originally envisioned as a feature film, "Sharp Objects" was retooled into a multi-hour series in order to better understand Preaker's character. Adams discussed this at the ATX Television Festival in Austin, Texas, explaining that "Camille needed to be explored over eight episodes. To try to do that in 90 minutes to 120 tops would have been really tricky. The internal monologue of Camille is almost impossible to capture in a 90-minute story."
Not everything is what it seems. Small towns harbor big secrets, and family feuds burn bright while townsfolk look the other way. This is the world in which Camille Preaker was raised, and the world she thought she had escaped. In the years she's been gone, things have only gotten worse. Embrace the darkness, follow the clues and get lost in the twists and turns with the television event of the summer, "Sharp Objects," premiering Sunday, July 8, on HBO.