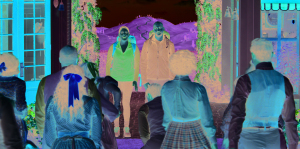 Cecily Strong and Keegan-Michael Key as seen in "Schmigadoon!"
Dim the lights and get ready for curtain! For everyone with the Broadway blues or starved for musical theater, this one is for you: the premiere of "Schmigadoon!" hits Apple TV on Friday, July 16.
The musical series conjures images of the 1947 Broadway classic "Brigadoon," breathing life into its decades-old plot. Endearing and full of earworm-worthy songs, "Schmigadoon!" already has the attention of audiences everywhere.
Featuring a standout cast that includes comedic heavy hitters Cecily Strong ("Ghostbusters," 2016), Keegan-Michael Key ("The Prom," 2020) and thespian extraordinaire Alan Cumming ("Battle of the Sexes," 2017), audiences get to watch some of their favorite everyday actors step into a genre many viewers have yet to see them in.
Showrunners of Apple TV 's "Schmigadoon!" have modernized "Brigadoon's" classic storyline.
The Broadway script tells the tale of two American men on a hunting trip in the Scottish countryside. While traveling, they come across the town of Brigadoon. The town's pretty young women and jovial atmosphere quickly catch the men's attention and they decide to stay. But, over time, they realize that all may not be as it seems, and they set out to discover what about this mysterious town seems so abnormal.
With a fresh take on sound and score, "Schmigadoon!" focuses on a married couple exploring the Scottish Highlands before they end up stuck in a musical 1940s town along the way. The new iteration of the musical also throws a big, problematic wrench in the story. While in the original "Brigadoon" the two men find love, the only way you leave the happy-go-lucky town of Schmigadoon is to find true love. As our main characters are already married to each other, well, things could get messy.
Funny and charming, Strong was an easy choice for the leading role of Melissa. Known for her work on "Saturday Night Live," Strong is no stranger to comedy. Starting off at the Chicago Academy for the Arts, Strong later graduated with a Bachelor of Fine Arts from the California Institute of the Arts. She debuted her "Saturday Night Live" career in 2012 after several years of independent touring as a stand-up comedian. Audiences loved her unique brand of comedy, and she soon rose to a full-time player on "SNL," appearing regularly.
Rounding out her career with roles in several other television series and a Primetime Emmy under her belt, she knew it was time to step into her own. In addition to leading "Schmigadoon!," Strong is also an executive producer of the show.
Standing alongside Strong as her on-screen husband and partner in crime, Keegan-Michael Key is sure to draw a crowd.
Key is well known in the comedy world and well beloved by those who grew up in the mid-2000s. Starring in "MadTV" between 2004 and 2009, teenagers everywhere fell in love with Key's energy, commitment to his characters and his versatility. Later co-creating and co-starring in the Comedy Central series "Key and Peele," Key cemented his place in the world of comedy as one of the recent greats.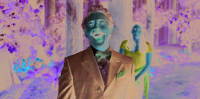 Alan Cumming and Cecily Strong in a scene from "Schmigadoon!"
Although a pillar in the comedic world, Key is no stranger to theater and Broadway. A founding member of the Planet Ant Theatre in Michigan, he has also appeared on Broadway in the hit play "Meteor Shower." He even hinted at something a bit more musical in a recent stint as "SNL" host. This wide range of experience makes Key a perfect fit for the wild and wacky adventures in "Schmigadoon!"
Breathing life into the character of Mayor Menlove is none other than Broadway great Alan Cumming. Known for bringing larger-than-life characters to the stage and screen in unique ways, Cumming solidifies "Schmigadoon's!" position as a legitimate musical series.
Cumming grew up in Scotland and began his acting career in London with both the Royal Shakespeare Company and the Royal National Theatre. Making his way to the United States, Cumming quickly found himself on Broadway showcasing his musical stylings. Perhaps most notably, he was none other than the quirky and risqué master of ceremonies in the 1993 revival of "Cabaret."
In addition to having a fully loaded central cast, "Schmigadoon!" lauds some of comedy and theater's hottest commodities as the supporting cast. Audiences can expect to see Kristin Chenoweth of "Wicked" fame, up-and-comer Dove Cameron ("Descendants," 2015) and comedy's finest, Fred Armisen ("Portlandia").
With its ensemble cast, updated plot and fresh musical numbers, "Schmigadoon!" is not a simple retelling of a classic but a modern story unique unto itself in which the reimagining works a delicate balance between revitalizing a well-loved story and paying homage to the original content.
Writing team Cinco Paul ("The Lorax," 2012) and Ken Dario ("Despicable Me 3," 2017) take on their lofty tasks effortlessly, with Paul lifting "Schmigadoon!" to new heights as creator, producer and writer of the show's script and music.
With so much in store — both new and beloved — "Schmigadoon!" promises to be this summer's hottest hit.
Snag that Apple TV subscription if you don't already have one and catch the premiere of "Schmigadoon!" on Friday, July 16, to see what the all-star cast has in store for theater and TV lovers around the world.