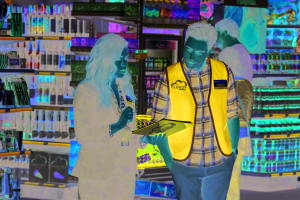 America Ferrera and Ben Feldman in "Superstore"
Final sale: "Superstore," the NBC comedy about big-box store employees, returns from its winter hiatus this Thursday, Jan. 14, but the return is bittersweet: the network has announced it will be shuttering the series later this year.
The workplace comedy has been on the air since 2015 and is currently in its sixth season. Its finale is scheduled to air in the spring and, sadly, once the season wraps, so, too, does the series.
The cast of "Superstore" includes Mark McKinney of "The Kids in the Hall" fame, Ben Feldman ("Drop Dead Diva"), Lauren Ash ("Super Fun Night"), Colton Dunn ("Key & Peele"), Nico Santos ("Crazy Rich Asians," 2018), Nichole Sakura ("Shameless") and Kaliko Kauahi ("Raven's Home"). Its biggest star was "Ugly Betty" actress America Ferrera, but early last year the lead actress and executive producer announced she was leaving the show after Season 5 to focus on family and new projects.
Of course, like so many other productions, "Superstore's" fifth season was cut short by the pandemic, and Ferrera's exit was delayed until this season's second episode, which aired in November. Since then, Ferrera's absence has been felt on-screen and in the ratings, where the series has been averaging fewer viewers, even when delayed viewings are factored in.
News of the series' cancellation is a huge blow to fans, but everyone seems committed to giving the characters a proper send-off.
"We're grateful to Universal Television and NBC for letting us make 113 episodes of a show we're so proud of, and for giving us the chance to work with such an incredibly talented group of actors, writers and crew," executive producers Justin Spitzer, Gabe Miller and Jonathan Green said in an official statement. "We're thankful most of all to the viewers who've stuck with us for the past six years (or discovered us somewhere along the way). We'll do our best to go out strong and give you the satisfying ending you deserve."
'Exhale' again: Remember "Waiting to Exhale"? The 1995 film starred Angela Bassett ("Black Panther," 2018), Loretta Devine ("The Carmichael Show"), Lela Rochon ("Boomerang," 1992) and the late Whitney Houston, who had a No. 1 hit with the song "Exhale (Shoop Shoop)" off the film's soundtrack.
It was the story of four friends who helped each other through life and love and, luckily for first-time director Forest Whitaker ("The Last King of Scotland," 2006), the movie was a big box office hit.
For a while, there was talk of a possible film sequel, but that seemed unlikely after Houston's death in 2012. However, according to Deadline, ABC is now looking to give "Waiting to Exhale" the reboot treatment — in fact, the project has already landed a script commitment with penalty.
You can't possibly recast Houston's role as Savannah, so ABC's version will introduce the next generation instead. The story will reportedly focus on the daughters of the film's female protagonists as it attempts to recapture all the warmth and humor of its predecessor.
While the original film was based on the 1992 novel by Terry McMillan, it stands to reason that ABC's project might be able to draw some inspiration from McMillan's follow-up novel, 2010's "Getting to Happy." In a 2012 interview with the Huffington Post, McMillan explained the literary sequel was itself poised to become a movie after 20th Century Fox snapped up the rights. The author had even submitted a draft version of a screenplay, but, ultimately, nothing came of it after Houston's death.
Now that ABC has taken up the mantle, sisters Attica Locke ("Empire") and Tembi Locke ("Eureka") are writing the new adaptation, and Lee Daniels ("Empire") is on board as executive producer.
This is the 'Way': You know her best as Maria from "Sesame Street." Actress Sonia Manzano retired from the beloved children's series in 2015, but instead of moving on, it seems the actress's association with PBS is very much ongoing.
In fact, PBS KIDS recently announced it has greenlit a new animated series created by the acclaimed actress and author, who is already the recipient of 15 Emmys, as well as the Congressional Hispanic Caucus Award and the Hispanic Heritage Award for Education.
Titled "Alma's Way," the series promises to teach social awareness while modeling empathetic decision-making. It centers on Alma Rivera, a six-year-old Puerto Rican girl living in the Bronx with her parents and brothers. Forty episodes are coming down the pipeline, and each episode includes a "Think-Through" moment to emphasize the importance of listening before making a big decision.
"I am thrilled to return to public television and to work with PBS KIDS and Fred Rogers Productions on this project inspired by my own childhood," Manzano said. "Alma's way is to think things through, and I hope by animating the thought process, kids will be inspired and excited about what goes on in their own minds. I want them to know we all have the power to think, regardless of who we are."
Echoing Manzano's statement, Ellen Doherty, chief creative officer of Fred Rogers Productions, said the following in an official statement: "We can't wait for kids to meet Alma. She's an optimistic and confident Puerto Rican girl who models for viewers how to think their way through any dilemma." Doherty continued, "The show is funny, warm and relatable. We love how it showcases the diversity of New York City, too, and authentically reflects the cultures of all the characters."
If all goes according to plan, look for "Alma's Way" to premiere on PBS KIDS, select PBS stations and digital platforms in the fall.