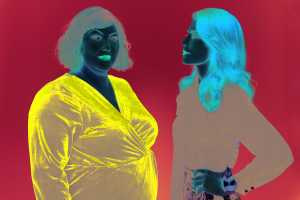 Joy Nash and Julianna Margulies star in "Dietland"
A revolution is brewing -- a television revolution, that is. While there's no shortage of lighthearted fare in prime time, socially conscious TV shows have been trending as of late, and AMC's latest hit packs a powerful punch with its feminist slant.
Joy Nash ("Twin Peaks: The Return") stars as Plum Kettle, an overweight magazine writer who gets caught between two rival feminist factions in the 10-episode series "Dietland," airing Monday, July 2, on AMC. Based on the bestselling, critically acclaimed book of the same name by Sarai Walker, the show was brought to television by Marti Noxon ("Buffy the Vampire Slayer").
"Dietland" is equal parts drama and comedy as it critiques the beauty industry and society in general for its obsession with weight and the near-impossible ideals imposed upon women. As Plum prepares for the surgery that will give her the so-called "perfect" body, she's torn between old ideas and new extremes when she's approached by an underground organization determined to challenge the status quo. She also learns of a group of feminists bent on getting revenge against sexual predators.
The role requires an actress capable of being both conflicted and funny, and producers put their faith in Nash from the get-go. When it was announced that the actress had taken the lead in the new series way back in August 2017, creator Noxon spoke highly of their new star.
"Joy is everything I hoped we'd find in our leading woman -- beautiful, smart and blazing with talent," Noxon said. "When she auditioned, the whole room was electrified."
Nash is in good company. Producers were equally excited to announce the casting of Julianna Margulies of "ER" and "The Good Wife," who plays Plum's boss at Austen Media, magazine editor Kitty Montgomery. Wickedly ambitious, Kitty is sucked into a terrifying news cycle when a feminist organization begins to target those around her.
"Julianna is diabolically talented and beautiful, which makes her perfect to play our Kitty," Noxon said. "I am genuinely honored to have the opportunity to work with her. She's a special human and a rare actor."
The cast also includes Tamara Tunie ("Law & Order: Special Victims Unit") as Julia Smith, an Austen Media employee who manages the beauty closet where they store all manner of makeup, lotions and fad-worthy products. However, Plum learns Julie has a hidden agenda as an operative for an underground feminist organization that wants to undermine the messages of Austen Media's beauty magazines and those like them.
On the flipside is Robin Weigert ("Deadwood") as Verena Baptist, the fierce leader of a feminist collective who brings women into a place dubbed Calliope House, a place of acceptance. She hopes to deprogram Plum so she can reject beauty industry thinking and accept herself for who she is now, not who she thinks she should be.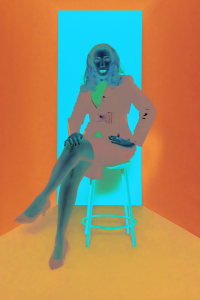 Tamara Tunie as seen in "Dietland"
Erin Darke ("Good Girls Revolt") plays Leeta Albridge, who shakes up Plum's world when she tries to recruit her for Baptist, claiming that the leader will change her life. Baptist's other followers include former sitcom star Marlowe Buchannan (Alanna Ubach, "Girlfriends' Guide to Divorce"), who lost her job when she gained a few extra pounds, and Sana (Ami Sheth, "Blindspot"), a disfigured artist who becomes a model of self-acceptance for Plum. Calliope House is also home to Rubi (Jen Ponton, "30 Rock"), a colorful, exuberant and very opinionated woman.
Plum's love interest in the series is NYPD Det. Dominic O'Shea (Adam Rothenberg, "Ripper Street"), who becomes attracted to Plum while investigating a hack at Austen Media. Dominic pals around with fellow cop and former partner, Bobby (Marc Blucas, "Underground").
British actress Rowena King ("Of Kings and Prophets") portrays no-nonsense newscaster Cheryl Crane-Murphy, who struggles to remain calm as she delivers macabre news sparked by the actions of a feminist terrorist group known only as Jennifer. Austen Media titan Stanley Austen (Campbell Scott, "Royal Pains") has been targeted by the anonymous feminist terrorists. Meanwhile, his wife, Abra (Kelly Hu, "The Scorpion King," 2002), has grown resentful of being regarded as merely Stanley's "trophy wife."
Behind the scenes, Noxon serves as executive producer, writer and showrunner. She also directs several episodes, exploring issues such as patriarchy, misogyny and rape culture in addition to critiquing unrealistic beauty standards.
Filmed in New York City, the series tackles important issues and is likely to spark heated conversations among viewers. In fact, AMC is counting on it. The network has paired the series with an aftershow in the vein of "Talking Dead," the companion series to its mega-hit "The Walking Dead." "Unapologetic With Aisha Tyler" airs immediately after each episode of "Dietland" as Tyler ("Whose Line Is It Anyway?") and her guests talk about the show and the issues it explores. While shows such as "Talking Dead" focus primarily on its companion series, "Unapologetic" digs deeper as Tyler leads discussions about broader "female-centric" issues beyond the themes touched on in "Dietland." The talk show features a mix of series stars and producers, celebrity fans, journalists, comedians, writers and others.
All in all, "Dietland" has been causing quite a stir in the television industry as Hollywood continues to move forward with the Me Too movement against sexual harassment and assault. Follow a beaten and distraught Plum as she takes cover in Calliope House, where she tries to come to terms with who she really is in a new episode of "Dietland," airing Monday, July 2, on AMC, and stick around to check out "Unapologetic With Aisha Tyler."