Mayim Bialik as seen in "Call Me Kat"
After a trying year, most people are probably ready for a few laughs. Luckily, a new comedy has navigated the tricky waters of filming during the COVID-19 pandemic to bring a little lighthearted fun back to prime time, and it stars a familiar fan favorite.
Mayim Bialik ("The Big Bang Theory") stars as Kat, a thirtysomething woman who leaves her job as a math teacher to open a cat cafe in "Call Me Kat," premiering Sunday, Jan. 3, on Fox. Inspired by the British BBC series "Miranda," the pilot received a series order from Fox in May 2020 and producers had to figure out how to get the production up and running safely after the COVID-19 pandemic forced an industry-wide shutdown. And it seems they found a way, because that is exactly what they did.
Bialik even chronicled her first day on set in a YouTube video on her official channel. She showed fans exactly what filming in the era of COVID-19 involves as she gave them a sneak peek at the new series. In the video, posted on Friday, Oct. 30, she started off by explaining that she had to show up to work in a mask and answer a series of questions, just like everybody else — no preferential "star" treatment there. As she panned around her dressing room, she showed off her wipes, gloves and hand sanitizer, even later showing viewers the podium by her chair on set where she keeps her mask.
She also talked about some of the challenges they were facing while trying to bring a little laughter into people's lives.
"Typically, we film with a live studio audience and, because of COVID, we cannot," Bialik said in the YouTube video. "So, essentially, we're filming like it's a little movie, which means we film all day." She continued by explaining why that was difficult.
"A lot of sitcom acting is dependent on timing, based on laughs and based on what works for the audience, so it's definitely a new way of learning to do this kind of comedy," she said.
Still, she and the rest of the cast and crew persevered to bring TV viewers the story of a modern woman forging ahead with her life plan, determined to be happy despite being single.
In the show, Kat struggles to prove to her mother, Sheila (Swoosie Kurtz, "Mike & Molly"), that she can live a fulfilling life without having every little thing that she wants. She takes the money her parents had been saving for her wedding and sinks it into the cafe, where she works alongside millennial Randi (Kyla Pratt, "Doctor Dolittle," 1998), a self-proclaimed non-cat person. Kat also enlists the services of Phil (Leslie Jordan, "The Cool Kids") to make all of the pastries she sells at the cafe. As Kat celebrates her independence, Phil deals with the fallout of recently breaking up with his longtime partner. Kat also has the support of her best friend, Tara (Vanessa Lachey, "Truth Be Told"), whose life as a wife and mother looks very different from her own.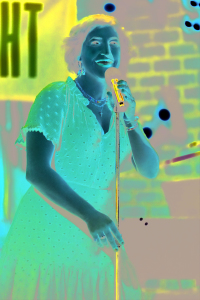 Mayim Bialik stars in "Call Me Kat"
However, as often happens in sitcoms, a wrench is soon thrown into Kat's seemingly perfect, happy single life. Her former crush, Max (Cheyenne Jackson, "American Horror Story"), reappears on the scene and lands a job as a bartender at the piano bar across from the cafe, where he works with his friend Carter (Julian Grant, "Key and Peele").
Although based on the 2009 BBC U.K. hit "Miranda," starring Miranda Hart ("Call the Midwife"), the quirky premise has been tweaked slightly for American audiences. For example, while Kat runs a cat cafe in "Call Me Kat," Miranda ran a joke shop and boutique. While odd duck Miranda didn't seem to fit in with her old boarding school chums, Kat appears to have some genuinely close friends. In a June interview with Metro.co.uk, Bialik joked about the U.S. production, saying: "We've definitely Americanized it. We're not as funny as you are over there, but we are doing our best."
The "we" Bialik is referring to includes an old pal who knows a thing or two about what makes American audiences laugh. She teamed up with former fellow "The Big Bang Theory" star Jim Parsons, who serves as an executive producer for "Call Me Kat" alongside Bialik, Hart, Todd Spiewak ("Young Sheldon"), Darlene Hunt ("The Big C") and Angie Stephenson ("The Night Of").
With such a stellar team both in front of the camera and behind the scenes, it's no wonder Fox has confidence in the series. The network has given "Call Me Kat" a prime premiere time-slot after the NFL's Sunday doubleheader — that could lead to a nice ratings boost for the fledgling series, and there's even more good news for people who like the series and its stars. Viewers won't even have to wait a full week for more of the sitcom, as it also airs on Fox on Thursday, Jan. 7, in what will be its regular time-slot. It will serve as the lead-in for the final season of the Tim Allen ("Home Improvement")-led sitcom "Last Man Standing."
Don't miss the series premiere of "Call Me Kat," airing Sunday, Jan. 3, on Fox.