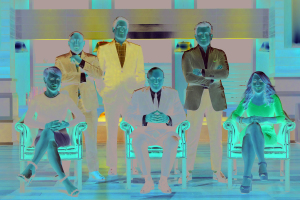 Barbara Corcoran, Daymond John, Mark Cuban, Kevin O'Leary, Robert Herjavec and Lori Greiner in "Shark Tank"
Feeding frenzy: The sharks are back again, and they've brought friends to join in on the feeding frenzy. There's no need to stay out of the water, though -- these aren't the biting kind.
"Shark Tank" returns to ABC for a 10th season on Sunday, Oct. 7, with its landmark 200th episode and even more hungry investors eager to sink their teeth into the best investment opportunities they can find. The reality TV show finds entrepreneurs looking for money to grow their businesses pitching to a group of wealthy -- and outspoken -- investors.
Sound dry? It's anything but -- after all, this is a shark tank. The investors are as forthright as they are rich, and all of the regulars are back for the new season. Sharks Mark Cuban, Robert Herjavec, Barbara Corcoran, Kevin O'Leary, Daymond John and Lori Greiner have invested millions of their own dollars over nine seasons, and they're still hungry for more opportunities to invest and grow their own money.
Of course, these sharks aren't loners, and this season they've brought some new friends. Several new guest sharks join the feeding frenzy, including retired NBA star Charles Barkley and former "Shark Tank" entrepreneur Jamie Siminoff, whose video doorbell company, Ring (called DoorBot at the time), was rejected by the sharks but was later bought by Amazon for more than $1 billion.
Fan-favorite guests who are returning this season include Sara Blakely, founder and owner of women's clothing company Spanx; baseball legend and businessman Alex Rodriguez; and "The Real Housewives of New York City" star Bethenny Frankel.
For the entrepreneurs, going in front of a panel of wealthy investors to make a pitch that could make or break their business is a stomach-churning proposition, but for the sharks, it's all just business as usual. "Shark Tank" returns for a 10th season with its 200th episode on Sunday, Oct. 7, on ABC.
'Flash' to the past: Blink and you'll miss him: Barry Allen's back, and hopefully he'll slow down enough that audiences can catch a glimpse of the speedster. Grant Gustin ("Glee") stars as Barry and his superhero alter-ego when "The Flash" returns for a fifth season on Tuesday, Oct. 9, on CW.
Last season ended with a doozie of a plot twist. After Barry and his friends encountered a mysterious girl (Jessica Parker Kennedy, "Black Sails") several times throughout the season, she finally revealed her identity: she's Barry's daughter Nora, who has time-traveled from the future.
Just what Nora's doing in this timeline is yet to be revealed and will no doubt be a major plot point this season, but what is known is that there have also been a few casting changes. The season's primary villain, the insidious Cicada, is played by Chris Klein ("American Pie," 1999), while Danielle Nicolet ("Central Intelligence," 2016) and Hartley Sawyer ("The Young and the Restless") have both been promoted to series regulars.
The main cast is all back as well, with Carlos Valdes ("Legends of Tomorrow"), Candice Patton ("The Guest," 2014), Danielle Panabaker ("Friday the 13th," 2009), Jesse L. Martin ("Law & Order") and Tom Cavanagh ("Scrubs") all ready to help Barry save the world -- again.
"The Flash" is just one part of the "Arrowverse," a shared continuity that includes a number of shows featuring DC superheroes. It's become a tradition for a major crossover event to happen each season, with the characters from each show popping up elsewhere to help each other solve a major problem, and this season won't be an exception, with Batwoman (Ruby Rose, "The Meg," 2018) popping up in anticipation of a potential new Arrowverse series.
Barry Allen returns to deal with the repercussions of his daughter time-traveling from the future in the fifth season of "The Flash," premiering Tuesday, Oct. 9, on CW.
Fashion change: There are some big changes incoming for TV's hottest fashion design competition. After 11 seasons on Lifetime, "Project Runway" is returning to Bravo, but it's making the move without some of its biggest stars.
Host Heidi Klum and mentor Tim Gunn have both announced that they won't be returning for the upcoming 17th season, and fashion designer Zac Posen, who's been a judge for the past six seasons, has followed their lead and also departed. No announcements have been made about new hosts or judges as of press time.
For Klum and Gunn, at least, the reason for their departure is an obvious one: they have another show in the works with Amazon. Details on the new streaming series are sparse, including its title, but what is known is that it's intended to make fashion accessible for a global audience, and Amazon will be creating and selling the fashions that wow the judges on the show.
Whether "Project Runway" retains its many fans with the loss of three of its stars remains to be seen. The new season will premiere later in 2019.