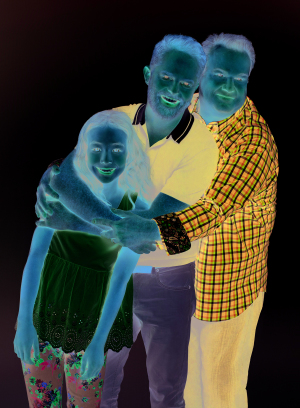 Aubrey Anderson-Emmons, Jesse Tyler Ferguson and Eric Stonestreet star in "Modern Family"
A 'Family' farewell: There's good news and bad news for fans -- and there are lots of them -- of "Modern Family." The good news is that the ABC sitcom has been renewed for another season. The bad, albeit kind of unsurprising, news is that it will also be its last season.
It's not surprising for the best of reasons: the final season puts "Modern Family" in the rare group of situational comedies that have lasted more than 10 seasons. The 10th season, which is currently airing, has had a bit of a dark cloud looming over it since it premiered back in September, with no one -- not the showrunners, not the stars and certainly not the fans -- having any idea whether or not it was the end of the line.
Over its 10 (soon to be 11) seasons, "Modern Family" has followed the lives of the extended Pritchett family, including family patriarch Jay (Ed O'Neill, "Married with Children"), his wife Gloria (Sofía Vergara, "Hot Pursuit," 2015), their son Manny (Rico Rodriguez, "Endgame," 2015), Jay's adult children from his previous marriage, Claire (Julie Bowen, "Ed") and Mitchell (Jesse Tyler Ferguson, "Wonderful World," 2009), and his grandchildren, including the enchanting Aubrey Anderson-Emmons as Lily.
Of course, knowing ahead of time that a show's season is its last can actually be a good thing. It gives the writers the opportunity to wrap up ongoing plots in a (hopefully!) satisfying way, to bring character arcs to their conclusions and to thank the fans who have stuck around for more than a decade. It's not surprising that "Modern Family" has lasted this long: it's earned more than 80 Emmy nominations and won almost two dozen of them, and even counts Michelle Obama as one of its many avid fans.
All good things must come to an end, even for ABC's longest-running comedy. Luckily, there's one last season in the pipe; watch for it in the 2019-20 TV season.
A new crew: The results are in: Terry Crews is a big hit. The "Brooklyn Nine-Nine" star got to try his hand at hosting earlier this year with "America's Got Talent: The Champions," and the muscular actor did such a good job in that spinoff that he's taking over the role in the flagship show.
"America's Got Talent" returns to NBC for a 14th season this summer with Crews front and center, taking over hosting duties from Tyra Banks ("America's Next Top Model"), who has held the position for the past two seasons. He won't be the only new face this year, either. The judges panel is also getting a shakeup, with supermodel and fashion icon Heidi Klum ("Project Runway") and musical legend Mel B both departing.
In the place of those two judges, who have both been with the show since season 8, fans are excited to welcome Gabrielle Union ("Bring It On," 2000) and dancer Julianne Hough, who is a two-time "Dancing with the Stars" champion. They'll be joining long-serving judges Howie Mandel ("Deal or No Deal") and Simon Cowell ("American Idol").
"America's Got Talent" remains the backbone of NBC's summer lineup, consistently drawing huge ratings for the peacock network. This winter's "Champions" spinoff, which featured past winners and finalists competing with the winners of international versions of the show, was also a ratings smash.
With "Champions," Crews proved that he can pull in and charm an audience, and this summer he'll bring that charisma to "America's Got Talent." Catch him and the new judges this summer on NBC.
Tell me 'Y': FX is doubling down on sci-fi. The network has garnered a reputation for its innovative and critically acclaimed shows such as "The Americans" and "Atlanta," and after a successful pilot, the cable network is moving ahead with its adaptation of an acclaimed comic book series with an eye on a 2020 premiere date.
The comic "Y: The Last Man" was produced from 2002 to 2008, and stands as a shining example of creative and compelling storytelling. The story, which is written and illustrated by Brian K. Vaughan and Pia Guerra, is set following a disaster that killed off all males -- not only human men, but all mammals bearing the Y-chromosome. There are only two exceptions: a man named Yorick and his monkey, both of whom have somehow survived.
Of course, that's the story of the comics -- it remains to be seen how closely the show will stick to its source material. "The Glass House" (2001) star Diane Lane headlines the cast, and she's joined by Imogen Poots ("Roadies"), Barry Keoghan ("Dunkirk," 2017), Lashana Lynch ("Still Star-Crossed") and Amber Tamblyn ("Joan of Arcadia").
It may be the end of the world, but it's just the beginning for some incredible storytelling and world building. "Y: The Last Man" is just beginning production for an anticipated 2020 premiere date on FX.