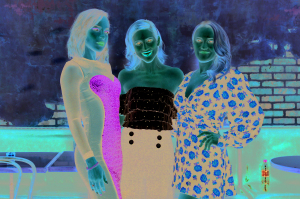 Megalyn Echikunwoke, Brittany Snow and Emily Osment co-star in "Almost Family"
Families come in many shapes and sizes, and the term can mean something very different from person to person. Family dramas have always been a staple of prime-time television, and this season, Fox presents a fresh new take on the genre.
"Almost Family" premieres Wednesday, Oct. 2, on Fox, and the series has a lot of promise. First of all, it has a great cast. Brittany Snow ("Pitch Perfect 3," 2017) and Oscar winner Timothy Hutton ("American Crime") star as a daughter and father whose happy, loving relationship is fractured after a shocking revelation. Second, the series is based on an already successful Australian series called "Sisters," which you can stream on Netflix.
But what makes this drama so compelling (besides good writing and a great cast, of course) is that the central storyline is ripped right from real headlines.
Snow plays Julia Bechley, a young professional in New York City who works as a communications director for her famous father's fertility clinic. Hutton plays the longstanding figurehead of that clinic, Dr. Leon Bechley, a highly sought-after expert who has a reputation for impressively high success rates. The Bechley family enjoys both close personal relationships and a strong working relationship with one another, but their happy equilibrium is destroyed when a journalist confronts Leon with a disturbing accusation.
An unnamed source is accusing him of using his own sperm to impregnate a patient at his clinic. As that news story develops, children whose mothers were treated at the Bechley Clinic -- some decades ago -- begin to take paternity tests. It soon becomes clear that Leon himself is the biological father of dozens of these children, and a formal investigation is launched into his practice.
In addition to Snow and Hutton, "Almost Family" stars singer and actor Emily Osment ("Young & Hungry"), network drama veterans Megalyn Echikunwoke ("CSI: Miami") and Mo McRae ("Sons of Anarchy"), and young newcomer Mustafa Elzein ("Sequestered") as just some of the numerous other people caught up in the controversy that takes over the life of the two leads.
The creepy premise of the series really does have its roots in real world. Take, for example, the case of American doctor Cecil Jacobson. He was convicted on 52 counts of fraud and perjury in 1992 after he was proven to have artificially inseminated patients with his own genetic material. Though only 15 cases were proven, he's thought to have secretly fathered up to 75 children.
In addition to such real-world drama, "Almost Family" has "Sisters" to draw from. While the premise of the series remains the same, Fox has made some changes to the detail. In "Sisters," for example, Dr. Bechly's public exposure stems from a deathbed confession rather than an exposé at the height of his career.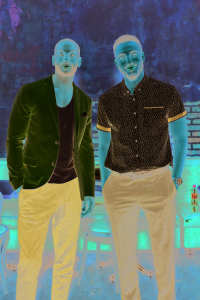 Mo McRae and Mustafa Elzein co-star in "Almost Family"
It makes sense that "Almost Family" would make that tweak to the "Sisters" storyline. There's such potential in the heavy drama of Julia navigating the new boundaries of her relationship with her father after learning about his devastating moral failure and reprehensible behavior. Beyond the father-daughter conflict, Julia must deal with the potential collapse of her father's clinic and the threat that poses to her own career.
Meanwhile, Leon himself will need to undergo the scrutiny of the law and deal with whatever punishment is handed down to him. What a waste it would have been to kill off Hutton in the very first episode!
As dark as those narrative threads sound, "Almost Family" is not only about trauma, loss and deterioration. Though the revelations about her father are devastating, Julia also gains a few dozen siblings overnight. Echikunwoke's character, Edie Palmer, is a family friend of the Bechleys, and has shared a complicated relationship with Julia over the years. When the girls suddenly learn that they're half-sisters, everything changes for the pair.
Osment plays Roxy Doyle, a former Olympian with troubling personal issues and an uncertain future. She's also confirmed to be a half-sister of Julia and Edie, but she approaches the prospect of new familial relationships with eagerness and excitement.
"Almost Family" looks at the nature of familial bonds and explores what it really means to be kin. If the series can sink its teeth into audiences and assure its continuance, the sky is the limit for future seasons. Any number of new siblings can be introduced down the line, with endless possibilities for variation (and special guest stars!).
See the premiere of "Almost Family" when it premieres Wednesday, Oct. 2, on Fox, and find out what can happen when someone's life is turned upside down by a sudden, massive increase in the number of cards they need to send whenever a holiday comes around.