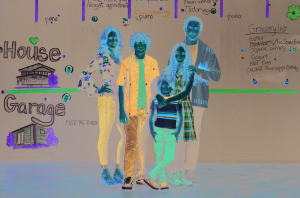 Jenna Fischer, Van Crosby, Sander Thomas, Olivia Keville and Oliver Hudson star in "Splitting Up Together"
Divorce is a tough reality that many adults have to face nowadays. Sometimes it's expected and sometimes it's out of the blue, but regardless of the reason or circumstances, lives are always irrecoverably changed. On Tuesday, Oct. 30, see how a family and its social circle deal with a divorce and the aftermath in a new episode of "Splitting Up Together" on ABC.
Every relationship is different, and when that relationship ends and there are kids involved, a mother and father must develop a co-parenting system that works best for them and their family. Often this is handled through a conventional schedule of week on/week off or every other weekend with the kids, but "Splitting Up Together" follows a couple who are doing things a little differently.
Lena (Jenna Fischer, "The Office") and Martin (Oliver Hudson, "Rules of Engagement") were once so happy together. They dated, got married and all was well. Parenthood brought even more happiness to the pair, but unfortunately, their joy as a couple was not everlasting.
Like in many marriages, the love and companionship that were once front and center were eventually replaced with bitter feelings and resentment toward one another. Over time, Martin started to believe that he could not amount to anything and could never do anything right. Ultimately, the patriarch of the family simply stopped trying. Date nights were replaced with evenings filled with uncomfortable silences, with the laughter and marital bliss all but gone.
Martin's lack of ambition and overall apathy only infuriated Lena, the perfectionist. While her partner had devolved into a hands-off parent and husband, she fell into the role of the family's sole caretaker. It was only a matter of time before the once delightful duo took a trip to splitsville.
After the marriage's dissolution, the couple quickly realized that even if divorced, staying together was perhaps the best course of action for the good of their three kids, 15-year-old Mae (newcomer Olivia Keville), 14-year-old Mason (Van Crosby, "Criminal Minds") and seven-year-old Milo (Sander Thomas, "The Keeping Hours", 2017). Though no longer a couple in an emotional sense, Martin and Lena work out a way to both remain present in the home and in their kids' lives. With the unforgiving real estate market and the desire to spend time with their children, a cozy garage apartment dubbed the "Bird Nest" was erected.
Lena and Martin rotate who's on duty in the house with the kids and who's off duty for the week in the Bird Nest. While out of the house and absolved of any child-related responsibilities, the parents are free to date whomever they please and whenever they please. On the flip side, the house-dwelling parent can rule the roost however they see fit. For Lena, the new system is an exercise in moving away from the strict parent reputation that she's earned over the years, while still not letting the inmates take over the asylum. On the other hand, Martin must step up his parenting game, which has been virtually non-existent for far too long.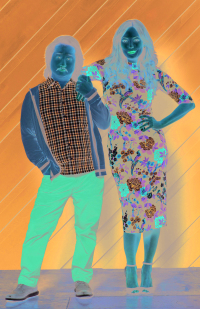 Bobby Lee and Lindsay Price star in "Splitting Up Together"
Divorce, separation and breakups often affect more than just the two parties involved. Just like the fractured couple, immediate family, children, friends and even pets are all forced to reckon with the end of a relationship. Beyond having to choose a side after a breakup, friends and family are compelled to examine their own relationships.
After Lena and Martin's split, friend of the couple Arthur (Bobby Lee, "Love") started to question his entire relationship with his gorgeous wife Camille (Lindsay Price, "Eastwick"). He's always been aware that she's out of his league and that he's married up, but with his friends' divorce, he has become obsessed with questioning the stability of his relationship. Naturally, this obsessiveness has caused a strain on his own marriage.
While Arthur is in the midst of torpedoing his relationship, Martin has begun to reflect on what went wrong during his marriage and accepts responsibility for his part in the breakup. Lena, meanwhile, has started to dip her toes into the dating scene at the behest of her sister, Maya (Diane Farr, "The Secret Life of the American Teenager"), a serial dater with a penchant for awful men. The well-meaning sibling is on a mission to get her sister to loosen up, move on with her life and meet new people.
Last season ended on a cliffhanger with Lena and Martin reuniting for one night, and the aftermath of this prompts some important dialogue this season. On Tuesday, Oct. 30, tune in to the sophomore series produced by Ellen DeGeneres ("Ellen") and find out what this night meant as a once loving couple continues to navigate uncharted waters in a new episode of "Splitting Up Together" on ABC.