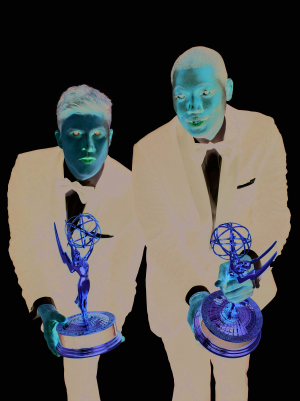 Colin Jost and Michael Che co-host the 70th Annual Primetime Emmy Awards
Fall is nearly here, and that means it's time for cozy sweaters, pumpkin spice everything and the new prime-time television season. After a summer of repeats, it's finally time for our returning favorites and a new crop of aspiring series.
With both new and old shows vying for our attention, we set aside an evening to look back at the past year and celebrate television's outstanding achievements. See the stars, relive the best moments and have a good time with the 70th Annual Primetime Emmy Awards, airing Monday, Sept. 17, on NBC.
This marks the first time in four years that the peacock network will broadcast the event, and it looks to showcase its bright, young talent with "Saturday Night Live" Weekend Update anchors Michael Che and Colin Jost as MCs for the ceremony. Following Stephen Colbert's ("The Late Show with Stephen Colbert") tremendous performance from last year will be no easy feat, but despite the pressure, the pair is ready to tear down the Microsoft Theater in downtown Los Angeles.
In an interview with Vanity Fair, Che and Jost discussed how the Emmys will be a nice change of pace from the constant political topics they cover on Weekend Update. "The exciting part is to do things about television and that particular awards ceremony and make it, in general, less political than normal," Jost said. "There's a lot to celebrate in television right now. It's a very strong time."
Jost is spot on -- we're currently in a new golden age of television. When the nominations were announced by Ryan Eggold ("The Blacklist") and Samira Wiley ("Orange Is the New Black") back in July, this was made very clear. The usual complaints followed the announcements, but they quickly dissipated. Instead of focusing on the snubs, people turned their attention to the many surprises and first-time nominations. For instance, this year marks the first time in its nine-year run that the ABC hit "Modern Family" wasn't nominated for Outstanding Comedy Series -- a nod the single-camera comedy has consistently secured since 2009.
History was made when Sandra Oh became the first Asian actress nominated for Best Actress in a Drama for her excellent performance in "Killing Eve," while Jessica Biel ("The Sinner"), Matt Smith ("The Crown") and Nikolaj Coster-Waldau ("Game of Thrones") all received nominations for the first time.
"Game of Thrones" leads the pack with an impressive 22 nominations, followed closely by its HBO counterpart "Westworld" with 21. The legendary "Saturday Night Live" also raked in 21 nods. Not far behind is Hulu heavyweight "The Handmaid's Tale" and FX's "The Assassination of Gianni Versace: American Crime Story" with 20 and 18 nominations, respectively, with the latter looking to take home the Outstanding Limited Series award.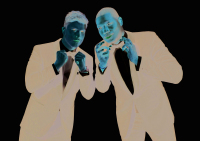 Colin Jost and Michael Che are set to host the 70th Annual Primetime Emmy Awards
Without the perennial "Modern Family" and last year's winner, "Veep," in the running, the Outstanding Comedy Series award is up for grabs. With the exception of FX's "Atlanta" and ABC's "Black-ish," broadcast networks and basic cable were virtually shut out in favor of premium and streaming series. Newcomer "Barry" is up against HBO stablemates "Silicon Valley" and "Curb Your Enthusiasm," while Amazon's "The Marvelous Mrs. Maisel" and Netflix's "GLOW" and "Unbreakable Kimmy Schmidt" round out the nominees.
It's not all bad news for broadcast, however, with NBC garnering a respectable 78 nominations. Streaming services are well represented at this year's ceremony, with Netflix reaping the most noms of any streamer with a whopping 112. Hulu, with 27, and Amazon, with 22, though far behind, nevertheless saw an increase from last year and have nominations in the most important categories.
On the drama side, FX's "The Americans" finally received some love from the academy for its sixth and final season. The '80s-set Cold War series faces off against a couple of Netflix period pieces in "The Crown" and "Stranger Things." The trio, along with fellow nominees "Game of Thrones, " "This Is Us" and "Westworld," will try to prevent "The Handmaid's Tale" from repeating as Outstanding Drama Series.
The Outstanding Lead Actor in a Comedy Series is dominated with returning nominees in Anthony Anderson ("Black-ish"), TV veteran Ted Danson ("The Good Place"), Larry David ("Curb Your Enthusiasm"), Donald Glover ("Atlanta") and William H. Macy ("Shameless"). Bill Hader ("Barry") is the lone rookie in the field of comedic giants.
Who will emerge victorious as Outstanding Lead Actress in a Drama Series is anyone's guess. The heated race is once again up in the air between Claire Foy ("The Crown"), Tatiana Maslany ("Orphan Black"), Sandra Oh ("Killing Eve"), Keri Russell ("The Americans"), Evan Rachel Wood ("Westworld") and last year's winner, Elisabeth Moss ("The Handmaid's Tale").
Will Sterling K. Brown win back-to-back gold statues for NBC powerhouse "This Is Us"? Will Allison Janney ("Mom") make 2018 a year to remember by adding an Emmy Award for Outstanding Lead Actress in a Comedy Series next to her Academy Award for her memorable performance in "I, Tonya" (2017)? Have a laugh with Che and Jost and see how it all plays out with the 70th Annual Primetime Emmy Awards, airing Monday, Sept. 17, on NBC.