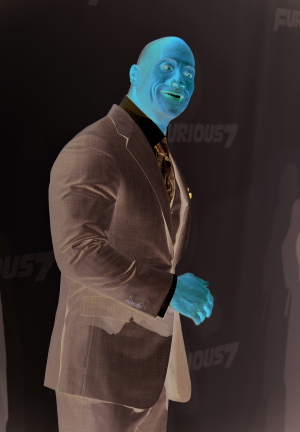 Dwayne Johnson brings "TRE CNT" to HBO
Eyebrow raising: In his WWE days, Dwayne "The Rock" Johnson was the "People's Champion" who delivered some of the best catchphrases of all time before laying the smackdown on a jabroni.
Nowadays, Johnson is a big draw at the box office, with leading roles in movies such as "Jumanji: The Next Level" (2019) and "The Fast Saga" films, plus a planned sequel to the 1986 movie "Big Trouble In Little China" (note the word "sequel" and not "remake"). He also starred in the HBO series "Ballers," which ended its run in October.
But Johnson's run on HBO isn't anywhere near done -- at least not behind the camera. Johnson will be teaming up with Issa Rae ("Insecure") and Dany Garcia ("Baywatch," 2017) to produce a new half-hour series that is currently in development at HBO, according to Variety.
Tentatively titled "TRE CNT" (or "TRE COUNT"), the series centers on Cassius Jones, a struggling pro wrestler who uses his inheritance to build a backyard wrestling empire in The Tre, Houston's Third Ward.
Johnson will share executive producer duties with ex-wife/longtime business partner Garcia -- the two shared the cover of "Entrepreneur" magazine last month -- and Hiram Garcia under their Seven Bucks Productions banner.
Seven Bucks is also behind Disney's "Jungle Cruise," which was due out this summer before it was delayed to 2021 due to the pandemic. The virus also halted production on "Red Notice," a Netflix action-comedy-thriller due out later this year. But once all production resumes, expect Johnson to be a very busy man. In January, NBC handed a straight-to-series order to "Young Rock," a comedy based on Johnson's life. And of course, there's still a second season of "The Titan Games" to come.
Lovers in a COVID-19 time: How do you make a meaningful connection in an era of social distancing? That's a question many people have been asking themselves since distancing guidelines put a damper on in-person dating and meet-ups. Still, love is a primordial force, and people have adapted by using dating apps and live video chats to be together -- but (at least) six feet/two meters apart.
That new dating reality, for however long it lasts, is slowly making its way onto our TVs, unless you're watching a pre-COVID production like "Too Hot to Handle." And TLC is quick to seize on this shift with a new late-night series premiering this Sunday, May 10.
Hosted by former Fox 5 NY news anchor Sukanya Krishnan, "Find Love Live" is all about bringing single people together and helping them find their future partner on live TV (no pressure, right?). But it's all done from the comfort and safety of their own homes.
The series was originally slated for an April premiere. But without a full production crew, it was retooled to air as a remote production instead.
All dates will be virtual, and the format sounds like a more modern and interactive version of "The Dating Game." In each episode, the featured "singleton" has been selected from those who answered a TLC casting call, and they'll have the opportunity to video chat, interview and flirt with potential suitors. Viewers, not Krishnan (she's more of a referee), will get to play the role of matchmaker by voting live for their favorite match. And once the choice is made, the "made on TV" couple will move on to a first virtual meet-up and … well, you'll have to keep tuning in to see how everything works out.
'To Catch' Tamar: It looks like Tamar Braxton will soon be heading to VH1. The Grammy-nominated singer-songwriter has signed on to co-host the new beauty series "To Catch a Beautician" with celebrity hairstylist Johnny Wright.
VH1 has booked the makeover series for a May 25 premiere. And based on the description, this may be the show for you if you've ever had a bad hair experience. In fact, few things can sour your mood as quickly as getting up from the salon chair and realizing you've got fried hair, bad color or a terrible cut. In those situations, Braxton and Wright are the heroes you deserve and need (or would have needed at the time).
In each episode, the hosts will help clients confront the beauticians who damaged their hair. Wright, who has styled the hair of celebrities such as Queen Latifah ("Star"), Kerry Washington ("Scandal") and former first lady Michelle Obama, will put the stylists through a boot camp before giving them the chance to fix their mistake and redo the client's hair.
Braxton is no stranger to reality TV, having appeared on-screen for all six seasons of "Braxton Family Values" on WE TV. She was also one-half of "Tamar & Vince," (the spinoff series that ran from 2012 to 2017), a former co-host of "The Real," and a past contestant on both "Dancing With the Stars" (Season 21) and "Celebrity Big Brother."