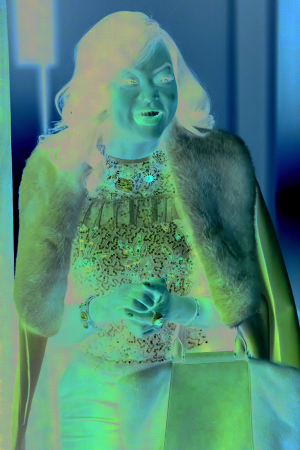 Taraji P. Henson as seen in "Empire"
Expanding 'Empire': Fox's "Empire" may rise again after ending its six-season run earlier this year. But if it does, it will likely be in the form of a spinoff centered on Cookie Lyon, the label-founding matriarch played by actress Taraji P. Henson ("Hidden Figures," 2016).
Henson, who won a Golden Globe and earned three Emmy nominations for the role, recently signed a two-year, first-look deal with 20th Century Fox TV. This possible spinoff -- it's still in the early stages of development -- could be the first project under that deal and the first from Henson's newly formed production company, TPH Entertainment, meaning Henson will both star in and produce the series.
There are few details about possible storylines beyond the official description that the series "follows what's next for Cookie." But we do know that "Empire" co-creator Danny Strong, who extended his own deal with the studio last year, will be involved as showrunner and writer alongside Stacy Littlejohn and Yolonda Lawrence. Veteran "Empire" director Sanaa Hamri has also been tapped to direct the spinoff, while "Empire" co-creator Lee Daniels, who is behind ABC's planned Black "The Wonder Years" reboot, will serve as a non-writing executive producer.
Both Daniels and Henson have been teasing a possible Cookie-centered spinoff for a while now, but Henson's deal with 20th Century will also allow the mental health advocate to bring other stories to life (and to our screens). "I believe that normalizing stories around stigmatizing matters will make them more palatable for audiences to embrace," Henson said in a statement about her deal. "Art can change perception and I plan to develop projects that can help further the conversation. I also aim to help cultivate and establish new young talent and their stories because they are our future and deserve a voice and a platform to be heard. I'm so excited to have 20th, led by the talented Carolyn Cassidy, support me in this new endeavor."
More 'Moodys': Get ready to spend more time with the Moody family, because Fox has renewed the Denis Leary-led series for a second season.
Viewers got to know the family last December when "The Moodys," aired over three nights. Set in Chicago, the series focused on the holiday antics of a dysfunctional family. There was cantankerous patriarch, Sean Sr., played by Leary ("Rescue Me"); mom Ann, played by Elizabeth Perkins ("Weeds"); the still-living-at-home eldest son, Sean Jr., played by Jay Baruchel ("How to Train Your Dragon," 2000); overachieving Bridget, played by Chelsea Frei ("Sideswiped"); and "the creative one," son Dan, played by Francois Arnaud ("The Borgias").
From the start, the network envisioned the "holiday event" as a possible launch for a series, just like the 2012 Australian special that inspired it. The event had so-so ratings, but Michael Thorn, president of entertainment for Fox Entertainment, was still open to a possible series renewal when he spoke with Deadline in January.
"Internally, it's been one of the company's favorite shows," Thorn said. "The ratings were OK. We also went into it knowing that we'd never had original holiday programming during that time period, we tried something new and we were really pleased to get that cast. We're having conversations right now about what another installment or season would look like. I don't think we'll know for a couple of weeks. It's something that we're really passionate about."
A couple of weeks turned out to be a couple of months, but Season 2 of "The Moodys" is now officially on the way. No word yet on the number of episodes that will air, but instead of the holidays, this installment will shift the focus to the family's everyday lives.
A possible premiere date hinges on how TV and film productions resume after the production shutdown. But for now, you can tentatively expect Season 2 of "The Moodys" to debut sometime in the 2020-21 season.
It's also worth noting that the renewal announcement came on the heels of Leary's own development deal with Fox. Under the terms of the deal, the Golden Globe- and Emmy-nominated actor will create and produce comedy, drama and animation projects for Fox via his production company, Amoeba. In the official statement, Leary quipped: "Everyone at Amoeba is excited about this partnership and we look forward to creating new, cutting-edge content at Fox, as well as using their luxury suites for World Series games and the Super Bowl."
Coming to PBS: ITVS, the non-profit organization funded by the Corporation for Public Broadcasting, has unveiled the fall schedule for PBS's award-winning documentary anthology series, "Independent Lens." And fans of HGTV's "Property Brothers" may be interested to know that the lineup includes Jonathan Scott's first directing effort.
Keep in mind that the dates listed here might not apply to your viewing area. Each PBS station handles its own programming schedule, so you'll want to check your local listings closer to the airdate.
The first documentary on the fall-winter 2020 slate is "Feels Good Man," from director Arthur Jones. Winner of the U.S. Documentary Special Jury Award for Emerging Filmmaker at the 2020 Sundance Film Festival, "Feels Good Man" is a cautionary tale for any artists in this digital age. It's the story of how cartoonist Matt Furie fought hard to reclaim his once-benign comic character, Pepe the Frog, from those who turned it into a symbol of hate online.
Filmmaker Hillary Bachelder's "Represent" is next, and it is scheduled to air the week before the U.S. election. By chronicling the experiences of three women running for office, "Represent" examines the challenges and obstacles women face when entering U.S. politics for the first time.
"Jonathan Scott's Power Trip" marks Scott's directorial debut, and the documentary is scheduled to air on Nov. 16. The documentary follows Scott as he talks to senators, miners and energy experts and exposes how fossil fuel monopolies are preventing the growth of renewable energy.
The rest of the lineup includes Erika Cohn's "Belly of the Beast," a shocking account of illegal and involuntary sterilizations in California's state prison system, as well as documentaries "Charm City," "The Force" and "RUMBLE: The Indians Who Rocked the World."