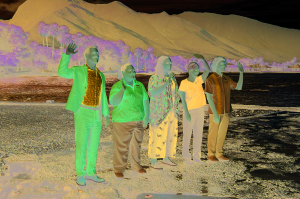 Murray Bartlett, Jolene Purdy, Natasha Rothwell, Christie Volkmer and Lukas Gage as seen in "The White Lotus"
After months of sticking close to home, it's time for a holiday. For those of us who can't afford a five-star luxury resort, a new comedy offers a look at life in paradise. Well, almost paradise anyway.
The staff of a luxury tropical resort welcome affluent guests in the social satire "The White Lotus," premiering Sunday, July 11, on HBO. As the miniseries follows various guests and staff members over the course of a week, it quickly becomes clear that their picture-perfect lives are anything but.
Series creator Mike White also directed and wrote all six episodes of the limited series. He's known primarily for writing the screenplays for "School of Rock" (2003), "Nacho Libre" (2006) and "Chuck & Buck" (2000), but this isn't White's first outing with HBO.
White was the co-creator of the comedy-drama "Enlightened," which earned a Golden Globe nomination for Best Television Series - Musical or Comedy, so the folks at the cable giant seem happy to welcome him back into the HBO fold with "The White Lotus."
"We couldn't be happier to collaborate with him again on yet another hilarious and perceptive piece that exposes the complexities of life and humanity itself," Francesca Orsi, co-head of drama programming at HBO, said in an official release about the series.
"The White Lotus" features an ensemble cast that includes seasoned veterans and talented up-and-comers.
Australian actor Murray Bartlett leads the way as resort manager Armond, who, after experiencing a sudden trauma, begins to spiral downward. Bartlett may be best known from his role as Dom in the HBO series "Looking" and the subsequent film "Looking: The Movie," and he was recently seen in the Netflix revival "Tales of the City." His other credits include the television series "Limitless" and "Nashville."
Fans of "Nashville" will also recognize Connie Britton for her starring role as country singer Rayna Jaymes in that drama. She's cast in a whole new light in "The White Lotus" as Nicole Mossbacher, a successful executive who comes to the resort with her family. Britton is also known for NBC's "Friday Night Lights" and her role in FX's "American Horror Story," for which she earned an Emmy nod. More recently, Britton was nominated for a Golden Globe for her work in Bravo's crime anthology series "Dirty John."
Steve Zahn co-stars in "The White Lotus" as Nicole's husband, Mark, who struggles to come to terms with an embarrassing health issue and an inferiority complex. A prolific actor in film and television, Zahn is known for everything from children's movies such as "Stuart Little" (1999) and "Diary of a Wimpy Kid" (2010) to action flicks "Sahara" (2005) and "The War for the Planet of the Apes" (2017). In 2020, he won Best Actor at the Tribecca Film Festival for the drama film "Cowboys."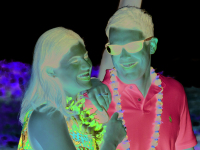 Alexandra Daddario and Jake Lacey in a scene from "The White Lotus"
Nicole and Mark visit the resort with their children, one of whom, socially awkward teenage gamer Quinn, is portrayed by Fred Hechinger ("Eighth Grade"). The young actor has already worked with some of the biggest names in Hollywood, including Tom Hanks in "News of the World" (2020) and Amy Adams, Gary Oldman and Julianne Moore in Netflix's "The Woman in the Window" (2021).
Quinn's sister, Olivia (Sydney Sweeney, "Euphoria"), brings her friend, Paula (Brittany O'Grady, "Little Voice"), a fellow college sophomore, along as well. Sweeney appeared on the big screen in Quentin Tarantino's "Once Upon a Time... in Hollywood" (2019) and has starred in such programs as "Nocturne," "The Handmaid's Tale" and "Everything Sucks!" Up-and-comer O'Grady, meanwhile, has credits in the Fox series "Star" and the Blumhouse production "Black Christmas" (2019).
Jake Lacy ("The Office") and Alexandra Daddario ("True Detective") play newlyweds Shane and Rachel, who begin to have doubts about their relationship as they honeymoon at the luxury resort. TV fans most likely remember Lacy as Pete in the final season of the NBC hit "The Office." More recently, he starred in the FX shows "Fosse/Vernon" and "Mrs. America." Daddario rose to fame as Annabeth in the Percy Jackson film series and shared the screen with Dwayne Johnson in both "San Andreas" (2015) and "Baywatch" (2017).
Jennifer Coolidge ("2 Broke Girls") stars as Tanya McQuoid, a wealthy woman still reeling from the loss of her mother, at the hotel to scatter her mom's ashes. A longtime member of the famed comedy troupe The Groundlings, Coolidge is well known for her comedic roles in such films as "American Pie" (1999) and "Legally Blonde" (2001) as well as Christopher Guest's mockumentary films "Best in Show" (2000) and "A Mighty Wind" (2003). Her television credits include "Friends," "Sex and the City" and "Glee."
Natasha Rothwell rounds out the main cast of "The White Lotus" as down-to-earth spa manager Belinda. The performer and writer is known for her work on HBO's "Insecure," which earned her a 2019 NAACP Image Award nomination. She has also written for legendary sketch-comedy series "Saturday Night Live." As an actress, she's appeared in "Brooklyn Nine-Nine," "The Simpsons" and "Bojack Horseman."
"The White Lotus" features a number of recurring cast members as well, including Molly Shannon ("Saturday Night Live"), Jolene Purdy ("WandaVision"), Lukas Gage ("Euphoria"), Kekoa Kekumano ("Aquaman," 2018) and Jon Gries ("Lost").
The other "star" of the show is paradise itself, and if the idyllic setting looks authentic, it is. The lucky cast and crew got to film at a real Hawaiian resort last fall, while adhering to strict COVID-19 guidelines, of course.
Now viewers can escape to the tropics thanks to "The White Lotus," premiering Sunday, July 11, on HBO.