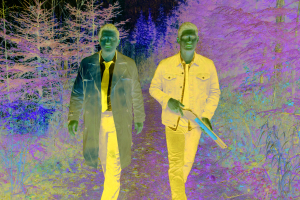 Misha Collins and Jensen Ackles star in "Supernatural"
Every so often, a TV show connects with viewers in a way that transcends typical prime-time success. While ratings are, of course, still important and critical praise is always nice, some series and their stars are as loyal to their fans as their fans are to them. One such special relationship is about to come to a bittersweet end, and TV viewers will have a front-row seat.
Jared Padalecki ("Gilmore Girls") and Jensen Ackles ("Days of Our Lives") star as brothers Sam and Dean Winchester in the series finale of "Supernatural," airing Thursday, Nov. 19, on CW. Right before the finale, the one-hour special "Supernatural: The Long Road Home" will take a look at all 15 seasons of the series, which has left its mark in television history as the longest-running U.S. live-action fantasy series.
When the show first debuted on now defunct network The WB in September 2005, before moving to CW the following season, Sam and Dean set out in search of their father, John (Jeffrey Dean Morgan, "The Walking Dead"), who'd been hunting demons and supernatural creatures since an evil entity took the life of Sam and Dean's mother. Determined to find their missing dad, the brothers criss-cross the country in their trusty '67 Chevy Impala, saving people and battling the paranormal along the way. While they've encountered plenty of foes during their adventures, they've also made many allies, including the angel Castiel (Misha Collins, "24").
Over the years, "Supernatural" has developed a fiercely loyal following, and it will be difficult for many of those fans to see the show go. Just how to say goodbye has been the subject of speculation since Padalecki, Ackles and Collins confirmed that Season 15 would be the show's last way back in March 2019. However, while the details of the series finale have been guarded so far, Padalecki has said the episode is his favorite.
"I'd be lying if I tried to posit that I hadn't thought many times about how I want this to end up," Padalecki said during a virtual panel for the show at this year's PaleyFest NY, according to Deadline. "I guess I could have seen it ending a slew of different ways, but now that it's all said and done, I couldn't be more pleased with the way it turned out."
The series finale was originally slated to air in May 2020, but, like just about every other major North American television production, it was forced into a hiatus in March because of the COVID-19 pandemic. As a result, the final few episodes of the 20-episode 15th season returned to the airwaves on Thursday, Oct. 8. The two final episodes of the show had not been filmed by the time production was shut down, but they managed to get things back up and running in Vancouver in August. Of course, there were plenty of precautions in place to ensure the health and safety of everyone in the cast and crew, such as physical distancing, wearing masks and getting frequent COVID-19 tests.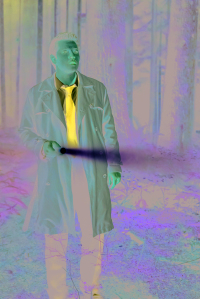 Misha Collins as seen in "Supernatural"
The fact that they were able to return to filming was a lucky break for fans, who will find out what happens when Team Free Will faces off against God himself, aka Chuck (Rob Benedict, "Felicity"). While things may have been different behind the scenes, the scripts for the final two episodes remained fairly unchanged by the circumstances surrounding the pandemic. As the series winds down, fans will also be happy to know that they'll see the return of some familiar faces from seasons past. Showrunner Andrew Dabb has confirmed that tech-savvy nerd Charlie Bradbury (Felicia Day, "The Guild") will make an appearance, as will Sheriff Donna Hanscum (Brianna Buckmaster, "Arrow"), among others.
"Supernatural" may have a huge cult following now, but the road to success wasn't completely smooth for the series. Ratings for the first few seasons were respectable but not stellar, despite its fans having always been enthusiastic and loyal. It's became so popular that it has inspired novels, seemingly endless fan fiction, merchandise, a comic book series and even a Japanese anime series.
As for whether there might be more of something "Supernatural" in the works — or at least something pertaining to that universe — fans shouldn't hold their breath. While the door remains open, previous attempts at spinoffs haven't been successful. Despite getting backdoor pilots during seasons 9 and 13, respectively, neither "Supernatural: Bloodlines" nor "Wayward Sisters" were picked up by the network.
For now, fans will have to accept the bittersweet end of the long-running fantasy series. It will likely be an emotional time for many, including the cast.
"The very final moment, the very final day, it was happy tears," Ackles explained during the PaleyFest NY panel. "[It was] that feeling you get when you know you've done something that you'll be proud of for the rest of your life."
There's no question that "Supernatural" is one of those rare shows that connects with audiences in such a way that the characters are not mere players in a story but become something akin to friends. Don't miss your chance to say goodbye to the Winchesters in the series finale of "Supernatural," airing Thursday, Nov. 19, on CW. And before you do, be sure to take an hour to reminisce about the past 15 seasons with "Supernatural: The Long Road Home."