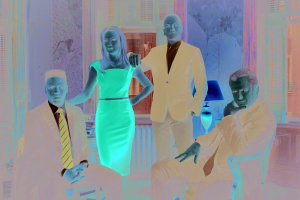 Jon Michael Hill, Lucy Liu, Jonny Lee Miller and Aidan Quinn star in "Elementary"
An 'Elementary' ending: The legendary partnership of Sherlock Holmes and his faithful companion Watson is coming to an end -- at least one chapter in their oft-told story is.
"Elementary" has put a modern twist on the iconic consulting detective's stories since the show first arrived on CBS in 2012, and with six seasons behind it, the drama has just one outing left. The final season of mysteries, murders and oh-so-satisfying plot twists premieres Thursday, May 23.
"Elementary" has always been more inspired by the writings of Sir Arthur Conan Doyle than beholden to them, with Jonny Lee Miller's ("Trainspotting," 1996) Sherlock Holmes portrayed as a recovering drug addict sent by his wealthy father to live in New York City. Of course, Holmes always needs Watson at his side, and in a gender-bending twist, that role is filled by Lucy Liu ("Charlie's Angels," 2000), who started out as the detective's sober companion and went on to become his friend, confidante and partner.
Aidan Quinn ("Legends of the Fall," 1994) and Jon Michael Hill ("Detroit 1-8-7") also return as Holmes' allies in the New York Police Department, although last season ended with both Holmes and Watson relocating to England. Despite the jump across the pond, showrunner Rob Doherty has confirmed that the action will return to the Big Apple, with a yearlong time jump having occurred between last season's cliffhanger and this season's premiere.
Although never a runaway ratings hit, "Elementary" has always held its own and has been critically loved to boot. The truncated final season will have only 13 episodes to close out the story of Holmes and Watson, and the mystery returns to CBS on Thursday, May 23.
A final serving: Succulent and juicy patties of meat, mouth-watering toppings and a freshly made bun. What's not to love about a great burger, especially when it's made by one of the most famous families in show business?
"Wahlburgers" recently returned for a 10th and final season, and a new episode airs Wednesday, May 22, on A&E, with new antics and new challenges facing the Wahlberg brothers. The reality TV series chronicles the trials and tribulations of the co-owners of the Wahlburgers chain of restaurants as they seek to expand their business, opening up new locations, running the old ones and even getting their famous meat patties into supermarkets.
The chain is owned by chef Paul Wahlberg in partnership with his brothers, actors Donnie ("Blue Bloods") and Mark ("Transformers: The Last Knight," 2017). The more-famous family members aren't just hands-off investors, either. They're just as involved with the business as their chef brother, using their connections and famous names to help drive the restaurant chain to ever-higher levels of success.
Last season saw the chain's growth accelerating. In addition to eyeing an international expansion, the brotherly business partners had their biggest new store opening ever in the Mall of America. Of course, things aren't always sunshine and rainbows, and the brothers didn't always see eye to eye about things, including whether to diversify into the fast food market and decisions about how to market their growing line of take-home products.
It all makes for far more entertaining television than any show about a burger restaurant has a right to be. "Wahlburgers" combines the high-stakes tension of running a business in a competitive industry with the guilty pleasure of watching famous actors in their day-to-day lives. A new episode of the final season airs Wednesday, May 15, on A&E.
Engage: Space may be the final frontier, but the Star Trek franchise has never been one to shy away from pushing boundaries and boldly going where no one has gone before. The most recently announced new series is no exception: it's aiming to reel in kids, and it's set phasers to "fun."
Nickelodeon has greenlit a new animated Star Trek series that's targeting a younger-skewing audience. The series is still unnamed and doesn't have any voice actors attached as of yet, but it's just the latest addition to the rapidly growing Star Trek franchise.
The second season of CBS All Access' "Star Trek: Discovery" recently concluded, with a third one already in the works. The success of that TV series -- the first since "Star Trek: Enterprise" concluded in 2005 -- has led to a direct spinoff starring "Discovery's" Michelle Yeoh ("Crazy Rich Asians," 2018) being ordered, along with another new series starring Patrick Stewart ("X-Men," 2000), reprising the role of Capt. Picard that he played in "Star Trek: The Next Generation." Neither of those series has a title or release date yet, either.
This isn't the first time that "Star Trek" has received the animated treatment. After the original series was canceled, its continued popularity led to the cast reuniting to lend their voices and continue their adventures for the two-season "Star Trek: The Animated Series." This series, though, hopes to bring the joy of space exploration to a younger audience. Stay tuned for more news of Nickelodeon's new animated Star Trek series.