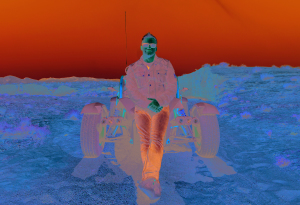 "Top Gear" presenter Matt LeBlanc
Drive into the sunset: One of Britain's most iconic TV shows is losing another presenter as it continues to struggle to regain its footing. American actor Matt LeBlanc, best known for his role in the iconic sitcom "Friends" and more recently in CBS's "Man with a Plan," has announced that the next season of the BBC America series will be his last.
LeBlanc has been with the popular motoring series since its 23rd season in 2016. He famously took on the role following a very public dismissal of the show's longtime presenter Jeremy Clarkson and the subsequent departure of several of the show's other presenters, and since then he's become the face of a series that, while still popular, has struggled to come anywhere close to the ratings it boasted during Clarkson's tenure.
Unlike Clarkson's departure, or that of LeBlanc's former co-presenter, BBC Radio host Chris Evans, LeBlanc appears to be leaving on friendly terms and for the most honorable of reasons -- he wants to spend more time with his family and friends. "My experience on Top Gear has been great fun. I have thoroughly enjoyed working with the whole team," he said in a statement. "However, the time commitment and extensive travel required to present 'Top Gear' takes me away from my family and friends more than I'm comfortable with."
Of course, there's still another season with LeBlanc in the works, so his many fans don't have to say goodbye just yet. BBC Two has promised that "Top Gear's" next season will be a special one, and that the search is on for a new co-host to take his place. The most recent season wrapped up this past April and there's no word yet on when the 26th, LeBlanc's last, will arrive.
Everybody knows his name: Kelsey Grammer has found his way back to broadcast television. The Emmy-winning actor has signed on to a new Fox series that's already out of the pilot stage and is in production for a 2019 premiere.
The "Frasier" star has joined the cast of "Proven Innocent," a new legal drama that also stars Rachelle Lefevre ("Under the Dome"), Nikki M. James ("BrainDead"), Russell Hornsby ("Grimm") and Vincent Kartheiser ("Mad Men"). Grammer takes over a role that was played by Brian d'Arcy James ("13 Reasons Why") in the pilot.
A few casting changes between the pilot and broadcast of a series aren't anything unusual, but picking up an actor of Grammer's caliber is definitely a win for the series. The drama focuses on a young lawyer (Lefevre) who leads an expert team that reopens and re-examines old cases in an attempt to exonerate innocent people who were wrongfully convicted.
Grammer's role -- the one played by James in the pilot -- is that of state attorney Gore Bellows, whose tough-on-crime outlook often has him going head to head with the scrappy legal team.
Grammer is best known for his role as Dr. Frasier Crane in both "Cheers" and "Frasier," earning five Emmys for his portrayal. He's voiced the recurring villain Sideshow Bob in "The Simpsons" since 1990 and has been in his share of big-budget blockbusters, including "Transformers: Age of Extinction" (2014) and "The Expendables 3" (2014).
The addition of such an acclaimed actor to the cast of "Proven Innocent" will not doubt give it a leg up in the competitive TV drama landscape. The series is in production, with plans for a mid-season premiere next year.
Back to his roots: Mark Burnett is returning to the show that kick-started his career. The famous television producer is the man behind some of reality TV's biggest hits, such as "Survivor," "The Apprentice" and "The Voice," but it all started with "Eco-Challenge," and he's now bringing that legendary series back to television.
"Eco-Challenge" had 10 seasons between 1995 and 2002 and is often credited with paving the way for reality TV juggernaut "Survivor." For its return, which is currently being shopped around to various networks, Burnett has tapped one of the world's most recognizable survivalists to serve as host and executive producer: Bear Grylls ("Running Wild with Bear Grylls).
It's still far too early to know what, if any, changes will be made to the new "Eco-Challenge," but no doubt the basic format will stay true to its roots. In the original, dozens of teams, each composed of two men and two women, were sent out into the wilderness to participate in a 300-mile race over rugged and inhospitable terrain.
The race doesn't stop when the sun goes down, and the racers are required to carry out all waste that they generate -- even the waste that their own bodies make.
It's a brutal competition that isn't for the faint of body, and with Burnett and Grylls teamed up, it will no doubt be a thrill to watch.