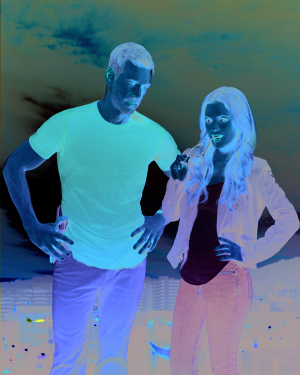 Eddie Cibrian and Rachel Bilson star in "Take Two"
Ah, summer television. As the weather heats up, it's time for the gritty regular season dramas to make way for lighter fare as TV viewers shift into vacation mode. ABC offers summertime audiences an upbeat take on the police procedural with its latest prime-time series.
Rachel Bilson ("Hart of Dixie") stars as Sam Swift, an actress who shadows L.A. private investigator Eddie Valetik (Eddie Cibrian, "CSI: Miami") while researching her comeback role in "Take Two," airing Thursday, July 12, on ABC. Swift was once the star of a hit cop show, but her very public bender and subsequent stint in rehab has her fighting to get back on top. Valetik grudgingly takes her on, and he is soon surprised to learn that she actually has a knack for detective work.
The result is the kind of will-they-won't-they drama that's bolstered prime-time ratings since the days of Sam (Ted Danson) and Diane (Shelley Long) in the classic TV comedy "Cheers." Romantic tension builds between Swift and Valetik as the unlikely partners work together to solve cases each week. In a video promo for the series, Bilson explained that the duo's relationship is complicated.
"There's an attraction and also an annoyance. I think Sam drives Eddie nuts. She's come into his world that he takes very seriously and she kind of shakes things up, but she's actually kind of good at it."
She also stressed that, unlike a lot of police procedurals, there's a comedic element to "Take Two." Traditionally, the genre takes a serious look at the dark side of crime investigation, epitomized in such current dramas as "Chicago P.D.," "Criminal Minds," "Law & Order: Special Victims Unit" and the NCIS franchise. However, other series have had success by adding an element of comedy to the genre, such as Fox's "Lethal Weapon."
Combining drama and comedy isn't always easy to do, but Cibrian had nothing but praise for his new co-star.
"She can really dance the line between drama and comedy and switch on a dime, and she brings a real innocence to her character," the actor said of Bilson.
The success of the series relies heavily on the performances of the two leads, and luckily, both stars have plenty of experience in front of the camera. Bilson is part of a show business family with roots in RKO Pictures, where her great-grandfather worked in the movie trailer department. Early on in her career, she appeared in "Buffy, the Vampire Slayer" and "8 Simple Rules," before being cast as Summer Roberts in the teen-centric prime-time soap "The O.C." in 2003. The role made her a bona fide star, and she later landed on the big screen in "The Last Kiss" (2006) and "Jumper" (2008). Beginning in 2011, she headlined the CW series "Hart of Dixie," and more recently appeared in CMT's "Nashville."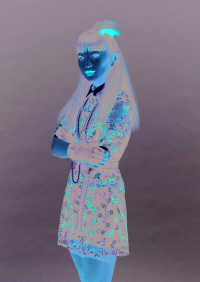 Alice Lee in "Take Two"
Cibrian has an equally impressive list of credentials. His early roles included that of Matt Clark in the legendary soap opera "The Young and the Restless," Griff Walker in the ill-fated "Baywatch" spinoff "Baywatch Nights," and Cole Deschanel in Aaron Spelling's daytime drama "Sunset Beach." However, TV fans will most likely remember him as cop Jesse Cardoza in "CSI: Miami," or as New York City firefighter Jimmy Doherty in "Third Watch."
The cast of "Take Two" also includes Xavier de Guzman ("Designated Survivor") as Roberto Vasquez, Eddie's technical whiz. Alice Lee ("Switched at Birth") portrays Sam's assistant, Monica, and Aliyah O'Brien ("Rookie Blue") plays Det. Christine Rollins.
While the chemistry between Bilson and Cibrian is key, the premise shows real promise as well. In fact, "Take Two" bears a striking resemblance to another ABC hit, "Castle," and there's a good reason. The new show hails from "Castle" creator Andrew W. Marlowe and his wife, Terri Edda Miller, who wrote 12 episodes of "Castle" over the course of its seven seasons. The now-defunct ABC program features Nathan Fillion ("Firefly") as novelist Richard Castle, who shadows no-nonsense NYPD detective Kate Beckett (Stana Katic, "Absentia"). "Take Two" flips the premise on its head, but it may be familiar enough to draw "Castle" fans to ABC.
Based on Marlowe and Miller's track record, it's clear that ABC is putting its faith in "Take Two." Shortly after Bilson and Cibrian were cast, the network gave the project a straight-to-series order, skipping the traditional "pilot" phase. Others have hopped on board, too, making the new series a truly international production. Filmed in Burnaby, British Columbia, the series is a co-production between ABC Studios and StudioCanal's Tandem Productions, which is based in Europe. Germany's RTL/VOX has picked up the series, as has France Television.
Viewers around the world will be watching to see what Swift and Valetik will be up to next. Tune in as television's latest dynamic duo investigate another crime in a new episode of "Take Two," airing Thursday, July 12, on ABC.