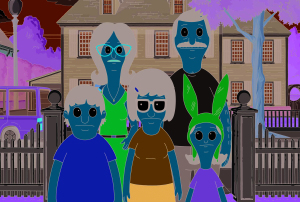 The Belcher family in "Bob's Burgers"
Dominating animation: When it comes to prime-time animation, Fox's triad reigns supreme. The lineup may have changed over the years, but Sunday night animation has been a mainstay for a long time, and this year, the three cartoon lynchpins, "Bob's Burgers," "Family Guy" and "The Simpsons," all premiere on the same night -- Sunday, Sept. 30.
With eight seasons behind it, "Bob's Burgers" is the youngest kid on the block. The series revolves around the restaurant-owning Belcher family, headed up by Bob and Linda, who face the twin travails of running a small business and raising three children. After a slow start in its first season, the comedy has exploded in popularity, with its legions of fans eagerly awaiting a major motion picture that's in the works for a 2020 release.
"Family Guy" has a reputation for being the raunchiest of the group, but that didn't hinder its popularity. This season -- its 17th -- brings even more of that over-the-top and tactless humor, with family dog Brian (voiced by series creator Seth MacFarlane, "The Orville") marrying a dying woman, and family friend Quagmire (MacFarlane) learning that he has a previously unknown teenage daughter (voiced by Mandy Moore, "This Is Us").
Finally, there's "The Simpsons," which surely needs no introduction. Now in its 30th season, the venerable comedy surpassed "Gunsmoke" last season to take the title of the longest-running prime-time scripted series by number of episodes. That's an incredible achievement, especially for a cartoon about a yellow-skinned family that many parents banned their youngsters from watching in its earlier seasons.
Animation isn't just for kids, and "Bob's Burgers," "Family Guy" and "The Simpsons" keep the laughs flowing on Sunday nights. Fans won't want to miss the season premieres of all three shows on Sunday, Sept. 30, on Fox.
Firehouse frenzy: Things are heating up in one of Seattle's fire stations. "Grey's Anatomy" spinoff "Station 19" is back for a second season, starting Thursday, Oct. 4, on ABC, and it has two guest stars lined up to recur throughout the season.
Boris Kodjoe ("Code Black") recurs this season as an experienced firefighter who's come home to Seattle after spending some time away. His return won't be an overly warm one, though, as his approach to his job clashes with some of the other firefighters at Station 19.
Dermot Mulroney ("Shameless") is the other newcomer, taking on a recurring multi-episode role as Ryan Tanner's (Alberto Frezza, "Dead of Summer") father. The charming and quick-witted man is back in town after being away for a long time, and his occasional run-ins with the law have never sat well with his police officer son.
"Station 19" is the second spinoff of "Grey's Anatomy," with the other one, "Private Practice," having run for six seasons (2007 to 2013). While both of those shows are medical dramas, "Station 19" has taken a different tack as a firehouse-based action-drama. Jason George ("Grey's Anatomy") reprises the role of Ben Warren that he played in the parent show. He's traded in his surgical scalpel for a fire hose, and much of the first season's drama revolved around him adjusting to dealing with entirely different kinds of emergencies.
Jaina Lee Ortiz ("Rosewood") and Grey Damon ("American Horror Story') also star as the station's co-acting captains, with Jay Hayden ("The Catch") and Okieriete Onaodowan ("The Get Down") rounding out the main cast. With "Grey's Anatomy" still one of the top dramas on television in its recently premiered 15th season, "Station 19" has prime pedigree. Catch the season premiere on Thursday, Oct. 4, on ABC.
Will, Grace and more: One of TV's most famous foursomes is back, and they have brought along some new friends to join in with all the laughs. "Will & Grace" was revived last season more than a decade after its cancellation, and season 2 of the revival -- that's the 10th season overall -- premieres Thursday, Oct. 4, on NBC.
The sitcom has always welcomed an enormous number of guest stars, and this season is shaping up to be no exception. David Schwimmer ("Friends") has booked a recurring role as a new romantic interest for Grace (Debra Messing, "Searching," 2018), while Chelsea Handler ("Chelsea Lately") and Matt Bomer ("White Collar") will be appearing in smaller roles.
Olympic medalist Adam Rippon and Jon Cryer ("Two and a Half Men") will both appear as versions of themselves, and Alec Baldwin ("30 Rock"), Mary McCormack ("Deep Impact," 1998) and Minnie Driver ("Speechless") are all confirmed to be returning to the roles that they played in the original series and reprised during last season's revival.
Of course, the main cast is all back, too. Grace Adler is joined by her best friend, roommate and step-brother-to-be Will Truman (Eric McCormack, "Perception"), her wealthy assistant, Karen (Megan Mullally, "Why Him?," 2016), and Will's best friend, Jack (Sean Hayes, "The Three Stooges," 2012).
The revived "Will & Grace" returns with a whole new group of guest stars on Thursday, Oct. 4, on NBC.