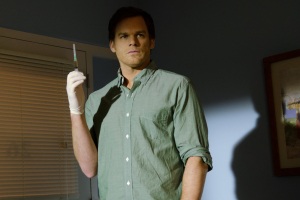 Michael C. Hall stars in "Dexter"
'Dexter' is back: It's been seven years since "Dexter" ended its incredible run with one of the most controversial finales of all time.
Fans were none too pleased with how things ended for the blood expert-turned-serial killer played by Michael C. Hall (actually, they were pretty vocal about all of Season 8). But (spoiler alert) if you've been wondering whether Dexter Morgan is still living a quiet life as a lonely lumberjack in the Pacific Northwest, you'll soon get your answer: Showtime has ordered a 10-part limited-series revival of "Dexter" and is eyeing a possible premiere in fall 2021.
While the news came as a surprise to most, Showtime never ruled out revisiting the 2006 to 2013 series that pulled in record-breaking audiences and racked up award nominations. Even in 2015, top Showtime executive David Nevins conceded that "Dexter" was the one show he'd consider revisiting. Fast-forward to 2020 and, in a network statement, Gary Levine, co-president of entertainment at Showtime, explained why the timing is right for a revival. "'Dexter' is such a special series, both for its millions of fans and for Showtime, as this breakthrough show helped put our network on the map many years ago," Levine said. "We would only revisit this unique character if we could find a creative take that was truly worthy of the brilliant, original series. Well, I am happy to report that Clyde Phillips and Michael C. Hall have found it, and we can't wait to shoot it and show it to the world."
So we know that Hall will be back as the former Miami Metro Police Department's bloodstain pattern analyst, who moonlighted as a conflicted "but I only kill bad people" murderer. Also returning is original showrunner Phillips, who oversaw Seasons 1 through 4 and who revealed in an interview with E!Online that he would have ended the series with Dexter's death.
In a more recent interview with The Hollywood Reporter's "TV's Top 5" podcast, Phillips acknowledged fan dissatisfaction with the finale and only teased some information about the revival's storyline. "So far as the ending of the show, this will have no resemblance to how the original finale was," said Philips, who added, "it's a great opportunity to write a second finale."
Phillips also explained that the new series won't pick up from the finale but will reflect the passage of time in the real world. "We want this to not be 'Dexter' Season 9," Phillips said. "We're not going to betray the audience and say, 'Whoops, that was all a dream.' What happened in the first eight years happened in the first eight years."
To boldly keep going: There's some good news for TV-loving Trekkies: CBS All Access has gone ahead and renewed "Star Trek: Discovery" for a fourth season.
The news was announced in a video featuring producer Alex Kurtzman, showrunner Michelle Paradise, and stars Sonequa Martin-Green ("The Walking Dead") and Doug Jones ("The Shape of Water," 2017).
While "Discovery's" first season is helping the CBS network fill a time-slot in its prime-time schedule, the CBS All Access series debuted its third season last month (Oct. 15, to be exact) on the streamer. The fact that the series' renewal was announced just one day after the premiere suggests that CBS All Access is pretty pleased with the series' performance and its potential, as it readies itself for a big rebrand to Paramount next year.
The series is one of the fortunate few that completed filming on a new season before COVID-19 forced the industry-wide shutdown earlier this year. Production of Season 4 was scheduled to begin last week amid new safety protocols, and that has fans wondering when Season 2 of "Picard" might go into production — given that its first season wrapped a few months ago.
While "Discovery" is shot in Toronto, "Picard" largely films in Santa Clarita, Calif., where production of Season 2 was supposed to begin in June. Also waiting in the wings is "Star Trek: Strange New Worlds," which will finally delve into the untold story of Captain Christopher Pike.
Kurtzman discussed the delays and new filming protocols in an interview that was recently featured in SFX Magazine. "Things are just starting to shoot again," Kurtzman said. "We would have been in production already on 'Picard,' but we couldn't be because of COVID. It's pushed our 'Discovery' and 'Strange New Worlds' dates just a little bit, but I think we're actually planning on staying on track for those. By the time they shoot, we will have innovated with a couple shows, and we will know where we are. And we will be a little bit more down with a process. So I'm hopeful ... it's a very systemized, militarized operation now, that's really rigorously being constructed around making sure that everybody is safe and that the sets function in pods so that if one person is sick, it does not necessarily infect the entire group."
Apple lands Hudson: Golden Globe winner Kate Hudson ("Almost Famous," 2000) is headed for TV — Apple TV , to be precise.
The star of "How to Lose a Guy in 10 Days" (2003) is joining the cast of "Truth Be Told" for Season 2, which was due to begin filming on Oct. 26. The drama stars Octavia Spencer ("The Help," 2011) as reporter-turned-podcaster Poppy Parnell, who investigates true crime stories.
Hudson has signed on to play the role of Micah Keith, a lifestyle guru and friend of Spencer's character — at least they'll start out as friends, until a new case tests their bond.
The role of a lifestyle guru shouldn't require too much research for Hudson, who co-founded Fabletics in 2013. In addition to being an activewear mogul, the mother of three and daughter of actress Goldie Hawn ("Overboard," 1987) is known for dishing out lifestyle, fitness and wellness tips, and her 2017 book, "Pretty Happy: Healthy Ways to Love Your Body," was a New York Times bestseller.
Envisioned as a limited series, "Truth Be Told" was part of the first wave of Apple TV 's original shows. Apple is pretty secretive about its viewing numbers, so it's tough to gauge the show's popularity, but the mystery crime drama landed a renewal back in March and, while Season 1 was based on the novel "Are You Sleeping" by Kathleen Barber, the second season will feature original story elements that aren't found in the source material.