Alycia Debnam-Carey stars in "Fear the Walking Dead"
Great news for zombie fans! A new season of the popular spinoff series "Fear the Walking Dead" is premiering Sunday, Oct. 11, on AMC. The station announced the news at a virtual Comic-Con and played a teaser for Season 6 partway through Season 5.
Despite "The Walking Dead" coming out first, "Fear the Walking Dead" is actually the prequel. It follows a family in Los Angeles at the beginning of the zombie outbreak, who must now forget their old lives and focus on survival. "The Walking Dead" is based on the comic book series by Robert Kirkman and artist Tony Moore that began in 2003. "Fear the Walking Dead" continues in the same tradition as the comics and the original series, but this time takes place between Los Angeles, Mexico and Texas.
Season 6 has already promised drama and even more crossovers. In a teaser posted to the show's official Twitter account, we see Sherry (Christine Evangelista, "The Arrangement") and Dwight (Austin Amelio, "Mercy Black," 2019), both crossover characters from "The Walking Dead." Could this mean a reunion? The tweet is captioned, "Is Sherry how Dwight remembers her?"
We know Dwight went through a lot of personal growth in Season 5 and has already reunited with Alicia (Alycia Debnam-Carey, "The 100") and Charlie (Alexa Nisenson, "Summer Camp Island"). What could this mean for the changes that Sherry has gone through?
The final episode of last season was already packed with drama. John Dorie (Garret Dillahunt, "12 Years a Slave," 2013) and June (Jenna Elfman, "Friends with Benefits," 2011) are finally married, Grace (Karen David, "Galavant") is pregnant, Virginia (Colby Minifie, "The Boys") shoots Morgan Jones (Lennie James, "Sahara," 2005) and leaves him for the Walkers, and Dwight is hallucinating Sherry's voice.
Now, the new trailer shows a glimpse of what's to come in the next season (which completed filming, thankfully, before the COVID-19 quarantine), set to Morgan's words from the finale: "If any of you are listening, if any of you can hear me, what we were doing out here, it wasn't just about doing right. We fought for the future. We made the hard call for all of us. If you're listening to me, live. All of you, if you can hear me, just live." It was a bittersweet ending for fans, who were left unsure as to whether he even made it out alive.
The trailer has little audio aside from this, but ends with another radio call from someone ominously asking about what happened to Morgan. Immediately following is the image of a box, conveniently the size of a head, labeled "Morgan Jones." We see one eye (presumably Morgan's) snap open, bright red.
Morgan has made it through all of "The Walking Dead" and "Fear the Walking Dead" to this point, but at the end of Season 5, it wasn't looking too good for him. Based on the trailer, many fans are predicting that his end is near. The final clip of the trailer ends with his red eyes opening. Does this mean he's now a zombie? It's hard to tell.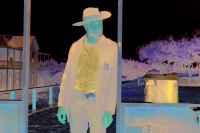 Garret Dillahunt in "Fear the Walking Dead"
The last season was led, primarily, by Morgan. He has always been passionately committed to finding and helping as many people as he can and helping the survivors to make up for their wrongdoings in life.
"These are characters who, when we found them at the beginning of the season, were struggling to overcome their past and all the things they regretted by looking outwards and helping people," said showrunner Andrew Chambliss ("Once Upon a Time").
Season 5 began with a plane crash and the group being lured away from their denim-factory base. They find themselves in a high radiation area, meeting two new kids whom Alicia saves from Walkers while channeling her pain from losing family members into violence. They then begin driving and find a roadblock made of Walkers. When they finally stop running, the local Walkers turn out to be radioactive and even more dangerous to be near. They finally begin to see a way out by plotting out the roadblock locations with help from Dwight — who came into the picture ready to end his life because he knew he would never see his wife again. Throughout the season, Dwight's personal transformation makes it appear as though, at times, he may find her after all.
Part of the way through Season 5, Dwight leaves on a mission to find airplane parts to help repair the damage from the crash at the beginning of the season, ultimately lending a more hopeful tone to the series as the group finally works to overcome their relentless necessity to fight or flee. They focus on survival — which is a breakthrough for many characters, such as Morgan, who finally admits to Luciana (Danay Garcia, "Prison Break") that he "felt something" at the mall carousel (a major moment for such a stubborn character).
Based on what we know, Season 6 is going to be nothing short of a violent, emotional roller-coaster from start to finish. Chambliss also teased that "there's going to be a tremendous battle to fight" in the upcoming season.
You can catch the Walkers at the height of horror in the Season 6 premiere of "Fear of the Walking Dead," Sunday, Oct. 11, on AMC.