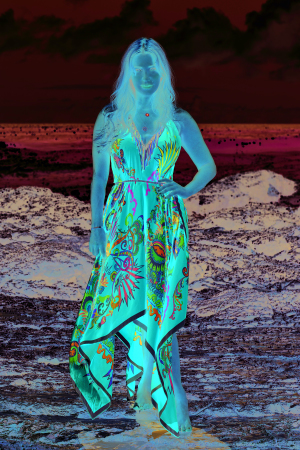 Poppy Montgomery stars in "Reef Break"
Summer is the season for exhilarating, reality-suspending, high-stakes drama, and ABC hopes to inject some thrills into this year's viewing lineup with its new crime series "Reef Break." You can catch a new episode of the high-octane series on Thursday, July 4.
The show follows the lawless escapades of Cat Chambers, a thief-turned-fixer who works for the governor of an island paradise. The idea for "Reef Break" came from the show's lead actress, Poppy Montgomery, whose previous procedural crime drama credits include starring roles in "Unforgettable" and "Without a Trace," which aired for four and seven seasons, respectively.
Montgomery co-executive produces the show alongside head writer Ken Sanzel ("Numb3rs"), who worked closely with her to develop the idea for the series. ABC partnered with French broadcaster M6 in May 2018 to produce the series, and later picked up a 13-episode straight-to-series freshman season to air in the U.S.
Montgomery plays the nervy and impulsive Cat, who is accustomed to making a living via criminal activity. Formerly a thief, Cat returns home to the Pacific Islands community of The Reef, where she quickly gets caught up in an investigation into the disappearance of a prominent islander's daughter. She proves to have something of a sixth sense when it comes to criminals and their behavior, and her skills get her recruited by The Reef's law enforcement. "Our island has unique problems," she is told by her recruiter. "Sometimes the police just need a fixer."
The Reef seems to be ground zero for all the drama in Cat's personal life as well, as she keeps running into old adversaries as well as old flames in the course of her undercover exploits. The show's male leads include Desmond Chiam ("The Shannara Chronicles") as Wyatt Cole, a detective on the island who has seen his fair share of life-or-death scenarios, and Ray Stevenson ("Rellik") as Jake Elliot, a jaded and lethargic federal agent who wants nothing more than to live a leisurely, beach bum lifestyle, and whose former relationship with Cat may have some loose ends.
Cat, evidently not one to back down from any challenge, is eager to take on her new role in The Reef. "A kidnapping? A stolen yacht? Secret videos? All in a day's work," she says in the show's teaser trailer.
In an interview with Crookes Magazine, Chiam talked about his character in the show, and his thoughts on getting inside a character's head. Wyatt is a young detective with a lot to prove, and his straight-and-narrow way of life is in conflict with that of the uninhibited Cat. Their differences make the pair a compelling one, and things get messy when they both become involved in the disappearance case. "His sort of rule-of-law world is turned upside down by Cat Chambers, an ex-crim with a heart of gold that turns everything shades of gray for him," Chiam said.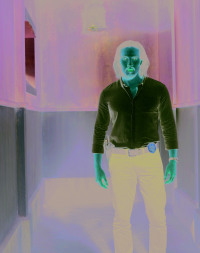 Desmond Chiam as seen in "Reef Break"
Aside from the action and allure that you would naturally expect from a crime drama set on a luxury island, part of the intrigue of "Reef Break" is the insatiable energy brought to the screen by Montgomery herself. Cat is someone who is constantly trailed by danger and drama, and she doesn't mind: she lives to shake things up.
Joey Vieira ("Jungle," 2017) stars as another police detective who works with Wyatt. Describing his character in an interview with Celebrity Haute Spot, Vieira said, "Det. Tolan loves a challenge. Fortunately, he and Wyatt Cole have plenty of them -- many thanks to Cat Chambers."
Vieira also shared some thoughts on what he enjoys about his role: "I have gone from playing the young and arrogant jock, the badass gangster, to the respected father and authoritative roles. We are seeing more and more ethnic diversity in these respected positions, and I am honored to be able to bring them to life on screen."
Eager to land a part in the show, his audition for the role of Det. Tolan was Vieira's third for "Reef Break." After getting the first casting call while on a cruise ship vacation with family, Vieira jerry-rigged an audition set with whatever was available in his room on the ship. "You can even see my son asleep in the background as I deliver my lines," he said. "It isn't a normal casting, but you do what you have to in the industry!"
"Reef Break" is a glamorous, action-packed ride, with stellar beach landscapes as the background for the sleek cop drama. Tune in when the next episode airs Thursday, July 4, on ABC.