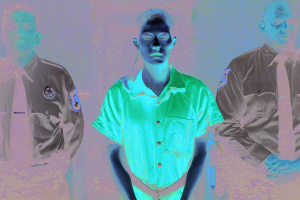 Jennifer Carpenter stars in "The Enemy Within"
With dragons patrolling the skies and zombies around every corner on cable, network television has some serious competition these days. However, one network is stepping up its game with an espionage thriller worthy of a closer look.
Jennifer Carpenter ("Dexter") stars as Erica Shepherd, a brilliant codebreaker and former CIA operative who was convicted of treason after selling out four of her fellow agents to save her daughter in "The Enemy Within," airing Monday, May 13, on NBC. Three years after she was sent to a supermax prison, Shepherd was recruited by FBI Agent Will Keaton (Morris Chestnut, "Rosewood") to help him track down the terrorist responsible for the death of his fiancée, one of the agents Shepherd betrayed.
The drama boasts an intensity often reserved for the big screen as the agents track a network of ruthless spies. Daring plot twists, emotionally charged drama and thrilling action sequences add to the show's appeal, promising to raise it above typical prime-time network fare. When Carpenter, best known for her role in the cable series "Dexter," was interviewed by Danielle Turchiano for variety.com in February, the actress explained that she hoped the show would elevate network television to the next level.
"I want to do the muscling of raising the bar for network television to feel like the complicated world of cable," Carpenter said.
Likewise, her co-star has had high praise for NBC's "The Enemy Within." In an April article on chicagotribune.com, series star Chestnut explained that the show was much more than a one-dimensional spy drama.
"The one thing about this show that I love is it's not just an FBI show or a CIA show," Chestnut said. "We're dealing with layers and layers of issues and emotions. And mine is working with this woman, knowing she cost my fiancée her life and I still don't have closure on that."
The show's combination of high-stakes action and intense drama requires serious acting chops and, luckily, its cast is more than capable. Carpenter first came to the attention of audiences as the title character in the supernatural thriller "The Exorcism of Emily Rose" (2005), which earned her an MTV Movie Award. She also starred in the zombie flick "Quarantine" (2008) before landing her most famous role as Debra Morgan in Showtime's "Dexter." She also appeared in the CBS dramas "The Good Wife" and "Limitless."
Chestnut got his big break in the Oscar-nominated film "Boyz n the Hood" (1991). He went on to appear in TV movies and series, including "Out All Night" and "C-16: FBI," and hit the silver screen again in "Under Siege 2: Dark Territory" (1995), "The Game Plan" (2007) and "The Best Man" (1999). The latter earned him an NAACP Image Award nomination. TV fans may also recognize him from his leading role in the Fox drama "Rosewood," which garnered him another NAACP Image Award nomination.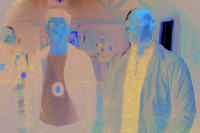 Raza Jaffrey and Morris Chestnut in a scene from "The Enemy Within"
"The Enemy Within" also boasts a talented supporting cast. English actor Raza Jaffrey ("Code Black") portrays FBI interrogator Daniel Zain, Keaton's friend and confidant. TV aficionados may recognize Jaffrey from his roles in BBC One's "Spooks" (known as "MI-5" in the U.S.) and Season 4 of Showtime's "Homeland." Kelli Garner plays Kate Ryan, a technical analyst from the FBI's Cyber Division. Garner is known for her role as Faith Domergue in Martin Scorsese's "The Aviator" (2004), as well as roles in "Lars and the Real Girl" (2007) and "Horns" (2013).
Canadian model and actor Noah Mills has taken on the role of FBI agent and former Army Ranger Jason Bragg in "The Enemy Within." In addition to his work as a model, Mills has appeared in the television series "The Brave" and "2 Broke Girls." Cassandra Freeman ("Inside Man," 2006) rounds out "The Enemy Within's" regular cast as FBI Training Academy instructor Jacqueline Pettigrew. Freeman has recently had roles in the Netflix series "Luke Cage" and the FX hit "Atlanta."
Young actress Sophia Gennusa (who played a younger version of Carpenter's character in "Limitless") recurs as Shepherd's teenage daughter, Hannah, while Noah Bean ("Nikita") portrays her estranged husband, Christopher. Broadway's James Carpinello ("So Notorious") also appears in a recurring capacity as CIA Deputy Director of Operations Anthony Cabrera. Russian stage actor Lev Gorn stars as the show's big, bad, former Russian SVR agent Mikhail Vassily Tal. Gorn is best known as Arkady Zotov from "The Americans."
While some critics have panned "The Enemy Within" for taking itself too seriously, Carpenter has been almost unanimously praised for her performance as Shepherd. Her intensity and commitment to the role offers fans of high drama an option unlike most other network television programs of late. Including DVR viewings, the show has consistently pulled in more than seven million average viewers per episode since its February premiere. Those are decent numbers for any show, network or cable.
Carpenter seems to have captivated audiences once again. Watch her as disgraced CIA operative Erica Shepherd as she helps Agent Keaton track down spies in "The Enemy Within," airing Monday, May 13, on NBC.