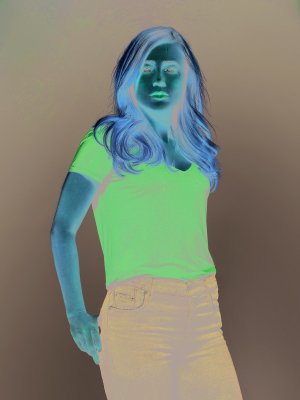 Melissa Roxburgh stars in "Manifest"
Binge-watching your favorite TV shows can be fun, but there's something exciting about waiting for a mystery to unfold week after week, building anticipation with unexpected twists and turns. A new series is poised to take over the airwaves as TV viewers clamor to find this season's new "it" drama.
After a turbulent but otherwise routine flight, the passengers and crew onboard Montego Air Flight 828 land and discover that they've been missing for more than five years in the new show "Manifest," airing Monday, Oct. 8, on NBC. Back on solid ground, they're told that while they may have departed Montego Bay, Jamaica, on April 7, 2013, the day's date is actually Nov. 4, 2018. Amazingly, none of the 191 passengers and crew have aged a day.
As government agents investigate and the passengers attempt to return to their normal lives, some of them wonder if they are destined for something greater than they've ever imagined.
While various media outlets have likened the new NBC series to ABC's former hit "Lost," this is no knockoff. At this year's San Diego Comic-Con, series creator Jeff Rake explained that "Manifest" will tackle the debate over science versus faith, an ambitious goal for a prime-time drama. He explained that he may not have all of the details worked out just yet, but he already has "an endgame" in mind for the series.
Rake may be in the know, but series star Josh Dallas ("Once Upon a Time") said he isn't interested in knowing too much about where the show is going.
"It's better for me on this particular project for me to not know, and discover along with the fans," the actor said at Comic-Con. He also explained what made him so interested in playing his character, Ben Stone. "I'm a spiritual guy, I believe in the universe; Ben is a mathematician and scientific. I found that to be intriguing and interesting. He likes to be the smartest guy in the room."
Ben was one of the passengers who fatefully decided to wait for Flight 828 when his original flight was overbooked. He and his son, Cal (newcomer Jack Messina), volunteered to stay behind while his wife, Grace (Athena Karkanis, "The Best Years"), and Cal's twin sister, Olive (newcomer Jenna Kurmemaj), took the first flight with his parents, Steve (Malachy Cleary, "Demolition," 2015) and Karen (Geraldine Leer, "The Good Cop"). Grace is elated to have her family back together, while Cal and his now big sister Olive (Luna Blaise Boyd, "Fresh Off the Boat") struggle to make sense of their sudden age difference.
Also central to the mystery is Ben's sister, Michaela (Melissa Roxburgh, "Diary of a Wimpy Kid: Dog Days," 2012), who was also on the flight with Ben and her nephew. Before the flight, she faced pressure from her mother to finally marry her beau, Jared (J.R. Ramirez, "Arrow"). After the flight landed, she was crushed to learn he had moved on and has married another woman.
J.R. Ramirez in "Manifest"
Prior to the doomed flight, the Stone family had been struggling to cope with the reality that Cal's leukemia hadn't been responding to treatment. However, when they returned from their mysterious adventure in the skies, they learned that a new treatment just might save him. Strangely, the woman whose research led to the development of the treatment appears to have been on Flight 828 with them. Saanvi (Parveen Kaur, "Beyond") is a brilliant graduate student and researcher who reels from the news that her work may be saving lives.
In addition to mystery, medical drama and romance, "Manifest" appears to feature a supernatural element, much like its genre predecessor, "Lost." Some of the passengers begin to experience unusual phenomena. For example, Michaela tells Ben she's been hearing voices. As the mystery unfolds, it's clear that some people consider the incident a miracle.
Emotionally gripping with an overarching mystery, "Manifest" has all of the elements of quality television, and it's no wonder with a stellar cast and Hollywood icon Robert Zemeckis in the cockpit. Known for films such as "Romancing the Stone" (1984), "Who Framed Roger Rabbit" (1988), "Forrest Gump" (1994) and the Back to the Future franchise, the Oscar winner serves as an executive producer of "Manifest" alongside Rake, Jack Rapke ("Cast Away," 2000), Jackie Levine ("Wonder Woman," 2017) and Dave Frankel ("The Devil Wears Prada," 2006), who also directed the pilot.
Before its premiere on Monday, Sept. 24, the show had TV critics buzzing, and it even made USA Today's list of "10 Shows You Need to Watch." NBC showed faith in "Manifest" with a series order in May 2018, and it's even bestowed the show with a primo prime-time spot following ratings powerhouse "The Voice." It'll still face serious competition from other major broadcast networks as it goes head to head with ABC's "The Good Doctor" and CBS's "Bull."
Find out whether the new mystery drama has what it takes to rise above the competition. Don't miss a new episode of "Manifest," airing Monday, Oct. 8, on NBC.