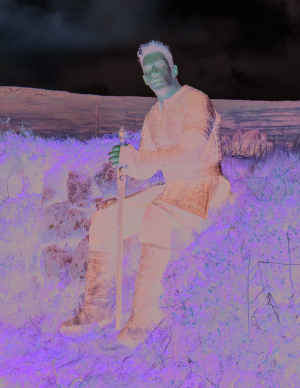 Jonathan Rhys Meyers in a scene from "Vikings"
It's been a long time since fans were treated to a new episode of "Vikings." New episodes of the show most recently aired in January 2018, and viewers have been patiently waiting for the series to return ever since, hoping for a definitive payoff from the world-shaking events that occurred during those episodes.
The first 10 episodes of season 5 saw a shakeup of the power balance, and the show's fan base is eager to see how things turn out. The second half of the season premieres Wednesday, Nov. 28, on History.
An Irish and Canadian co-production, "Vikings" launched in 2013, and its blend of violence, lust and political intrigue has proven popular enough to see it through five seasons on History, with a 20-episode sixth already confirmed for 2019.
The transition from the fourth season to the fifth involved one of the show's riskier plot lines: the storyline of its central protagonist, Ragnar Lothbrok (Travis Fimmel, "Warcraft," 2016), was terminated and the remaining major characters became primary figures.
The story of shieldmaiden-turned-warrior-queen Lagertha, played by Katheryn Winnick ("The Dark Tower," 2017), has arguably become the heart of the continuing tale, and after the events of the first half of season 5, Lagertha's fate is among the most pressing questions on the minds of "Vikings" aficionados.
For the first time since the show began, Lagertha has undergone a significant dose of TV aging, courtesy of the "Vikings" makeup department. Several actors in the show have received that treatment in seasons past, as "Vikings" is set across a wide range of time, during which characters may age faster or more visibly than the actors who are playing them can accommodate without a little help. Winnick's character had thus far been exempt from that ordeal, perpetually retaining her youthful glow. But after the traumatic events in the first half of season 5, Lagertha has become gray-haired, haggard and grizzled in an effort to demonstrate the pressures and tragedies she has endured.
Lagertha and her army have been driven from the capital city of Kattegat, the economic and cultural center of Viking society. As the first half of season 5 ended, control of Kattegat had been seized by the psychopathic youngster Ivar (Alex Høgh Andersen, "A War," 2015), an 18-year-old king with a shortsighted streak of impulsive cruelty and hair-trigger rage. Ivar's tenuous alliances with leaders who had also been courted by Lagertha allowed his Viking army, with key assistance from their Frankish allies, to defeat the forces of Lagertha and her Saxon counterparts, commanded by season 5's breakout character Bishop Heahmund (Jonathan Rhys Meyers, "The Tudors").
Heahmund hails from England, and his ties to that land (and its fresh troops) may represent Lagertha's best chance of regaining control of the city. Lagertha has also been largely without a lover who is her equal since the death of Ragnar in season 4, and her developing relationship with Heahmund may offer emotional support in addition to the political and military might he represents.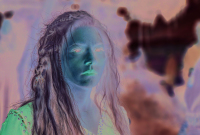 Katheryn Winnick stars in "Vikings"
Winnick has confirmed that Lagertha's vengeance lies in traveling with Heahmund back to the English kingdom of Wessex in order to secure new allies and make a credible play to retake Kattegat. Season 1 of "Vikings" established that the only infallible way to crown oneself in Kattegat is to kill the reigning figurehead -- Ragnar dueled his way into that position early in his storyline, and Lagertha herself slew former queen Aslaug (Alyssa Sutherland, "The Mist") -- and it seems likely that either Lagertha or Ivar will meet their doom by the end of season 5.
If the citizenry of Kattegat had any say in the matter, they might well wish Ivar into an early grave and welcome back their ex-queen. The trailers for the second half of season 5 depict the unhinged, juvenile King Ivar as a power-hungry madman whose approach to ruling seems to be one of hungry empire-building and cult-like authoritarianism.
In the trailers, Ivar rants about his divine inheritance, proclaiming that he has "been revealed to be a god," while decked out in frightening, ornate costuming and surrounded by new colors and sigils representative of a new regime. The crowd of townsfolk he preaches to does not seem to wholly embrace his bombastic leadership and may well long for the return of a more stable and traditional ruler.
As mentioned, regardless of what occurs in the concluding half of season 5, "Vikings" viewers can look forward to a sixth season. The international flavor of "Vikings" has steadily grown over time; it began with a relatively tight focus on the Scandinavian region of the world but has since ventured to places like England and the Mediterranean. Season 6 will expand the action eastward, into the historical kingdom of Rus, and Russian actor Danila Kozlovsky ("Vampire Academy," 2014) is already slated to play the prince of the Russian city Novgorod.
It remains to be seen which characters will survive long enough to participate in that sixth season, and it's all but certain several will perish in the ultimate half of season 5. Watch Lagertha and Ivar prepare for a second round of all-out war when "Vikings" returns Wednesday, Nov. 28, on History.