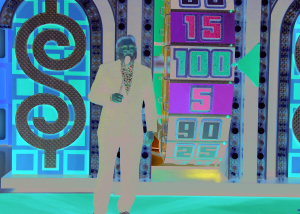 Drew Carey, current host of "The Price Is Right"
Come on down: "The Price Is Right" has been spoofed, name-dropped in songs and inserted into movie and television scenes. As the longest-running game show on television, it's a daytime TV staple that is ingrained in pop culture (you can usually tell a fan from their low-ball one-dollar or one-dollar-more bet). Needless to say, the show's 50th anniversary is a pretty big deal to contestants and viewers, to host Drew Carey and to CBS, which has produced the show and its prime-time specials since 1972.
Season 50 of the daytime edition of "The Price Is Right" launched on Sept. 13 with two new games, including the season-exclusive "Back to '72" giveaway that challenges contestants to accurately price items from the show's early years. (In case you were wondering, a Chevrolet Vega worth $2,746 was one of the first prizes offered on the show.)
The real party, though, is on Thursday, Sept. 30. That's when CBS is airing a splashy, two-hour prime-time anniversary special that will look back on the show's history and winners. Fans have until Sept. 24 to submit a short (10 to 15 seconds) video about what the show has meant to them, and some will be incorporated into the prime-time special.
And as a treat for longtime fans, the anniversary special will include never-before-seen outtakes and a heartfelt salute to Bob Barker, who famously fronted the show for 35 years (1972 to 2007). (Bill Cullen hosted the initial version of the show that aired on NBC from 1956 to 1963, and on ABC from 1963 to 1965.)
"First, I want to say congratulations and thank you to all the wonderful people responsible, past and present, on the 50th season of 'The Price is Right,'" Barker said in a CBS news release. "The show has the most enthusiastic and fun audience that one could ever ask for. They truly were and are the heart and soul of the show.
"I had the pleasure of working with a dedicated and talented cast and crew for 35 great years," he continued. "Particularly close to my heart was the ability our vast popularity gave me to remind our entire audience daily about the importance of spaying and neutering your pets. It was an incredibly memorable ride. Once again, congratulations to 'The Price Is Right' on 50 historic years. Here's to 50 more!"
New Sharks: Comedian Kevin Hart ("Fatherhood," 2021) is among several guest Sharks that are set to appear in Season 13 of "Shark Tank," premiering Friday, Oct. 8, on ABC.
ABC announced that, along with Hart, Good American CEO Emma Grede (also a founding partner of SKIMS with Kim Kardashian), Nextdoor co-founder Nirav Tolia and Peter Jones from BBC's "Dragons' Den" will take turns appearing on the show's panel during the 2021-22 season.
They'll individually appear alongside long-standing Sharks Mark Cuban, Barbara Corcoran, Lori Greiner and Daymond John, as well as Canadian entrepreneurs Robert Herjavec and Kevin O'Leary. Daniel Lubetzky, founder and executive chairman of Kind snacks, is also returning as a guest Shark after appearing in the last two seasons.
Hart is no stranger to investments and product pitches. Earlier this year, the actor invested in sports nutrition company Nutrabolt, while his Laugh Out Loud digital network and HartBeat Productions are behind a number of TV and film projects (including the recent "Fatherhood"). Hart also founded HartBeat Ventures, a venture capital firm that has allowed him to invest in media, technology, wellness and lifestyle companies, the latter of which have admittedly become a "Shark Tank" staple.
As for the investment reality show, "Shark Tank" is coming off its most successful season yet. During the 2020-21 season, it consistently topped the network ratings as Friday's most-watched show among adults 18 to 49. It also picked up three more Emmy nominations this year, for a total of 20 nominations and four wins (so far).
Judge Harvey presiding: Find yourself in a minor legal or major family dispute? Maybe "Family Feud" host Steve Harvey can help.
The mustachioed radio and TV personality is currently working with ABC to develop a new 10-episode, unscripted courtroom program. It's tentatively titled "Judge Steve Harvey," and as you'd expect, the funnyman will serve as judge and jury as he draws on "his own life experiences and some good old common sense" to deliver verdicts and settle conflicts between family members, colleagues and friends.
With an eye towards a 2022 premiere, production on the prime-time comedy/reality show is set to begin in October. Casting is already underway, with a call for "individuals with humor, heart and passion to plead their case" to apply at www.MysticArtPictures.com (applicants must be legal residents of the United States and aged 18 years or older).
While ABC unveiled the project during the Television Critics Association summer press tour, Harvey announced the project on his Instagram, where he encouraged followers to apply to have their small claims cases or disputes heard on the show.
News of this new courtroom program has generated a lot of buzz, but "Judge Steve Harvey" isn't Harvey's only upcoming project.
Still the face of ABC's Family Feud franchise (including "Celebrity Family Feud"), Facebook Watch renewed his "Steve on Watch" earlier this year for another 20 weeks, with the talk show set to return to taping in front of a live audience.