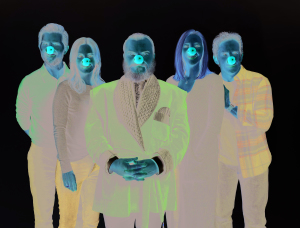 Adam Scott, Courteney Cox, Jack Black, Lisa Kudrow and Ben Stiller appear in "Celebrity Escape Room"
With everything going on in the world today, the last thing people may feel like doing is laughing. Luckily, celebrities are banding together to entertain viewers, and TV fans can feel good about laughing it up because it's all in the name of charity.
First up, funnyman Jack Black ("School of Rock," 2003) serves as the Game Master for a team of celebrities trying to unlock a series of puzzle rooms to raise money for Red Nose Day charities in "Celebrity Escape Room," premiering Thursday, May 21, on NBC. Immediately following the hilarious, fun-filled game, the network's annual "Red Nose Day Special" kicks off with two hours of programming featuring music, comedy and short documentary films designed to educate viewers about the plight of child poverty in America today.
Inspired by the U.K.'s annual Red Nose Day, the U.S. version was launched by Comic Relief US in 2015. Since its inception, the initiative has raised approximately $200 million for partners that support children in need such as Amref, Boys & Girls Clubs of America, Save the Children, Feeding America and many others. Even in light of the recent worldwide COVID-19 pandemic, supporters of the charity are determined to end child poverty, perhaps now more than ever.
"For five years, Red Nose Day has tapped into the power of laughter, engagement and entertainment to bring Americans together to change the stories of millions of children in need," Alison Moore, CEO of Comic Relief US, said. "Millions of children in need here and around the world are suffering from the devastating impacts of COVID-19. This may just be our most important Red Nose Day yet."
As in past years, the Red Nose Day programming promises to engage viewers with the antics and talents of A-list stars. "Celebrity Escape Room" executive producers Black and Ben Stiller ("Zoolander," 2001) have recruited three famous friends to bring the excitement of escape rooms to television. "Friends" alumnae Courteney Cox and Lisa Kudrow will participate in the thrilling special, along with "Parks and Recreation" alum Adam Scott.
While Black serves as host, Stiller, Cox, Kudrow and Scott face intense pressure to beat the clock and solve puzzles to unlock rooms. Watch as the highly competitive celebs work together to decipher clues and come up with solutions as they race to freedom in the ultimate party game. If they find themselves stumped, they may ask Black for three clues. Every time they unlock a room, they earn money for Red Nose Day.
Once the stars' heart-pounding adventure wraps up, the fun continues in this year's two-hour "Red Nose Day Special." As in previous years, the entertainment showcase features music, comedy and short segments that highlight how Red Nose Day has positively impacted the lives of children across America. Young people share their stories so that viewers can see how Red Nose Day has changed their lives for the better.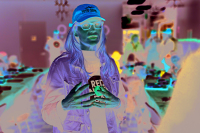 Alison Moore, CEO of Comic Relief US
As of press time, performers for this year's "Red Nose Day Special" had not been announced, but past programs have included appearances by Julia Roberts ("Pretty Woman," 1990), Kristen Bell ("The Good Place"), Sting ("Dune," 1984) and "The Voice" coaches Kelly Clarkson, John Legend and Blake Shelton, as well as "SNL" cast members Michael Che, Colin Jost and Kate McKinnon, and many, many more.
As celebrities light up the small screen for a night of entertainment like no other, people may be wondering how they can help alleviate the effects of child poverty. The good news is that this year, TV viewers can be part of the solution from the comfort of their own homes. In previous years, supporters could support the initiative by purchasing the campaign's iconic red noses at Walgreens stores across America. Proceeds from those sales were then divided amongst Red Nose Day's partners.
However, this year's COVID-19 health crisis has made such a program impractical, given the public health recommendation to avoid face-touching. Thankfully, some innovative thinking led to the development of a new digital Red Nose, which offers people the opportunity to participate in the fun from home.
"The digital Red Nose is a simple and safe way for people to provide immediate support to the children and communities that are most vulnerable to the COVID-19 health pandemic, especially at a time when physical distance makes traditional ways of helping difficult," Walgreens president Richard Ashworth explained in an official release.
Those who want to donate can visit NosesOn.com to unlock a digital Red Nose and then share their #NosesOn selfies on Facebook, Instagram and Snapchat to spread the word and encourage others to donate to the worthy cause. Supporters who want to go even further can start their own online fundraisers by visiting rednoseday.org for a variety of options that include virtual classrooms, Joke-Ha-Thons and livestream fundraising.
So far, the U.S. event has positively impacted the lives of millions of children through its partners. It has provided educational support for more than 1.4 million children, care for more than 100,000 children facing homelessness, more than 41 million meals for hungry children and life-saving vaccines for more than 11 million children.
Laugh and learn as stars raise awareness for a charity that supports some of America's most vulnerable citizens. Join in the fun by watching "Celebrity Escape Room" and this year's "Red Nose Day Special," premiering Thursday, May 21, on NBC.