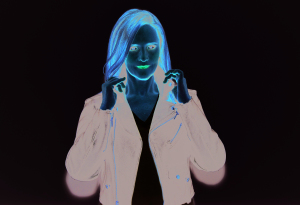 Samantha Bee headlines "Christmas on I.C.E."
Christmas Bee: Samantha Bee has landed her own Christmas special. The host of TBS's "Full Frontal with Samantha Bee" tackles the divisive issue of migrant family separation in "Christmas on I.C.E.," airing Wednesday, Dec. 19, on TBS.
Of course, Bee is never one to shy away from putting her money where her mouth is, and her holiday special is no exception. Viewers are being encouraged to spread some of their Christmas cheer and donate as generously as they can to Kids in Need of Defense, an organization that's devoted entirely to children and their families.
So a touchy political issue and kids being separated from their families don't exactly make for your typical feel-good kind of Christmas special, but "Christmas on I.C.E." does have all of the traditional trappings. Filmed in New York's PlayStation Theater, the special features a number of special guests, including Olympic medalist Adam Rippon, and, in a slick twist, the entire special is on ice!
"I did not see her skate before I agreed to this. Can I still back out?," Rippon said in a tongue-in-cheek statement, and that's exactly the kind of humor that Bee's "Full Frontal" is known for. The weekly series is currently in its third season, with Bee taking on issues that she feels need more attention in each episode, using a combination of her sardonic sense of humor and righteous indignation to shine the light on important problems and outrages.
A feel-good time "Christmas on I.C.E." is not, but it is a laugh-out-loud holiday special intended to raise awareness of a concerning issue. The 30-minute special airs Wednesday, Dec. 19, on TBS.
Tebow on track: A pair of sports legends are teaming up for a new competition series. Former NFL quarterback Tim Tebow has signed on to host "Million Dollar Mile," a new show in the works at CBS that's being produced by NBA legend LeBron James.
"Million Dollar Mile," which is still in production and doesn't yet have a premiere date, will pit contenders against an incredibly grueling, mile-long course that's described as one of the most challenging ever designed. Only the fittest and most committed contestants even have a chance of making it to the finish line, but the $1-million prize at stake makes for an incredibly effective motivator.
A punishing mile-long course isn't all that the contestants face -- they also have to deal with a crew of elite athletes who are on the course for one reason: to stop the contestant from reaching the finish line. It's an added twist to an already difficult challenge, but with $1 million up for grabs, no one ever thought that it would be easy.
Tebow will be joined on screen by a duo who know both sports and competition inside and out. ESPN analyst Maria Taylor and sports radio personality Matt "Money" Smith will serve as commentators, narrating the action as the contestants race to the finish line. "Watching good people compete at their highest ability is always inspirational to me," Tebow said in a statement. "'Million Dollar Mile' is a show that does just that -- it motivates, thrills and is aspirational, and I'm excited to be hosting this show."
With the level of sporting talent behind it, "Million Dollar Mile" already has a leg up on the competition. The new series is expected to premiere on CBS sometime in 2019.
Tropical temptations: It's been a while, but young lovers are returning to "Temptation Island." The former Fox reality TV series aired from 2001 to 2003 and was a runaway hit in its first season, but was canceled after its third, thanks to a precipitous plummet in ratings. Well, it may have taken 15 years, but another channel has finally picked up the mantle and is bringing the controversial show back to life on Tuesday, Jan. 15.
USA Network is working on a reboot of the classic series that will blend the old with the new. Original host Mark L. Walberg ("Antiques Roadshow") is returning, and the basic premise remains unchanged: a number of young couples will be taken to a beautiful tropical location -- Maui, in this case -- where they'll be split up from their partners and live the single life with 24 eligible men and women.
If it sounds a bit scandalous, that's because it definitely is. For the reboot, though, USA has taken care to select couples at pivotal points in their relationships that are a little bit unsure of their levels of commitment. As for the singles, they've also been carefully chosen to be individuals who are looking for love.
It's been a long time coming, but "Temptation Island" is finally back. The reboot premieres Tuesday, Jan. 15, on USA.