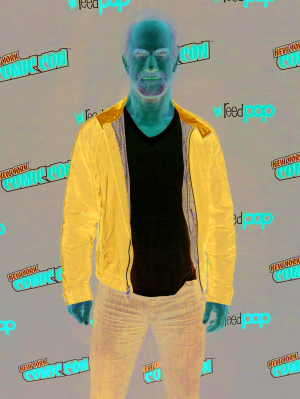 Christopher Meloni stars in "Happy!"
Cheer up: Here's some news that should put a smile on a lot of faces: one of the most hilarious -- and most bizarre -- dark comedies on TV is back for a second season. Syfy series "Happy!" first premiered back in the dying days of 2017, and it returns with a new season of sex, violence and fantastical creatures on Wednesday, March 27.
Christopher Meloni headlines the cast as Nick Sax, an alcoholic ex-cop who now works as a hitman. He started seeing a cartoonish blue unicorn in the first season -- a figure that turned out to be Happy, his estranged daughter's imaginary friend who had decided to not be so imaginary anymore.
"Happy!" marks Meloni's return to a starring television role. He headlined the first 12 seasons of "Law & Order: Special Victims Unit" from 1999 to 2011, and since then he's popped up in all sorts of places, from appearances in shows such as "Veep" and "True Blood" to more substantive roles in short-lived series "Surviving Jack" and "Underground."
The first season of "Happy!" revolved around Sax's attempt to find and rescue his daughter, who had been kidnapped by a man dressed as Santa. After suffering a heart attack, he found himself able to see and hear Happy, who's voiced by Patton Oswalt ("A.P. Bio"), and together they dealt with a ruthless crime boss (Ritchie Coster, "The Dark Knight," 2008), a beloved children's entertainer (Christopher Fitzgerald, "The Marvelous Mrs. Maisel") and his own ex-wife (Medina Senghore, "Blindspot").
Last season's kidnapping plot was resolved pretty tidily, but not without leaving a tantalizing cliffhanger involving a demonic entity. Sax has a lot of enemies who are all out to get him, but luckily he has a secret weapon -- a blue unicorn named Happy that only he can see and hear. The second season of "Happy!" premieres Wednesday, March 27, on Syfy.
An irreverent revival: It's almost time for another trip to what might be the best-known zip code in the world. The network that first brought the number "90210" into the popular lexicon is plotting a return to that sunny California locale with a "Beverly Hills, 90210" revival, scheduled to air this summer.
Six of the original series' stars are on board with the revival, but sadly, a tragic pall will hang over the production. Original series star Luke Perry died earlier this month, and although he hadn't yet committed to being in the revival due to his "Riverdale" shooting schedule, it was hoped by many that he'd be able to at least make a cameo appearance.
In the revival, the actors won't be playing their "Beverly Hills, 90210" characters -- they'll be playing themselves. This isn't the serious teen drama that the parent show, which ran for 10 seasons from 1990 to 2000, was. Instead, it's an irreverent and oh-so-meta story about the original actors getting together 19 years after they went their separate ways in an attempt to get a "Beverly Hills, 90210" reboot off the ground.
So just who is on board, anyway? Original series stars Jason Priestley ("Private Eyes"), Gabrielle Carteris ("Code Black"), Jennie Garth ("What I Like About You"), Ian Ziering ("Sharknado," 2013), Brian Austin Green ("Anger Management") and Tori Spelling ("Scary Movie 2," 2001) have all continued to find success on screen in the post-"Beverly Hills" era, and they're all coming back for the twisty take on the show that made them household names.
A fun twist on the classic '90s teen drama with the actors playing themselves sounds like the perfect summer series, although Perry's death brings a tragic note to it. Watch for the "Beverly Hills, 90210" revival this summer on Fox.
Shipwrecked in time: The world's most notorious stretch of ocean has become the setting of a potential drama. "Triangle" is one of nine drama pilots currently in the works at ABC, and the Bermuda Triangle-set series has recently found its lead.
Mike Vogel ("Under the Dome") has been cast as a husband-to-be who is on the tropical vacation of a lifetime with his fiancée and daughter when a brutally violent storm destroys their boat. The family washes up in a strange land where time itself is twisted, and where travelers from all throughout history are trapped, forcing them to band together to survive.
It's a premise that sounds similar to "Lost" in some ways, but that's not a bad thing. That mystery drama was one of the hottest properties on television during its heyday, and if even a bit of its magic can be captured by "Triangle," ABC may have a new hit on its hands.
Of course, for now, "Triangle" is still early in the pilot stage, and with eight other dramas all competing for a spot on the network's fall schedule, it faces some stiff competition. Even still, this is definitely one to keep an eye on.