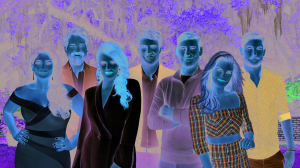 Leva Bonaparte, John Pringle, Kathryn Dennis, Shep Rose, Austen Kroll, Cameran Eubanks and Craig Conover from "Southern Charm"
Prepare to clutch your pearls — Bravo's hit Charleston-set reality series "Southern Charm" is back for Season 8. Premiering Thursday, June 23, on Bravo, the series follows a group of wealthy, well-bred young people who navigate the dating scene, their friendships and their careers while trying not to do anything untoward that could taint the reputation of their elite South Carolina families.
In a part of the United States where class is king and a blemish on one family member's record could spell disaster for every generation that preceded them, living or dead, there is a lot of pressure to be perfect. Luckily for fans of the show, however, that doesn't seem to stop the Charmers from making many mistakes and the occasional truly terrible decision.
Back in the Holy City this season are series regulars Leva Bonaparte, Austen Kroll, Craig Conover, Madison LeCroy, Kathryn Dennis and Shep Rose, while joining cast members include Olivia Flowers, Venita Aspen, Marcie Hobbs, Taylor Ann Green and Chleb Ravenell. Former New York City socialite and art collector Patricia Altschul, named the "Dowager Countess of 'Southern Charm'" by Valeriya Safronova of the New York Times, also returns for Season 8, joined by American filmmaker Whitney Sudler-Smith and actor/songwriter John Pringle. Real estate broker Cameran Eubanks has walked away from the series, though fans are still holding onto hope for a guest appearance.
Also making a reappearance this season is a familiar favorite who took last season off from the drama. Naomie Olindo, feeling refreshed and ready for more "Charm," is back — but not without the potential to cause serious damage in her former love interest's current romantic life.
Fans of the series might recall that Olindo and Conover had become romantically involved before she met her former boyfriend, Shah, and left the show — and the state — at the end of Season 6. While open about the conditions of her return and her newly single lifestyle, Olindo admits the path back to Chucktown was not an easy one.
"I had to, like, beg my way back," Olindo said on Skinny Confidential Him & Her, a Dear Media podcast. "I was like, 'Guys, please. I know I quit and I know I told everybody to f--- off, but please I'm very depressed and I really want to come back. I don't know what I'm going to do if I'm back in Charleston.' They were like, 'All right.' "
Now that Olindo is newly single and back in town, this could pose problems for Conover and his current girlfriend, "Summer House's" Paige DeSorbo. While the couple do seem happy together, there is no telling — especially in "Southern Charm" — how quickly the winds could change. And if past behavior is anything to go by (or the Season 8 trailer, for that matter), Conover is likely to get himself into some serious trouble pretty quickly.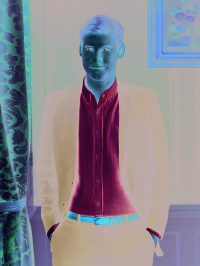 Austen Kroll from "Southern Charm"
Conover isn't the only Southern boy in hot water this season, either. Rose, well-known for his relationship drama throughout past seasons, is currently seeing Green. The pair could definitely be in for some trouble, however, as Rose's lack of desire to grow up and remain committed to one partner always seems to win out over the love he has for his significant other.
LeCroy has big news of her own as well, as she celebrates her recent engagement to Brett Randle, her boyfriend of just over one year. Kroll and new cast member Flowers also have an announcement of their own to make this season.
But it isn't all love in Season 8. The "Southern Charm" brand of slander and drama continues as accusations fly about everything from romantic affairs and friendly loyalties to levels of intelligence and class.
Fans of the show can also expect a little taste of the newly announced "Southern Charm" spinoff as well this season. "Southern Charm: Leva Land," announced at the 2022 NBCUniversal Upfront in May, will focus on Bonaparte's many restaurants and business ventures in Charleston.
In a move not dissimilar to Lisa Vanderpump's "Vanderpump Rules" offshoot of "The Real Housewives of Beverly Hills," this could mark a new era for Bonaparte and her business aspirations. While there is no news yet on a premiere date for this one, "Leva Land" (a working title) will focus primarily on the staff of Bonaparte's Republic Garden & Lounge on King Street in the city's center.
Regardless of whether viewers watch for the relationship drama, the physical fights (something the official trailer also alludes to plenty of), the insults, the fake, back-handed compliments or just beautiful people against an even more beautiful backdrop, Season 8 of "Southern Charm" has a little something for everyone.
Don't miss the Season 8 premiere of "Southern Charm" when it launches Thursday, June 23, on Bravo. And for those looking to catch up on past seasons of the series, all 100 episodes are available to stream via the Hayu channel on Amazon's Prime Video platform.