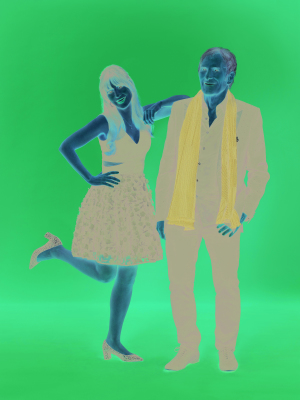 Zooey Deschanel and Michael Bolton host "The Celebrity Dating Game"
'Celebrity Dating Game': Television's original matchmaking game, "The Dating Game," is getting a modern update, courtesy of the network that brought you The Bachelor franchise.
ABC has ordered eight one-hour episodes of "The Celebrity Dating Game" (basically a series order), which will tape in Los Angeles. As the name implies, this reboot will involve some celebrity participants, which is a departure from the "Dating Game" series that ran from 1965 to 1973.
If you've ever watched the original version, you'll recall the format was always the same: one person would ask questions or toss out hypothetical scenarios to an unseen panel of single people in hopes of finding a love match. A few celebrities, such as Ron Howard ("Happy Days") and a then unknown Farrah Fawcett ("Charlie's Angels") did appear, but these were exceptions rather than the rule.
That was then, and this is now. Hosted by adorkable "New Girl" star Zooey Deschanel, "The Celebrity Dating Game" will reportedly feature a panel of non-famous bachelors and bachelorettes who will field questions from a mystery celebrity. Based on their answers, the chosen "suitor" will be given the opportunity to guess the celebrity's identity based on questions and … parody performances by singer Michael Bolton?
It's a surprising twist, to be sure, and Deschanel and Bolton are an unexpected pairing. However, the "How Am I Supposed to Live Without You" crooner is no stranger to parody — look up the SNL Digital Short for "Jack Sparrow," a song that Bolton also performed in his 2018 Netflix special, "Michael Bolton's Big Sexy Valentine's Day." Seeing as the original "Dating Game" had a fun and campy feel to it, maybe the parody songs will help keep things light while bringing new audiences to a show that's being described as a "wry wink at modern dating."
"The Celebrity Dating Game Show" will tape in Los Angeles but a premiere date hasn't yet been announced.
Waiting for 'Wednesday': Great news if you're a fan of either "The Addams Family" or "Edward Scissorhands" (1990) director Tim Burton (or both)! The director's "Addams Family" spinoff is officially heading to Netflix.
The streamer has ordered eight episodes of "Wednesday." Described as "a sleuthing, supernaturally infused mystery" (per Deadline), the young adult/coming-of-age comedy will focus on daughter Wednesday Addams and will chronicle her years as a student at Nevermore Academy, where she "attempts to master her emerging psychic ability, thwart a monstrous killing spree that has terrorized the local town, and solve the supernatural mystery that embroiled her parents 25 years ago — all while navigating her new and very tangled relationships" (also per Deadline).
"Wednesday" is a great fit for Burton, who is known for films with a dark comedic edge — think 2005's "Charlie and the Chocolate Factory," 2007's "Sweeney Todd: The Demon Barber of Fleet Street" and the 2005 animated film "Corpse Bride."
This will be Burton's first live-action TV series. It also marks his TV directing debut: a quick scroll through his lengthy credits on IMDb reveals that, until now, Burton's previous TV work was largely limited to directing one-offs and shorts. Burton was an executive producer on both "Family Dog" and the 1989 to 1991 animated series "Beetlejuice," which was loosely based on his 1988 film (a sequel to which is reportedly in the works). "Wednesday" adds another executive producer credit to Burton's resume, and he'll share those duties with "Smallville" creators Alfred Gough and Miles Millar, who boarded the project early on as head writers and showrunners.
Teddy Biaselli, Netflix's director of Original Series, had this to say about the series' development process: "When we first heard Al Gough and Miles Millar's pitch for 'Wednesday,' we were struck, like an arrow from a crossbow, right in our hearts. They nailed the tone, the spirit and the characters but gave us a fresh way into this story. We then got the call that visionary director and lifelong 'Addams Family' fan Tim Burton wanted to make his television directorial debut with this series. Tim has had a history of telling empowering stories about social outsiders like Edward Scissorhands, Lydia Deetz and Batman. And now he brings his unique vision to Wednesday and her spooky classmates at Nevermore Academy."
'Modern Love' casting: The second season of Amazon's anthology series "Modern Love" has already completed filming, but somehow we're just finding out about its cast.
The series is based on the similarly titled New York Times column and features standalone stories that explore "love in all of its complicated and beautiful forms." The first season's cast included several big stars, such as Tina Fey ("30 Rock"), Anne Hathaway ("Ocean's 8," 2018) and Andy Garcia ("Ocean's Eleven," 2001), so expectations were running high for the cast of Season 2.
Last month, Variety broke the news that actress Minnie Driver ("Good Will Hunting," 1997) was on board for the latest installment. That made Driver the first confirmed cast member for Season 2, though not much was revealed about her character.
Shortly after that, Amazon released a long list of Driver's fellow cast members, and that list includes "Game of Thrones" actor Kit Harrington (yes, Jon Snow himself), "True Blood" actress Anna Paquin, "Judas and the Black Messiah" (2021) star Dominique Fishback and "The Deuce's" Gbenga Akinnagbe.
Other names include Garrett Hedlund ("Country Strong," 2010), Lucy Boynton ("Bohemian Rhapsody," 2018), Miranda Richardson ("Stronger," 2017), Marquis Rodriguez ("When They See Us"), Susan Blackwell ("Madam Secretary"), Tom Burke ("Mank"), Zoë Chao ("Love Life") and many more.
"We're so excited to bring a second season of this series to life and give an opportunity to really shine a light on what matters most," series showrunner John Carney, who also serves as writer, director and executive producer, said. "With so much uncertainty in our current world, these stories bring truth and love to people everywhere, and I'm so appreciative to be a part of making that happen."
Expect the new season of "Modern Love" to drop later this year on Amazon's Prime Video.