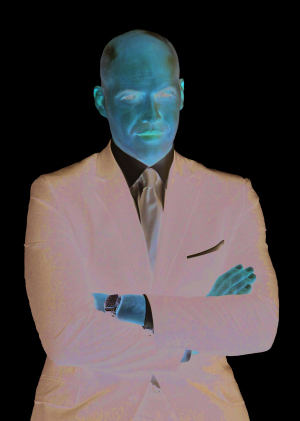 Billy Zane to star in "MacGruber"
Casting 'MacGruber': Actor Billy Zane has been known to play a charismatic villain from time to time. In fact, his very first role had him playing a member of young Biff's gang in "Back to the Future" (1985).
Since then, he's largely alternated between good guy ("The Phantom," 1996) and bad guy roles, such as his unforgettable turn as Rose's unscrupulous fiancé Cal in "Titanic" (1997). But for his next TV gig, Zane will be decidedly bad: he's the big villain in Peacock's upcoming "MacGruber" series.
The eight-episode series is based on a recurring "Saturday Night Live" skit that spawned a 2010 film. Will Forte ("Last Man on Earth") is both an executive producer and the star — he plays special operations agent MacGruber MacGyver, who has been "rotting in prison for over a decade" (per Peacock). Once released, MacGruber embarks on a mission to bring down one of his mortal enemies: Zane, or rather, Zane's on-screen character.
Interestingly, Mickey Rourke ("The Wrestler," 2008) was originally tapped to play the role of Brig.-Cmdr. Enos Queeth, who has "resurfaced to carry out a heinous plot to destroy the world, and in the process claim his revenge against MacGruber." The role was quietly recast, and Zane is now set to play the antagonist, while Sam Elliott ("The Ranch") plays MacGruber's father, Perry, and Laurence Fishburne ("Black-ish") is on board as Gen. Barrett Fasoose, who happens to be married to MacGruber's ex-wife/assistant, Vicki St. Elmo ("SNL" alumna Kristen Wiig).
Look for "MacGruber" to debut on Peacock later this year.
Immortally yours: Move over, Tom Cruise ("Mission: Impossible," 1996) and Stuart Townsend ("Trapped," 2002). There's a new Lestat in town.
AMC is moving ahead with its "Interview with the Vampire" reboot, and Sam Reid ("The Astronaut Wives Club") is the latest actor to play the iconic vampire from "The Vampire Chronicles," the bestselling series of novels by Anne Rice.
The first novel, "Interview with the Vampire," introduced Lestat as a worldly, seductive but manipulative vampire, whose companion, Louis, grows weary of the vampire life in America, and later in Europe.
The 1996 film cast Brad Pitt ("Fight Club," 1999) in the role of "Louis, Louis … still whining" and Cruise in the role of Lestat — a casting decision that didn't exactly sit well with fans of the novel and the author herself.
Lestat got to tell his side of the story in the second novel, "The Vampire Lestat," and parts of it were very loosely adapted (along with parts of the third novel) into 2002's critically panned film "Queen of the Damned," which saw Townsend step into the role.
Given all of this history, Reid must be feeling some pressure to get it right as AMC's version of Lestat, especially if the series expands its scope to incorporate other characters or plot elements from "The Vampire Chronicles."
Reid's acting resume doesn't include a whole lot of lead roles, but he has starred in a number of TV productions, such as ABC's "The Newsreader," "Lambs of God" and "Belle," so he has the acting chops to pull off the role. He also shares similar physical features as the literary Lestat, most notably the blond hair.
It remains to be seen who will be cast in the roles of Louis and child-vampire Claudia, who was played by a very young Kirsten Dunst ("On Becoming a God in Central Florida") in the 1996 film.
'The Origin' of 'Flowers': If you've read the teen classic "Flowers in the Attic" by V.C. Andrews, you might have also seen Lifetime's 2014 TV adaptation starring Ellen Burstyn ("The Exorcist," 1973) and/or its follow-up, "Petals on the Wind." And if you enjoyed either of these Lifetime films, you might be happy to know a prequel miniseries is in the works.
"Flowers in the Attic: The Origin" is coming soon to Lifetime, and will tell "the story of the headstrong and determined Olivia Winfield (Jemima Rooper, "Gold Digger"), who is working alongside her beloved father (Harry Hamlin, "Mad Men") when she finds herself unexpectedly wooed by one of the nation's most eligible bachelors, Malcolm Foxworth (Max Irons, "Condor"). ... Under Malcolm's debonair exterior lies a dark heart, and a twisted evil lurks inside Foxworth Hall that will threaten Olivia's happiness and that of her children. Her attempts to keep them all safe ultimately push Olivia to become the most terrifying version of herself, leading to her inevitable — and notorious — decision to lock her grandchildren in the attic."
According to Lifetime, Hannah Dodd ("Harlots") stars as Olivia's daughter, Corinne, T'Shan Williams ("The Color Purple") as Foxworth Hall's longtime housekeeper, Nella. Kate Mulgrew ("Orange Is the New Black") plays Mrs. Steiner, Malcolm's house manager and head of staff.
"Frasier's" Kelsey Grammer stars as Malcolm's father, who is married to Alicia (Alana Boden, "I Am Elizabeth Smart," 2017). Paul Wesley ("The Vampire Diaries") is Olivia's cousin, John Amos, whose revelations change her life forever, and Callum Kerr ("Four Weddings and a Funeral," 2019) is Christopher, a close relative "whose life will be eternally intertwined with Corrine's from the moment they set eyes on each other."