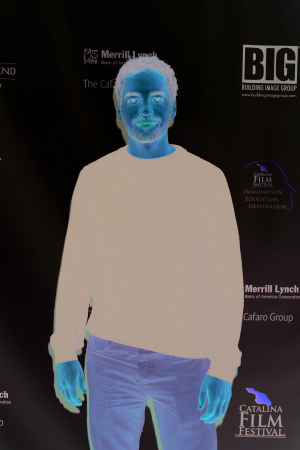 Ramón Rodríguez to star in "Will Trent" at ABC
On the case: ABC's planned adaptation of Karin Slaughter's Will Trent book series is one step closer to becoming reality.
ABC cautiously handed the project a cast-contingent pilot order in February, suggesting it has faith in the script or concept, but filming couldn't begin until a network-approved actor was cast in the lead role. That contingency no longer applies since 20th Television has officially cast its two leads.
Ramón Rodríguez ("Iron Fist"), who was previously attached to the drama "Olga Dies Dreaming," led by Aubrey Plaza ("Parks and Recreation"), before Hulu passed on the pilot, has been tapped to play the titular role of the Georgia Bureau of Investigations special agent.
After enduring a traumatic childhood in Atlanta's overwhelmed foster care system, Trent is determined to make sure no one is abandoned as he was. He's a loner within the law-enforcement community, and despite secretly suffering from severe dyslexia, Trent has the highest clearance rate in the GBI.
It seems Rodríguez, who will also serve as a producer, had been favored to play Trent all along: According to outlets such as Deadline, the actor had been approached about the role just weeks after its pilot order, and he boarded the project after lengthy negotiations.
As for who will play Angie, Trent's on-again, off-again girlfriend, that role will be filled by "Parenthood" star Erika Christensen.
Angie is a detective with the Atlanta Police Department — she's seen it all but can still crack jokes about her tough line of work. She's also known Trent since childhood, when they met in a group foster home and helped take care of each other. Angie struggles with addiction, however, and has yet to confront her childhood traumas.
With these casting decisions, "Will Trent" now joins several other legal-related pilots (and possible new series) that are currently in development at ABC, including the planned revival "L.A. Law."
Net' profits: Recent cost-cutting measures at Netflix have resulted in some high-profile cancellations — including "Space Force" and "Pearl," the planned animated series from Duchess of Sussex Meghan Markle. Despite this, Netflix still needs new and original content.
As a result, the streamer has been "buying," "ordering" and even breathing new life into once-canceled projects, one of which is action comedy "Obliterated." The series hails from "Cobra Kai" creators Jon Hurwitz, Hayden Schlossberg and Josh Heald.
"Obliterated" been described as a "high octane," eight-part series about an elite special forces team that has thwarted an evil plot in Las Vegas. But after taking part in a wild, celebratory party, the team's members realize the bomb they deactivated was fake. Still intoxicated, they are forced to shake things off and overcome personal issues as they race to find the real bomb and save the world.
"Obliterated" had previously scored a series order from TBS in 2019. At some point, the basic cable network passed on it, though it's unclear if this was due to the pandemic shutdown or to a shift in programming strategy. Things also seem to have shifted since the big WarnerMedia-Discovery merger, with TBS now moving away from original scripted programming and offering up some of its planned projects, including the recently cancelled "Kill the Orange-Faced Bear," which is reportedly being shopped around.
"Obliterated" should enter production sometime this summer.
Slater's slate: What's next for actor Christian Slater? After starring in Peacock's legal/medical drama "Dr. Death," the Golden Globe-winning actor (for "Mr. Robot") has a few more TV projects coming out in 2022, when he'll be adding to his already-lengthy list of voice-acting gigs.
Next up are Netflix's "Inside Job" and "Army of the Dead: Lost Vegas," both animated series, and with the third installment of the Young Guns film franchise still listed as in "pre-production" on IMDb, an FX limited series may be fans' next opportunity to see Slater in a live-action role.
As first reported by Deadline, Slater has joined the cast of FX's "Fleishman Is In Trouble," the limited series based on Taffy Brodesser-Akner's novel about 40-something Toby Fleishman (Jesse Eisenberg, "The Social Network," 2010), who dives into the world of app-based dating after separating from his wife (Claire Danes, "Homeland"). Fleishman's ex's disappearance wreaks havoc on his new life, however, and he's forced to take a more honest look at what happened to his marriage as he struggles to balance parenthood with dating and a new promotion.
Slater is slated to recur in three episodes as Archer Sylvan, who in the book is a Tom Wolfe-esque reporter whose article about the dissolution of a marriage shares an awful lot of similarities with Fleishman's story. Sylvan is the obsession of the book's narrator, Libby Epstein (Lizzy Caplan, "Masters of Sex"), who, along with Seth (Adam Brody, "The O.C."), is a college friend of Fleishman's.
Josh Radnor ("How I Met Your Mother") has also boarded the project as Libby's husband, Adam.