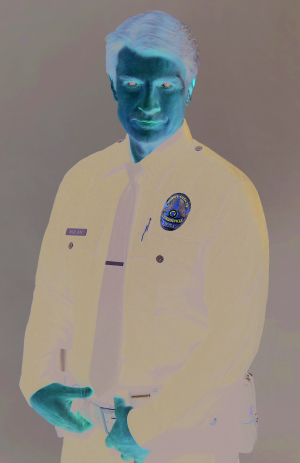 Nathan Fillion stars in "The Rookie"
Career change: Watch out -- Nathan Fillion has staged a full-time return to broadcast television. The former "Castle" leading man has had a number of cameos and recurring roles since that show shut its doors for good back in 2016, but after two years, it seems that he's ready to be in the spotlight again.
"The Rookie" premiered last week on ABC, and its freshman season continues on Tuesday nights. Fillion headlines the cast as John Nolan, a middle-aged guy from a small town who's had his life turned upside down. With nothing holding him back, he's decided to pursue his lifelong dream: to become a police officer with the LAPD.
Naturally, this midlife career change makes him by far the oldest rookie on the force, and both his fellow rookies and his superiors view him with a huge dose of skepticism. It's a setup that should feel familiar for fans of "Castle," where Fillion played a mystery novelist who teamed up with the NYPD to help solve crimes around the city, much to the initial dismay of the cop assigned to work with him.
Rest assured, though, "The Rookie" is no cut-and-paste clone of "Castle" -- this is a fully fledged cop show with a twist and a strong supporting cast to carry it. Melissa O'Neil ("Dark Matter") and Titus Makin Jr. ("Glee") star as some of John's fellow rookies, whose youth and energy complement his life experience and determination, while Afton Williamson ("Shades of Blue"), Eric Winter ("Days of Our Lives"), Richard T. Jones ("Narcos"), Alyssa Diaz ("Zoo") and Mercedes Mason ("Fear the Walking Dead") round out the cast as some of the LAPD's more experienced officers.
There are plenty of cop shows on TV, but there's nothing quite like "The Rookie," and Fillion's built-in fan base from "Castle's" eight seasons definitely gives it a leg up in a competitive genre. "The Rookie's" freshman season premiered last week and continues Tuesdays on ABC.
'Party' on: One of the most beloved dramas of the 1990s is staging a comeback. A reboot of "Party of Five" has received a pilot order from youth-oriented channel Freeform, but the revived series won't be stuck in the past.
"Party of Five" ran for six seasons on Fox from 1994 to 2000, taking home the Golden Globe Award for Best Television Series -- Drama in 1996. It followed the lives of five siblings of various ages from infancy to mid-20s who were struggling to carry on after both of their parents were killed in a tragic car accident.
The reboot is still early in its planning stages, but what's known is that it will take that basic idea and give it a contemporary twist. Instead of the parents being killed, they'll be suddenly deported to Mexico, leaving the siblings to band together and tackle life's challenges on their own.
The original series starred Matthew Fox ("Lost"), Scott Wolf ("The Night Shift"), Neve Campbell ("House of Cards") and Lacey Chabert ("Mean Girls," 2004) as four of the five orphaned siblings -- the role of Owen, the youngest child, was recast several times over the years as the infant grew into a toddler.
In the original, eldest child Charlie (Fox) becomes the legal guardian of his younger siblings after their parents' deaths, but it falls onto the shoulders of the more responsible Bailey (Wolf) to do most of the parenting duties, forcing the teen to grow up fast. Over the years, the family dealt with some pretty heavy issues, including Bailey's struggles with alcoholism, Charlie's cancer diagnosis and Julia (Campbell) being a victim of domestic violence.
Just because one tragedy struck the family didn't mean that life stopped -- for good or for ill. "Party of Five" remains much loved to this day, and if all goes well, the reboot will be coming to Freeform in the not-so-distant future.
Charismatic pilot: HBO always seems to have something new in the works, be it pilots of potential series, comedy specials or riveting documentaries. One pilot currently being put together has begun assembling its cast, and so far, it's shaping up to be a pretty good one.
Domhnall Gleeson ("Ex Machina," 2014) has been cast in a key role in "Run," a potential new series that's in the works at HBO. He'll be playing a life guru who's overflowing with charisma and success but who has a desperate need for approval.
"Run" is the story of Ruby, a woman living a typically dull life who receives a text message inviting her to go on a trip with an old flame, fulfilling a pact from her youth. Most of the major roles have yet to be cast, but it was recently announced that Merritt Wever ("The Walking Dead") is tapped to play Ruby, and series creator Phoebe Waller-Bridge ("Killing Eve") has been cast in an unnamed recurring role.
HBO orders plenty of pilots, many of which never make it to series, but "Run" could be one to keep an eye on.