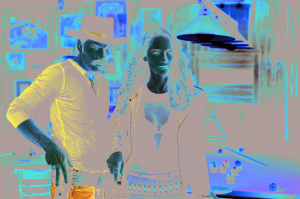 Tim Rozon and Melanie Scrofano star in "Wynonna Earp"
Good things come to those who wait, as the saying goes. That old phrase came true last week for loyal fans who lobbied to save a sci-fi series -- and won. Now, the adventure continues for a gunslinging demon hunter and her motley crew of allies.
Melanie Scrofano ("Being Erica") stars as the great-great-granddaughter of famed Wild West lawman Wyatt Earp in a new episode of "Wynonna Earp," airing Sunday, Aug. 2, on Syfy. She and her ragtag posse battle vampires, zombies and the like in her hometown of Purgatory (which is near the Canadian Rockies) and throughout the cursed territory known as the Ghost River Triangle.
Based on Beau Smith's comic book series of the same name, the supernatural Western TV show had been on hiatus since its third season wrapped in September 2018. Season 4 had been slated to premiere in July of 2019 but was postponed due to financial challenges faced by its production company, IDW Entertainment. Earpers (as fans of the series are known) quickly took to social media to promote the series, even using electronic billboards in New York City's Times Square. To show her appreciation, Scrofano herself sponsored a billboard to thank them. Luckily, following the robust, fan-led campaign showing support for the series, it was announced that IDW, Cineflix Studios, Canada's Crave and SEVEN24 Films would continue with the production.
When asked about the upcoming season at the "Wynonna Earp" panel at 2019's New York Comic Con, show creator and writer Emily Andras ("Lost Girl") expressed her gratitude for all the fan support.
"I'm so happy you guys remember who we are," Andras said. "Thank you so much. I just think we owe Season 4 -- there's no question -- to all of you."
At the time, she had big promises for the show's return, saying that there would be "secrets and lies, betrayals, sexy sexiness -- the whole gamut." Continuing, Andras said: "I'm excited. I forgot how crazy this show is. But it's crazy. I will definitely be getting yelled at on Twitter."
Earpers are surely happy to see Wynonna and her friends, and maybe even her foes, after such a long break. Since its premiere in 2016, the show has garnered positive fan and critical response, including spots on many critics' "Best" lists, multiple Canadian Screen Awards and a People's Choice Award for Best Sci-fi/Fantasy Show.
In the beginning, after inheriting her great-great-grandfather's mythic abilities and Peacemaker handgun, Wynonna teamed up with a top-secret sector of the U.S. Marshals known as the Black Badge Division to take on supernatural creatures. Along the way, she has received more than a little help from her friends, including her great-great-grandpa's former partner, an immortal Doc Holliday (Tim Rozon, "Schitt's Creek"). Wynonna also works alongside her half-sister, Waverly (Dominique Provost-Chalkley, "Murdoch Mysteries"), and Waverly's girlfriend, Purgatory's Sheriff Nicole Haught (Katherine Barrell, "Good Witch").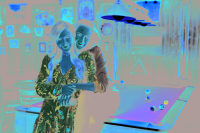 Dominique Provost-Chalkley and Katherine Barrell as seen in "Wynonna Earp"
In Season 4, it appears that the Earp curse has been broken. Wynonna no longer has the Peacemaker, the magical gun once wielded by her great-great-grandfather that has the ability to send demons back to hell. While she would love to kick back and celebrate, the one-time gunslinger must rescue her friends, save the town of Purgatory and take on a diabolical enemy who seriously hates the Earps.
Fans will see at least three new faces as it's been announced that singer Martina Ortiz-Luis and actors Andrew Phung ("Kim's Convenience") and Ty Olsson ("Supernatural") have joined the cast for Season 4.
There will be some changes behind the camera as well. It was announced in March that star Scrofano will make her directorial debut in one of this season's episodes.
'I'm very excited to bring my experience as Wynonna Earp to the director's chair for an episode of Season 4. I've had the great luck to learn from some of the best directors and showrunners in the business and hope that viewers will enjoy the episode as much as I've enjoyed directing it," Scrofano said.
Things seem to be looking up for the sci-fi-western series, even though it hasn't always been smooth sailing. The show's most recent challenge came when the COVID-19 pandemic forced the shutdown of filming in Calgary back in March. As a result, the show will only air six of the planned 12 Season 4 episodes this summer, ending with a mid-season finale scheduled for Sunday, Aug. 30. The plan is to resume production in Calgary later this summer to pick up where they left off, although no one can say for sure when, or even if, they'll be able to finish the remaining six Season 4 episodes, given the unpredictability of the pandemic sweeping around the globe.
In an uncertain industry and an uncertain world, the fate of the show hangs in the balance. But one thing is for certain: the loyalty of its fans. They will surely be tuning in to catch the latest episode, and it isn't too far into Season 4 to jump in if you're new to the show. Watch as Wynonna and her allies take on supernatural threats in a new episode of "Wynonna Earp," airing Sunday, Aug. 2, on Syfy.