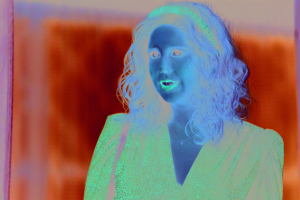 Vanessa Bayer stars in "I Love That For You"
Everyone has that one big dream job they've longed for since childhood, but not all of us course-correct in adulthood to chase it like "I Love That For You's" Joanna Gold (Vanessa Bayer, "Ibiza," 2018). In the comedy series, airing its Season 1 finale Sunday, June 19, on Showtime and Hulu, Joanna takes a big swing at the job she's always wanted: home shopping channel host.
Joanna is played by Bayer, the former "Saturday Night Live" cast member who also serves as "I Love That For You's" creator and executive producer.
Drawing from her own personal experience of having survived childhood leukemia, Bayer drew young Joanna as a bright kid who finds comfort in the hospital by tuning in to the "Special Value Network" and watching her idol, Jackie Stilton, portrayed by "The Other Two" star Molly Shannon, expertly sell jewelry, fashion and homewares to at-home consumers.
Catching up to adult Joanna, fans see a woman in a state of suspended childhood. She is unfulfilled, living with her parents, working as a free sample server at a big box store and going on an awkward string of dead-end dates. On one of those dates, Joanna states her intentions to pursue a career as an SVN host before quickly following through on her goals.
After nailing her SVN audition, Joanna gains entry to her favorite network's studio and is set on the fast track to onscreen hosting. Her idol, Jackie, becomes her mentor and takes Joanna under her wing, but the reality of living her dream gets to Joanna when she becomes overwhelmed on-air and is sent to the network CEO's office.
Intimidated by SVN's big boss, Patricia Cochran (Jenifer Lewis, "Black-ish"), to begin with, Joanna sees her success about to come crashing down around her. In a last-ditch effort to hang on to her dream, the aspiring host busts out a lie: her cancer is back, she tells them.
The lie does the trick and Joanna gets a second chance at SVN. Not only that, but she is emboldened to take whatever she's offered as sympathy, including a bigger dressing room and special treatment from stage manager Jordan, portrayed by Paul James, star of the beloved college-set sitcom "Greek."
Tortured by her own choice to live a lie at work, Joanna immediately begins struggling with whether she should reveal her fib, especially as she begins to form real relationships with Jackie and Jordan. Pressured by her father, Chip (Matt Malloy, "At Home With Amy Sedaris"), who disapproves of her actions, Joanna spills the truth to Patricia, who isn't receptive to the news and chooses to prioritize the network's ratings boost over relieving Joanna of her guilt.
Known for her uniquely awkward and adorable characters like Jacob the Bar Mitzvah Boy and weather reporter Dawn Lazarus in various "SNL" sketches, Bayer brings her signature comedy to the role of Joanna alongside her own real-life love of home shopping programs. It might be easy to mock home shopping hosts in a comedic spin on the profession, but Bayer was serious about respecting the specific performances they give their viewers.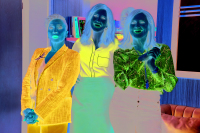 Jenifer Lewis, Vanessa Bayer and Molly Shannon in "I Love That For You"
To promote "I Love That For You" ahead of its premiere, Bayer stopped by "Late Night With Seth Meyers" to talk to her former co-star about her new project. Bayer shared her love for home shopping, telling Meyers, "When I was little, I used to love QVC so much I would tape it."
Noting that there's an effective formula for getting viewers to imagine themselves with the products, Bayer went on to add, "I was a little kid but they'd be like, 'This is perfect out for a brunch with the ladies or your daughter's graduation,' [and] I'd be like, 'I could take this to my daughter's graduation.' … I just loved the stories they would tell about the products."
Bayer teamed up with fellow "SNL" writer Jeremy Beiler to create "I Love That For You," and to round out research for the series, the pair got a behind-the-scenes tour of the actual QVC (which stands for "Quality Value Convenience") network headquarters in Pennsylvania. The experience gave them a lot to work with, and Bayer told The Hollywood Reporter that they even got to take a bit of the place home: "Of course, we bought mugs that say 'QVC' and we use them all the time."
Bayer wasn't the only one excited to jump into the world of "I Love That For You."
At the time of the show's premiere, Lewis told The Hollywood Reporter, "I met Vanessa Bayer and I've never fallen in love with anyone so instantly. All I wanted to do was pick her up and give her some sugar because she's made of sugar. I describe her as an angel made of cotton candy and Christmas morning."
Get on board and find out how Joanna's spiraling lie will affect her job and personal life in the Season 1 finale of "I Love That For You," airing Sunday, June 19, on the Showtime and the Hulu streaming service.