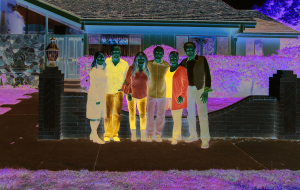 Maureen McCormick, Christopher Knight, Susan Olsen, Mike Lookinland, Eve Plumb and Barry Williams in "A Very Brady Renovation"
The Brady boost: Here's the story: the setting will be the star of the show when HGTV's "A Very Brady Bunch Renovation" premieres Monday, Sept. 9.
The original "Brady Bunch" house -- the one used for all exterior shots of the family home in the 1969 to 1974 series -- has undergone a major makeover since last summer, when HGTV outbid former 'N Sync member Lance Bass and announced plans to restore it.
And while most owners aim to make their home unrecognizable after a renovation, that's not the case here. HGTV wants to bring the past back. In a big way.
The four-part renovation special follows a crew of HGTV stars and the original "Brady Bunch" cast -- Barry Williams (Greg), Maureen McCormick (Marcia), Christopher Knight (Peter), Eve Plumb (Jan), Mike Lookinland (Bobby) and Susan Olsen (Cindy) -- as they transform the North Hollywood property into a complete replica of the set.
The street view is the same, but behind the double doors, an extra 2,000 square feet were added to the 2,500-square-foot home. That gave the crew enough room to reproduce the floating staircase, Greg's attic digs and the orange-and-green kitchen from the L.A. studio set. As for vintage furniture and decor items, HGTV crowdsourced much of it -- even the door handles.
In a very "Brady Bunch" move, HGTV got the whole Discovery family involved with promoting the special. Since mid-August, we've seen guest appearances and "Brady"-themed challenges on competition shows (including the Sept. 8 episode of "Worst Cooks in America" on Food Network), while promos involving TLC, Discovery and Travel Channel shows have been peppered with throwbacks to the 1970s.
Beyond the $3.5 million purchase price (reportedly $1.6 million over asking), it's clear that HGTV and its parent company are deeply invested in "A Very Brady Renovation." And the fact that all six Brady kids are involved is a sign that HGTV is treating the series with the fan-level respect it deserves -- especially on its 50th anniversary.
St. Elmo's refire: It'll be tough to top the 1985 film and its catchy theme song, but NBC plans to remake "St Elmo's Fire" as a TV series.
Directed by Joel Schumacher, the film followed a group of friends as they struggled to settle into their post-university years. It was one of two big coming-of-age movies in 1985, the other being "The Breakfast Club." And suddenly, the stars of the films -- Emilio Estevez, Anthony Michael Hall, Rob Lowe, Andrew McCarthy, Demi Moore, Judd Nelson, Molly Ringwald and Ally Sheedy -- were dubbed the "Brat Pack," a moniker they resented at the time (maybe they still do).
So is this proposed reboot just a case of Hollywood banking on nostalgia paying off? Not entirely. This isn't the first time Sony Pictures Television, whose film arm (Columbia Pictures) owns the movie rights, has attempted an updated version.
In 2009, Sony landed a script commitment from ABC to develop "Fire." The dramedy was supposed to use the film as a takeoff point to introduce six new friends. It had a few big names attached to it, including Schumacher and Topher Grace ("That '70s Show"), but it never made it to the screen.
The big question is whether NBC will be more successful in its attempt to launch "St. Elmo's Fire: The TV Show" (not an actual title). It's still in the development stage. But so far, the network has signed up "Drop Dead Diva's" Josh Berman to write the script and serve as executive producer alongside Chris King ("Touching Down," 2005).
Homeland's home stretch: Sorry "Homeland" fans, but you're going to have to wait until 2020 to see how Carrie (Claire Danes, "Stardust," 2007) is holding up after all the traumatic events of Season 7.
The final season of the spy show was supposed to get underway in June, but its premiere was pushed to fall 2019. Now, Season 8 has been given a Feb. 9 start date. And, according to Showtime, which already has a very full fall lineup, the delay is due to "production demands," which isn't surprising given the show's international setting. The 12-episode season was filmed in Morocco, which is standing in for Afghanistan, along with a few other locations that were kept secret for security reasons (and probably to avoid spoilers).
When it does start up again, viewers will be introduced to a few new characters. Cliff Chamberlain ("State of Affairs") will have a recurring role as Mike Dunne, CIA station chief in Kabul, Afghanistan -- a post held by Carrie in Season 4.
Hilary Jardine ("Van Helsing") will play Claudette Fletcher, a former State Department employee who is now working as a global freelance consultant.
And Danes' real-life husband, talented "Hannibal" star Hugh Dancy, will also have a recurring role as John Zabel, a Washington consultant turned foreign policy adviser to President Warner (Beau Bridges).
Still need to know more about Season 8? Spoiler alert: Carrie will still be in recovery mode after her time in a Russian prison. Her physical wounds might be healing, but her memory is slower to recover, and that might be an issue for Saul (Mandy Patinkin). President Warner's top priority is to end the war in Afghanistan, and given his new role as national security adviser, Saul will have to head up peace talks. But who can he trust? Per Showtime: "Against medical advice, Saul asks Carrie to walk with him into the lion's den — one last time."